Peace rally against isolation in Amed
We will step up our actions for peace, said HDP co-chair Sezai Temelli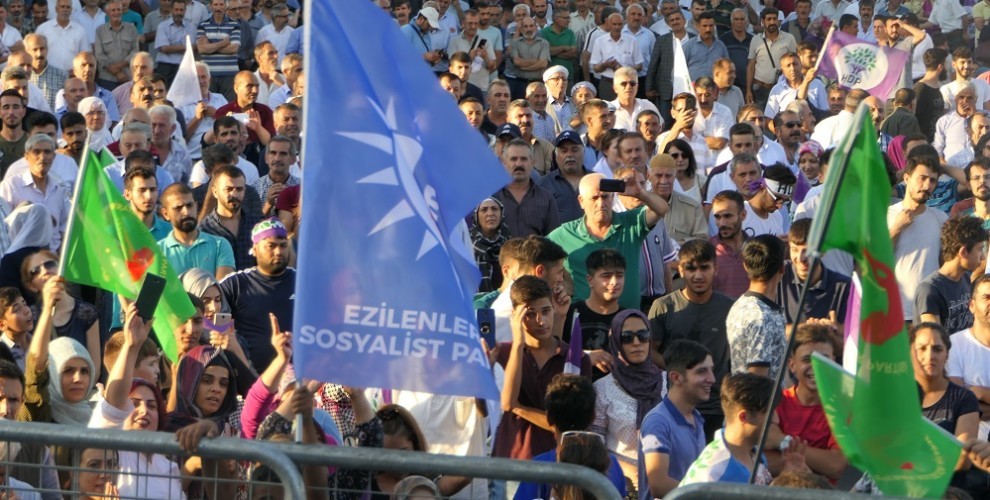 Speaking at the 1 September rally in Amed, HDP co-chair Sezai Temelli said: "We are on our way back. We will destroy fascism thanks to our own strength and our history. The AKP is here now, but we will put the final point on this".
The Platform for Labor and Democracy held a rally in Amed on 1 September, World Peace Day. 
"Peace cannot be isolated", "No to war!" were the slogans chosen by the platform made up of political parties, civil society organizations, professional chambers and trade unions. 
The rally was attended by a large crowd, chanting slogans and demanding the freedom of Kurdish People's Leader, Abdullah Ocalan as well as an end to war and forest fires. 
Many came from different Kurdish cities such as Batman, Mardin, Şırnak, Van, Urfa, Adıyaman, Bingöl and Dersim, despite the problems caused by police.
Among the organisations that joined the rally were the HDP, Tevgera Jinên Azad-Free Women's Movement (TJA), Labor Party (EMEP), Party of Freedom and Socialism (PSP), Amed Bar Association, Amed Chamber of Commerce and Industry (DTSO), Pir Sutan Abdal Cultural Association ), the President of the Republican People's Party in Amed, Association of the 78s and many civil society organizations.
Also attending were HDP co-chair Sezai Temelli, Democratic Society Congress (DTK) co-chair Berdan Öztürk, HDP deputies Feleknaz Uca, Bedia Özgökçe Ertan, Mehmet Rüştü Tiryaki, Ayşe Driver, Sıddık Taş, Fatma Kurtalan, Pero Dündar, Nusrettin Maçin, Tuma Çelik and Peace Mothers.