Peace Mothers: Only if Öcalan becomes free, peace will be ensured in the country
Members of the Peace Mothers Initiative urged society to fight to end the isolation, stating that if Öcalan is freed, peace will come to the country.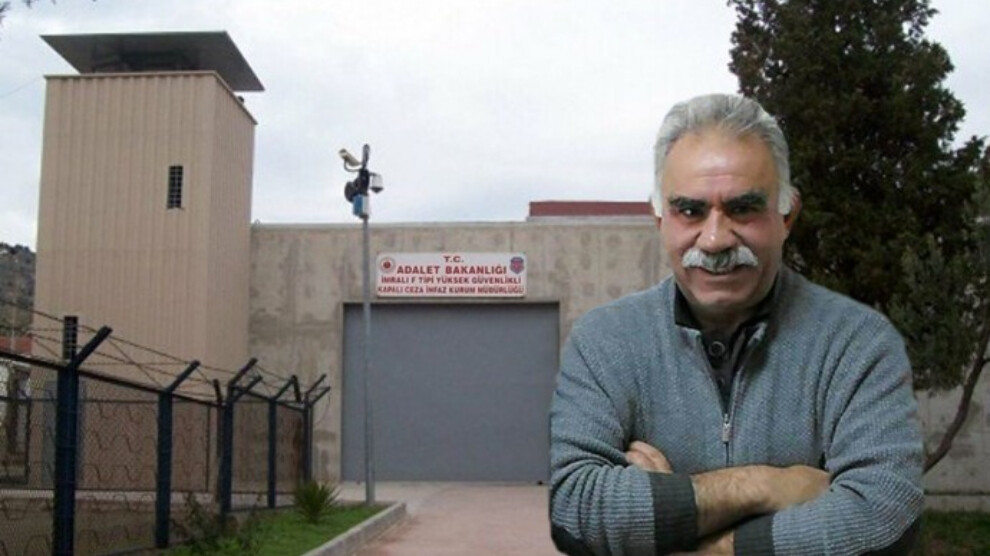 The alternate and indefinite hunger strike, which began in Turkey's prisons on November 27, 2020, with demands for an end to the aggravated isolation against PKK Leader Abdullah Öcalan, who has been held in İmralı High-Security F Type Closed Prison for 22 years, and increasing human rights violations in prisons, is now in its 267th day.
Members of the Peace Mothers Initiative requested that the hunger strikers' demands be honored as soon as possible and that the isolation be ended. Öcalan has not been able to interact with his family or lawyers on the phone for a long time, according to Zeynep Calıhan, a member of the Peace Mothers Initiative, who indicated that the severe isolation has persisted for 22 years without interruption. Calıhan stated that society can't receive any news from Öcalan and added, "This separation is incorrect and is not legal. The Isolation on Öcalan is a form of isolation placed on Kurds and people. That is something that everyone needs to realize."
'PEACE WILL BE ENSURED ONLY IF THE ISOLATION IS LIFTED'
Calıhan stated that the prisoners are on hunger strike in protest of the isolation and increasing violations of rights, and that they support the demands of their children. Calıhan stated that if the isolation is lifted and Öcalan is released, the country will be at peace. She continued, "The government does not want the isolation to be lifted. They employ isolation because they don't desire peace. I, as a mother, refuse to accept this isolation. 'We will continue our strike until the isolation is lifted,' our children say. Our children's demands are equally our demands."
'KURDS ARE AWARE OF EVERYTHING'
Birgül Muhikancı, a member of the Peace Mothers Initiative, stated that their children went on hunger strike in order to end the oppression of Kurds. The isolation of the Kurdish people and Öcalan, according to Muhikancı, should be overcome. Muhikancı stated that the AKP is attempting to provide benefit by putting pressure on the Kurds, saying, "The AKP calls the Kurds 'my brothers and sisters,' but which Kurdish brother/sister is it talking about? Why don't you allow them to talk in Kurdish if they are indeed your brothers and sisters? What is your motivation for exerting pressure on the Kurds? Why are the Kurds being excluded? The Kurds are aware of your actions. No family wants their children to risk their lives. We will never give up as long as this persecution directed at Kurds continues. The Kurds will fight till the bitter end."
'WAR KILLS, PEACE KEEPS ALIVE'
Muhikancı stated that no mother should cry anymore and that the struggle should be expanded. She emphasized the importance of mothers banding together, saying, "People should likewise band together and help each other. Only in this way can deaths be avoided. As a Peace Mother, I demand that this war be ended immediately. The tears of all mothers are the same. War kills, peace sustains life."
WHAT IS THE POINT OF DEATH?
Peace Mother Hikmiye Önel also urged that the demands of the hunger-striking prisoners be honored as quickly as possible so that deaths do not take place in prisons. "Children are melting before our eyes every day," Önel remarked and continued, "Even if they terminate their hunger strike, they will suffer permanent harms to their bodies. We no longer want dead bodies to come out of prisons. The isolation must be lifted for this to happen. As Peace Mothers, all we want is peace. We don't want any more people to die. Why do these deaths occur when there is still life? How come these deaths are tolerated?"
THE ISOLATION MUST END
"If peace exists, everyone will feel comfortable," Önel added, emphasizing that no one can feel comfortable in Turkey until peace is ensured. "Turkey is home to people of many nationalities. However, because there is no peace, there are always problems. Peace must be established now in order to solve these challenges. To achieve peace, the isolation on Öcalan must be lifted, and the demands of our hunger-striking children must be met. This is our sole demand as mothers of peace."
CALL FOR PRUDENCE
Peace Mother Şefike Çelik stated that more and more pressure is put on their children in prison every passing day. "What is happening is unacceptable. Society must also raise its voice and be attentive to the hunger strikes. What should we do if our child dies in prison in the coming days? Nobody is raising a voice. They are deaf, mute and blind. Let them put an end to this silence right now."