IHD issues a call for soldiers and police officers held by PKK
The IHD called on parties and presidential candidates to put detained Turkish security officers on their agenda.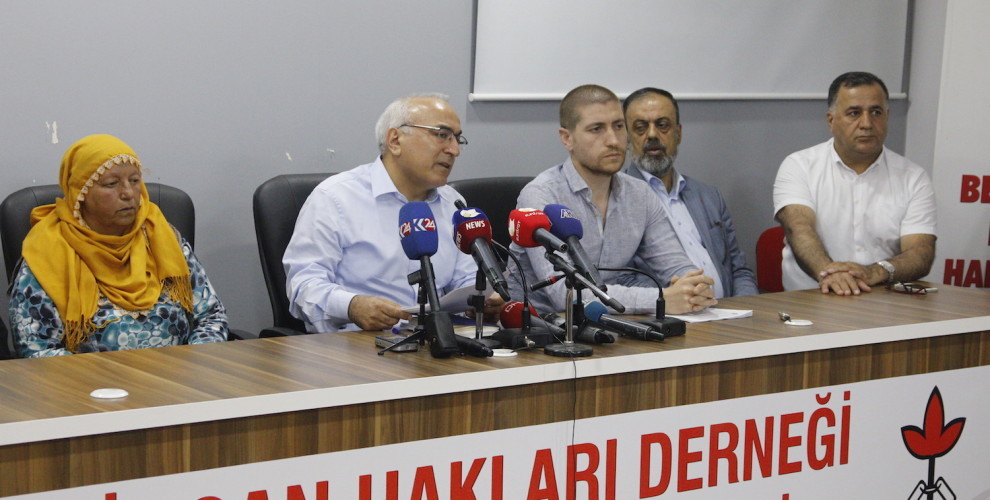 The Human Rights Association (IHD) in Amed held a press conference to remind of the many soldiers, police and intelligence officers who have been detained by the PKK as a result of the armed clashes that began on 24 July 2015 and are still going on.
Detained soldiers and police families also participated at the press conference, .
ANF on 7 June published voicemail and video messages of 9 captive soldiers and police officers.
All of the retained offices called on political parties and non-governmental organizations to act while underlining that the government and government officials had done nothing for them.
The IHD for many years has worked as mediator and has managed to return a large number of retained soldiers, policemen and civilians to their families.
The statement said that, "however, for the first time, after three years, we have not been able to return the retained soldiers and police officers. This, of course, has consequences. The most important reason is the continuing armed conflict and war".
At the press conference it was stressed that "once again, we would like to point out that in order to solve the Kurdish problem, there is a need for this environment of conflict and war to end. Turkey is actually gradually increasing Turkish military presence in a wide area, including Syria and Iraq".
The IHD officials also said: "We want to emphasize that this situation is illegitimate in international law", and added: "Just before the election, Turkey has entered Iraqi territory for political purposes, and it's building permanent military bases in the Federal Kurdistan Region. Both events, [military occupation and building military bases] are questionable both under international and national law. We want to say that to stop these operations and withdraw the troop as soon as possible into Turkish territory will contribute to the process leading to peace. We invite to stay away from military adventures that could underpin the political will before the election".
At the press conference the IHD also said that: "The Kurdish issue can only be solved through peaceful and democratic means and cannot be solved with war policies".
The IHD together with the retained soldiers' and police officers' families, made a call to the government, political parties and presidential candidates running the elections:
"Listen to the voice of the police and the soldiers who posted their messages on June 7th. They are citizens of this country and security officers. Make every effort to secure their release. We are especially addressing political party leaders and their representatives. Will you take the retained soldiers and police into your agenda? When are you going to talk about them?"
The Human Rights Association has reiterated that they will always be ready to engage in any initiatives aimed at securing the release of detained soldiers and police officers.