HDP MP Güven: My protest will continue until isolation is lifted
Hakkari deputy Güven speaks from Amed prison where she has begun an hunger strike against the isolation imposed on Abdullah Öcalan. She said in a message that the current situation is neither sustainable nor acceptable.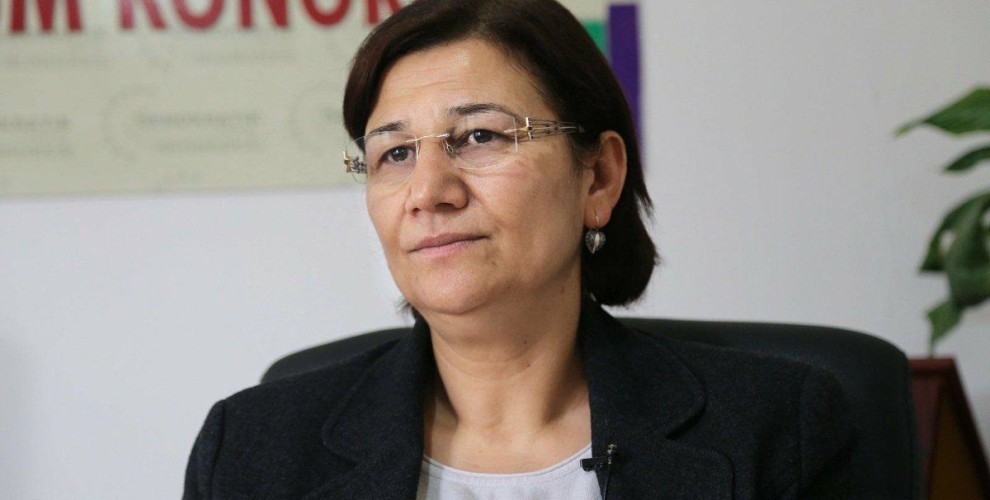 Democratic Society Congress (DTK) Co-chair and Peoples' Democratic Party (HDP) Hakkari deputy is held hostage in Diyarbakır E Type Prison since 31 January, when she was detained for protesting the Turkish state occupation of Afrin and for statements she made for the Democratic Society Congress (DTK).
Leyla Güven was elected deputy for Hakkari in the 24 June elections, but was not released. Güven refused to put the handcuffs on the third hearing of the trial held in Diyarbakır 9th High Criminal Court where she was detained and did not attend the hearing.
The HDP deputy is on an indefinite hunger strike to protest against the isolation imposed on Kurdish People's Leader Abdullah Öcalan.
Güven answered ANF's questions via her lawyers.
Reminding that Kurds are living in a territory shared by four different states, Güven summarized the situation in the four parts as follows: "In Iran, - she said - the revolutionary Kurdish youth are brutally murdered. In spite of the borders set in Iraq, the central government is left in a position to do nothing but permits threats to Federated Kurdistan. When the Kurds, who had no identity in Syria, attempt to build their own systems, declaring a de facto autonomy, both local and international sovereign powers try to stop these achievements. In Northern Kurdistan, a 'Collapse Plan' is in force against the Kurdish people".
Güven recalled Abdullah Öcalan's message sent to Newroz in 2013, in which he said that it was possible to achieve a permanent solution without drawing any boundaries; Kurdish and Turkish people can live together; he emphasized that peoples can solve the problem with their own dynamics without needing any external power.
Güven said the same model would be viable for the peoples of the Middle East.
She added: "After almost three years of war, suffering and tears came to the minimum level. The society saw that the process of non-conflict was the desired environment. But soon this environment turned into a war environment again thanks to known and unknown forces".
"Isolation to silence peace efforts"
Güven recalled how isolation was first imposed on Öcalan so that his voice could not be heard. "We know that isolation is an international policy", said the Hakkari deputy adding: "The silence of the international institutions when it comes to this inhuman practice says it all. All institutions, especially the CPT, play three monkeys in the face of these very serious and vital violations of rights".
Güven pointed out that the violations in Imralı cannot be tolerated.
"Tens of thousands of Kurds - she said - have been protesting in many European capitals for years. There's no door left. From sit-in actions to the hunger strikes, many protests have been staged. Despite all these, institutions do not show sufficient sensitivity. Of course, there is no single reason for it. But this is neither a sustainable nor an acceptable situation".
"Until isolation is lifted"
Talking about her own protest action, the indefinite hunger strike, the Hakkari deputy said: "Don't get it wrong, there are thousands of people of this folk and they have done all kinds of actions for Öcalan. I cannot solve a huge problem like the Kurdish question nor can I end isolation by myself, but with the spirituality given by the Prison of Diyarbakır, and the memory of the actions carried out in this prison, I have started my protest with huge respect for those heroes who had protested before me".
Güven added: "We will continue our protest until isolation is lifted. To remain silent on isolation, is to approve and be a partner in this crime. Everyone must fulfill the human and moral duties that fall upon them. We can bring social peace to these lands with our own power. The possibility of Mr. Öcalan to play his role will be determined by our struggle".