HDP: Co-mayor of Hakkari was tortured
HDP Co-Chairperson Ümit Dede said, "Our Hakkari Municipality Co-mayor was tortured through strip-search. The problems in prisons stem from the isolation in İmralı."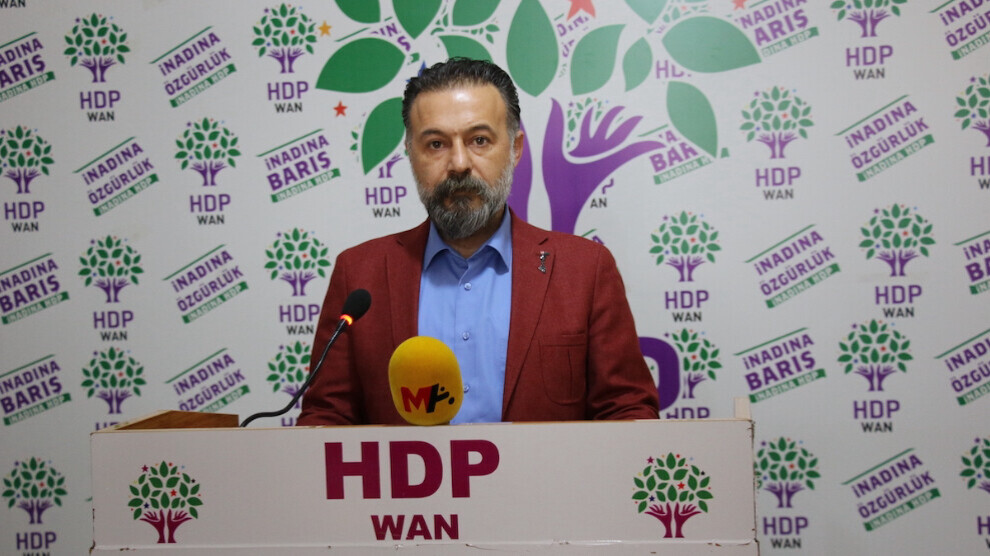 HDP Legal and Human Rights Commission Co-Chairperson Ümit Dede held a press conference regarding the ongoing violations of rights in prisons, particularly the strip-search method. Dede stated that Hakkari Municipality Co-mayor Dilek Hatipoğlu was also tortured.
Dede's evaluations are as follows:
"The reason we hold a press conference today is the strip search torture applied to our Hakkari Municipality Co-mayor Dilek Hatipoğlu. Dilek Hatipoğlu, who served as co-mayor for 16 months, was sentenced to 16 years and 3 months in prison as a result of a quick trial by the FETO prosecutors and judges of the time. And her sentence was upheld by the Supreme Court.
Hatipoğlu was recently transferred from Sincan Prison to Van T-Type Prison where she was subjected to strip-search torture. This torture and immoral attitude that took place on the 12th of February was reported to us yesterday. We visited her in prison today. On her account, the guards told her to undress at the entrance of the prison. Hatipoğlu said that she would not accept this dishonorable and immoral act, upon which she was severely beaten by three guards at a spot invisible to the cameras, all her clothes were removed and she subjected to a strip-search.
HDP MP Ömer Faruk Gergerlioğlu recently exposed the strip-search issue which then made headlines in Turkey. The government denied the allegations. However, in 2020, with Erdogan's signature, strip-search was made legal. Strip-search is immoral and illegitimate. If there is no strip-search, why did you put it into the law on execution of sentences?
AKP Group Deputy Chairman Özlem Zengin claims that she is a lawyer and human rights defender; I don't know if she is a human rights defender, but I know she is a lawyer; I call on her once again: I met with Dilek Hatipoğlu in Van T-type Prison this morning. The bruises on her eyes, knees and legs are still there. I urge Özlem Zengin to visit Dilek Hatipoğlu immediately, to see in person whether a strip-search was conducted or not. There are strip-searches in prisons in Turkey and Hatipoglu is one the last victims.
Prison administration launched an investigation against Hatipoğlu. In our interview with Hatipoğlu, she said that she also has vertigo and bursitis. Both diseases create difficulty in maintaining the balance of the person, and can prevent one from standing and walking. The Minister of Justice should take our statement as a criminal complaint.
You know, there are hunger strikes going on in Turkey's prisons. These hunger strikes are a result of the strip-search torture and many other rights violations Dilek Hatipoğlu and others have long been subjected to. These practices should be ended immediately, and prisons should not be torture sites. The isolation system in Imrali Prison, which has been going on for 22 years, poses a threat to all prisoners.
For this reason, the isolation imposed upon Öcalan must be lifted, which is demanded by the prisoners on hunger strike. The problems in the prisons stem from the isolation in the İmralı. We urge the government to bring an end to the violations of rights imposed under the pretext of the country's security."