HDP calls on CoE officials to act for educators on hunger strike
HDP wrote a letter to Council of Europe officials calling for action for two educators, Nuriye Gülmen and Semih Özakça, who lost their jobs and have been on hunger strike for 60 days in order to be reinstated.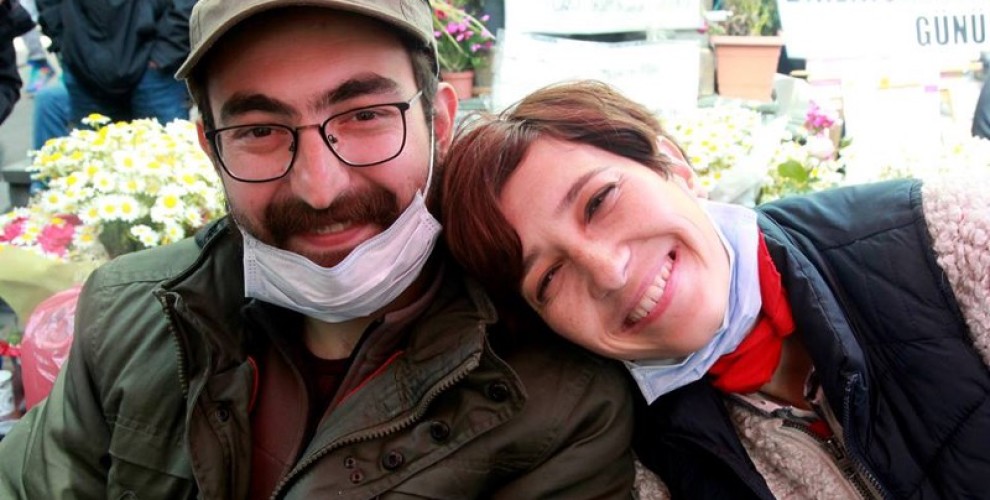 Peoples' Democratic Party (HDP) Group Deputy Chair Filiz Kerestecioğlu wrote a letter to Nils Muižnieks, Commissioner for Human Rights and Thorbjørn Jagland, Secretary General of the Council of Europe regarding two educators, Nuriye Gülmen and Semih Özakça, who lost their jobs and have been on hunger strike for 60 days in order to be reinstated.
The letter by HDP is as follows;
"We know and very much appreciate your invaluable efforts to remedy the grievances of about 150 thousand dismissed public employees in Turkey since the abortive coup on 15 July 2016. This letter is to request your urgent attention to the specific case of two educators, namely Ms Nuriye Gülmen and Mr Semih Özakça, who lost their jobs and have been on hunger strike for 60 days in order to be reinstated.
Using the abortive coup and state of emergency rule as an opportunity, the government has dismissed thousands of public servants critical of its policies. So far no judicial or administrative investigation has been carried out on these dismissals. The Civil Servants Law No. 657 and the relevant clauses of the Criminal Code have not been applied with the excuse of emergency rule conditions. Dismissed people have not been provided with any explanation and in the overwhelming majority of cases and no evidence has been presented regarding the alleged links of dismissed employees with the coup attempt or outlawed organizations. Many of them, especially those affiliated with the Public Workers' Union (KESK), were unlawfully dismissed because of their engagement in struggles for peace, democracy, trade union rights, and fundamental freedoms.
There is not any effective domestic legal mechanism left in the country to which these dismissed officials can appeal. The appeals to the Council of State, the Administrative Court and the Constitutional Court have been rejected on the grounds that these courts have no authority to supervise decree laws issued under state of emergency rule. With the decree laws, the judiciary has been openly interceded and the courts have been requested to submit their files to the Commission on Investigation of State of Emergency Procedures. Despite the expectations of the Council of Europe and a recent decree law regarding its formation, this Commission has not been established, yet.
The number of academics dismissed by decree laws is 4811. 378 of these academics are members of the Academics for Peace initiative, who signed the petition "We will not be part of this crime," criticizing militaristic policies of the Turkish government in Kurdish provinces. 37 out of almost 150 thousand employees who lost their jobs did commit suicide.
Ms Nuriye Gülmen, an academic, and Mr Semih Özakça, a primary school teacher, are part of this grave situation in Turkey. On 9 November 2016, these two educators started a sit-in protest in Ankara to get their jobs back. However, the police took them into custody numerous times, by force and often violently. Due to her struggle CNN International included Ms Gülmen into its 2016 list of 8 pioneer women. After having remained in detention several times, Ms Gülmen and Mr Özakça started a hunger strike. On May 4th, the 57th day of their strike, many internationally recognized "peace academics" announced that they would start a hunger strike on a rotating basis to show their solidarity. The fact that in a country academics and educators are in hunger strike to have their voice heard is a shame for that country.
The health situation of these educators has already reached a critical stage and I am writing this letter upon their friends' special request. We would greatly appreciate if you could communicate with the Turkish authorities about the specific cases of Ms Gülmen and Mr Özakça. This might help to build the necessary dialogue between the hunger strikers and relevant government authorities toward ending the strike and possible reinstatement of these persons to their jobs. As the Peoples' Democratic Party Group Deputy Chair, I would be glad to cooperate with you in any initiative you may take for this purpose."