Group from Berlin takes over Freedom for Öcalan Vigil
The Freedom for Öcalan Vigil, the longest action carried out by the Kurds in Europe, was taken over by a group from Berlin, in week 476.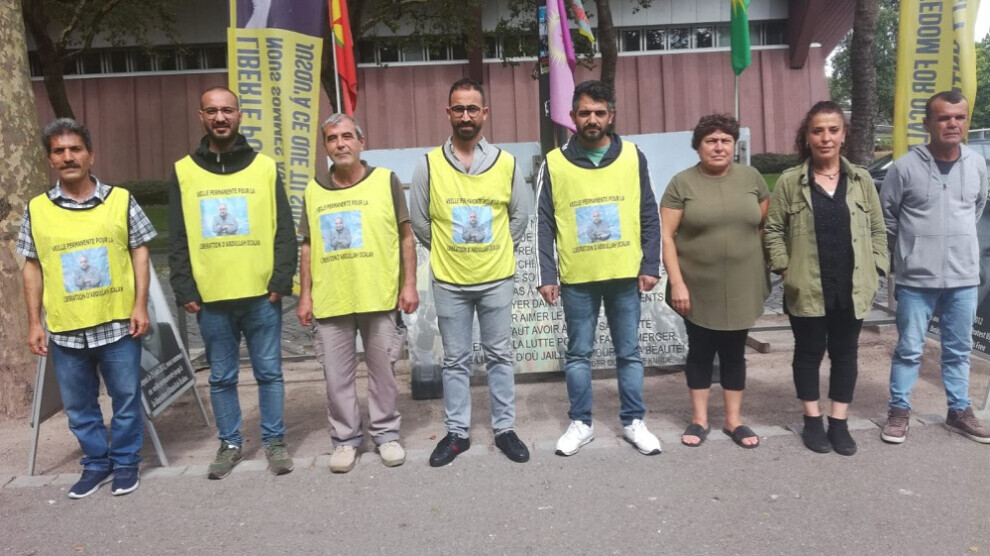 The Freedom for Öcalan Vigil has been carried out by the Kurdish people in Strasbourg for nine years. This week is week 476.
Every week, Kurds living in different countries of Europe and their friends take over the vigil which began on 25 June 2012 demanding freedom for Kurdish people's leader Abdullah Öcalan and to lift the isolation imposed on him in Imrali.
Mevlüt Ince, Mazlum Karagöz, Veysi Oruç and Mustafa Yorgancı are the activists from Berlin who will be at the vigil this week.
Speaking on behalf of the group, Mevlüt Ince said that Turkey violates the rights guaranteed by the European Convention on Human Rights and other international human rights conventions, of which it is a signatory. Ince added that the vigil points out that the systematic torture applied to Kurdish people's leader Abdullah Öcalan is carried out with the knowledge of Europe.
"22 years ago, our Leader was handed over to the Turkish state as the result of an international conspiracy. Europe watched in silence, thus becoming a partner in this crime which violates all human rights conventions."
Emphasizing that Europe's discourse on democracy is only an empty policy, Mevlüt Ince said that the Kurdish people are aware of this hypocritical policy and they actually exposed this hypocritical policy with the Freedom Vigil.
Ince added: "The concept of war against the Kurdish people was put into effect with the isolation of our leader Öcalan," and added that the rising racism in Turkey is related to this war policy, and that "racism", which is a crime against humanity in the world, is not considered a crime in Turkey. Ince paid tribute to those who lost their lives in the massacre in Konya and added that racism cannot end unless the war against the Kurds ends.
"We will be liberated with the freedom of our Leader," Mevlüt Ince said, adding that the Kurdish people will definitely achieve victory by resisting. Ince also said that they are protesting the silence of Europe about the crimes against humanity committed against Kurds, and saluted the hunger strikes carried out in prisons.