Families of ill prisoners on vigil for 3 days: We won't stop until we get results!
The vigil of the relatives of ill prisoners at the Amed Bar Association is on the third day. Families vowed to continue their resistance until they get results.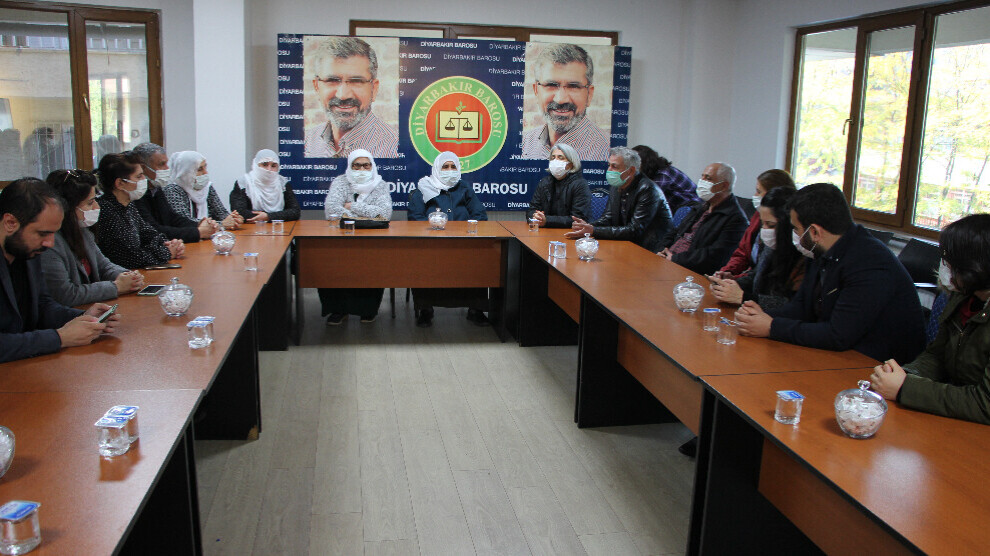 The protest of prisoners' families, who started a Justice Vigil at the Amed Bar Association Service Building to draw attention to the situation of the sick prisoners, continued on its third day. Hasine Güler, wife of Sıddık Güler who is imprisoned in Iskenderun Prison, Fevziye Kolakan, mother of Ahmet Kolakan jailed in Bandırma Prison No. 2, Hakkı Botan, father of Civan Boltan jaild in Bolu F Type Closed Prison, Inci Güler, sister of Abdulselam Güler jailed in Diyarbakır D Type Closed Prison, and Reşahat Ada, the older sister of Hamdusena Ada who is imprisoned in Diyarbakır T Type Prison No. 2 took place in today's vigil.
'NO TREATMENT OR RELEASE'
Executives from the Law and Solidarity Associations for Families of Prisoners and Convicts (MED TUHAD-FED) and the Association for Solidarity with Prisoners and Convicts (TUHAY-DER) in Amed paid a visit to the families today to show their support. During the visit, relatives of prisoners called attention to the increase in human rights violations against prisoners during the pandemic.
The families stressed that the situation of ill prisoners is growing even worse, saying, "Despite medical reports, the detainees are neither treated nor released. Doctors who take the Hippocratic oath refuse to release prisoners even though they cannot remain in prison. We looked to lawyers to make our voices heard and for them to provide legal assistance to us. We will keep our actions going until we get results." 
'LAW OF HOSTILITY'
MED TUHAD-FED Co-Chair Ahmet Doğan said, "There is no other example of this treatment against detainees anywhere else in the world. Even an 80-year-old, extremely ill prisoner who has difficulty standing up is handcuffed. How will these detainees be treated under such conditions? Where is justice? Where is the impartiality in the Hippocratic oath and the principle of equal treatment of patients? Practices such as transferring prisoners to locations far from their families have no place even in the law of hostility. As we have seen and heard a lot about unlawfulness in prisons, the action you have started is a rightful and legitimate act. We stand with you and we will do our part."