Dozens associations on hunger strike in Europe
The protest action is organized to underline the attitude of the Committee for the Prevention of Torture, which has been silent about the isolation of Kurdish leader Ocalan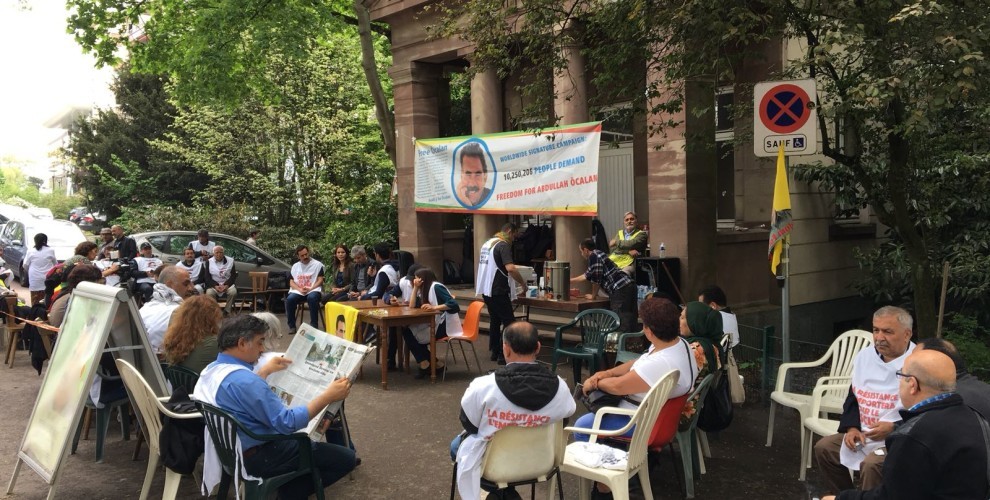 Following the call of the European Democratic Kurdish Society Congress (KCDK-E), representatives from all European countries, representatives of politicians, mayors, intellectuals, artists and representatives of European friendly institutions have gone on hunger strike.
The protest action is organized to underline the attitude of the Committee for the Prevention of Torture (CPT), which has been silent despite the years of isolation imposed on the Kurdish People's Leader Abdullah Öcalan.
KCDK-E co-chair Yuksel Koç made a brief statement on behalf of the hunger strikers gathered near the CPT and Council of Europe (EC) buildings.
After greeting the participants, Koç also thanked the many Turkish and Kurdish institutions in Europe, federations, groups that have joined the hunger strike.
Among the hunger strikers are Şengê Kahraman and Ekrem Yavuz, and other families of martyrs.
The hunger strike is also carried out by the representatives of Cizre and the co-chairs of the municipalities AKP has unlawfully deprived of their elected politicians. Likewise former HDP deputies, Tuğba Hezer and Faisal Sarıyıldız, whose immunity had been lifted, have joined the hunger strike together with the representatives of the Green Left Party and Syriac people.
Last week the CPT said in a statement that it had sent a delegation to Turkey earlier this month, but it said that the delegation didn't see Abdullah Ocalan.
The delegation is allegedly said to have review Ocalan's situation with Turkish ministers and ministry officials, but no information was given about the answers given by the Turkish side to the CPT.