Death on workplace increased in Turkey
Every day 5 workers died in Turkey for work-related accidents.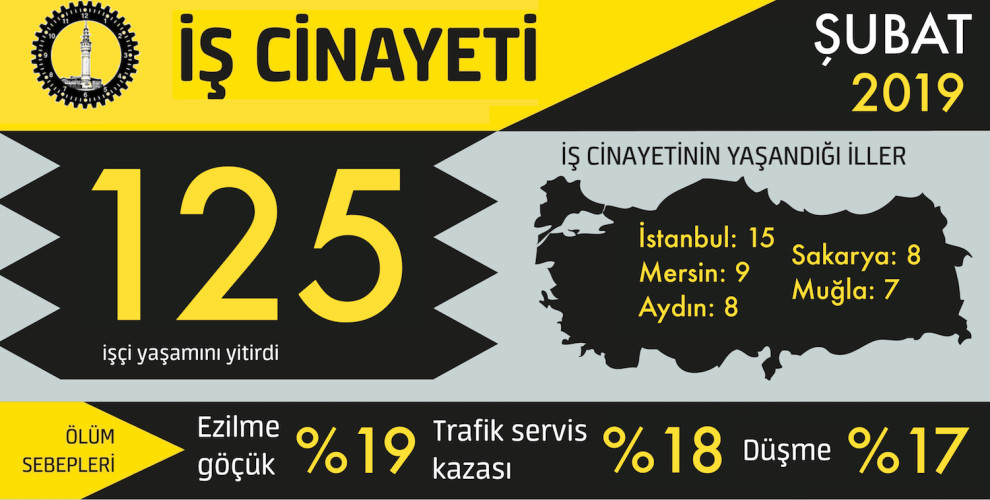 According to the ISIG (Workers Health and Safety at Work) Council, in the first two months of 2019 some 284 workers have lost their life, an increase compared to the same period last year.
On average 5 workers lose their life in Turkey every day.
The ISIG Council published its report for the month of February. According to this report 125 workers lost their life in the month of February.
The report drew attention to the fact that women workers are the less safe when it comes to work place.
In addition to accidents in the workplace, women have also been repeatedly assaulted by either colleagues or men coming from outside their job.
Many women have been sexually assaulted on their way to work.
The majority of women who lost their life in work-related accidents were not unionised and in 75% of the cases they were not regularly employed.
In the month of February, said ISIG, one child, 9 women and 3 migrants died in their work place.
In January, ISIG reported, 159 deaths while in February 125, leaving a balance of 284 workers dead in the first two months of 2019 alone.
Last year, in January 144 deaths were recorded and in February 128, for a total of 272.
The deaths in work-related accidents from 2013 have been recorded as follows:
2018: 1,923 workers lost their life
2017: 2,006 workers lost their life
2016: 1,970 workers lost their life
2015: 1,730 workers lost their life
2014: 1,886 workers lost their life
2013: 1,235 workers lost their life