Countries at UN call for the ICC to try war crimes in Syria
Speakers said the Syrian regime and its allies continued to undercut a ceasefire, and were resorting to military action to gain time, perpetrating violations that amounted to crimes against humanity.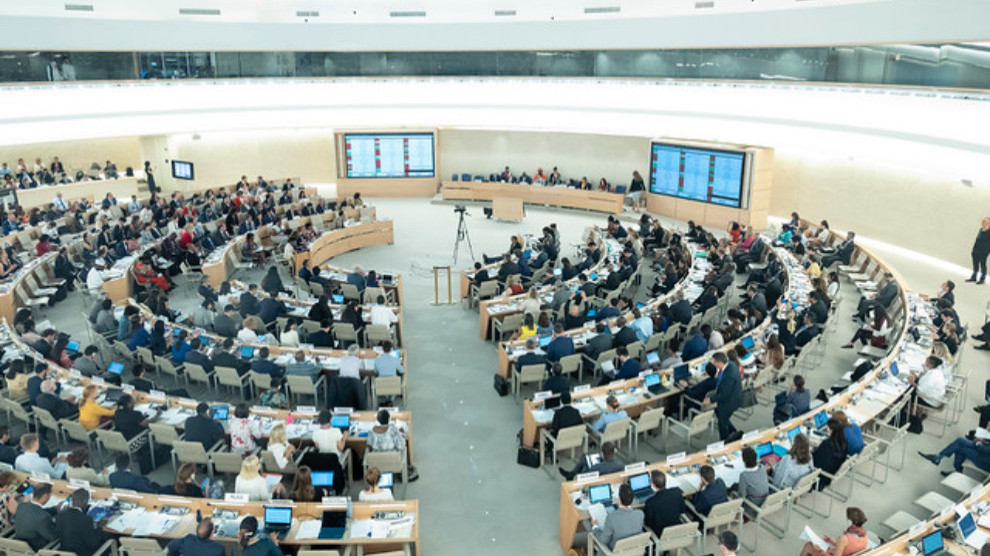 Paulo Sérgio Pinheiro, Chair of the Independent International Commission of Inquiry on the Syrian Arab Republic, presented the report on Syria to the 45th Human Rights Council session in Geneva. 
Presenting the report on Syria, Pinheiro said while well documented violations continued unabated, newer forms of violations with sectarian undertones were increasing, including targeted killings, looting and appropriation of property.
Across Government-held areas, the report documented 45 cases of enforced disappearance, 13 cases of torture, and 19 deaths in detention, he said. The Government's security apparatus continued to violate residents' civil, economic, political and social rights, particularly in areas previously held by non-state armed and terrorist groups. With a staggering 9.3 million Syrians now food insecure, the Independent International Commission reiterated the need to ease or waive sectoral sanctions to ensure access to food, essential health supplies, and COVID-19 medical support, and to avoid further destituting an already desperate population. Blame for the suffering of the Syrian people did not rest with the Government of Syria only. The Turkey-backed "Syrian National Army" may have committed the war crimes of hostage-taking, cruel treatment and torture, and rape. Meanwhile in Dayr al-Zawr, Raqqa and Hasakah, ISIL continued its attacks on the "Syrian Democratic Forces" and the anti-ISIL coalition.
Syria, speaking as a concerned country, said Syrians had been suffering for nine years from the war waged by the main sponsors of the current discussion on the human rights situation in the Syrian Arab Republic. Syrians were living today under the yoke of a siege and economic terrorism imposed on them which violated all their basic rights, including their right to health, food, decent living and development, in addition to their right to life. Since the beginning of this year, one million Syrians had been deprived of water as a result of the Turkish occupation and the actions of its mercenaries. 
Speakers said the Syrian regime and its allies continued to undercut a ceasefire, and were resorting to military action to gain time, perpetrating violations that amounted to crimes against humanity.
Sexual and gender-based violence was used as a tool of torture, limiting the participation in public life of women and girls, as denounced by the representative of Luxembourg.
Commending the efforts made by the Special Envoy of the United Nations Secretary-General for Syria, Geir Pedersen, speakers stressed that a political solution was the only solution to the conflict. Other speakers pointed out that the Syrian regime refused to accept that reality.
Accountability must be part and parcel of any durable political solution, and an immediate ceasefire should be immediately implemented.
Speaking at the session, the Italian representative reminded that attacks against civilians are a clear violation of international law and said: "There should be no impunity for the violation of human rights and violation of international law committed in Syria. All parties to the conflict must comply with their obligations under international law; those responsible for war crimes and crimes against humanity must be brought to justice. Italy will continue to do what is necessary to prosecute crimes. There is no peace without justice."
The representative of Ireland said: "Enforced disappearances and arbitrary detentions and other crimes against women and children, are extremely disturbing. These heinous crimes violate the most fundamental human rights and undermine efforts to find a political solution to the war. We call on those responsible for these crimes to be tried."
Ireland further emphasizes the need for accountability for violations of international humanitarian law and human rights violations committed during conflict. "We want the events in Syria to be referred to the International Criminal Court (ICC)."