Asrın Law Office calls for urgent action against the isolation in Imrali Prison
Kurdish leader Abdullah Öcalan's meetings with lawyers have been prohibited since 2011, and family meetings have been prohibited since October 2014.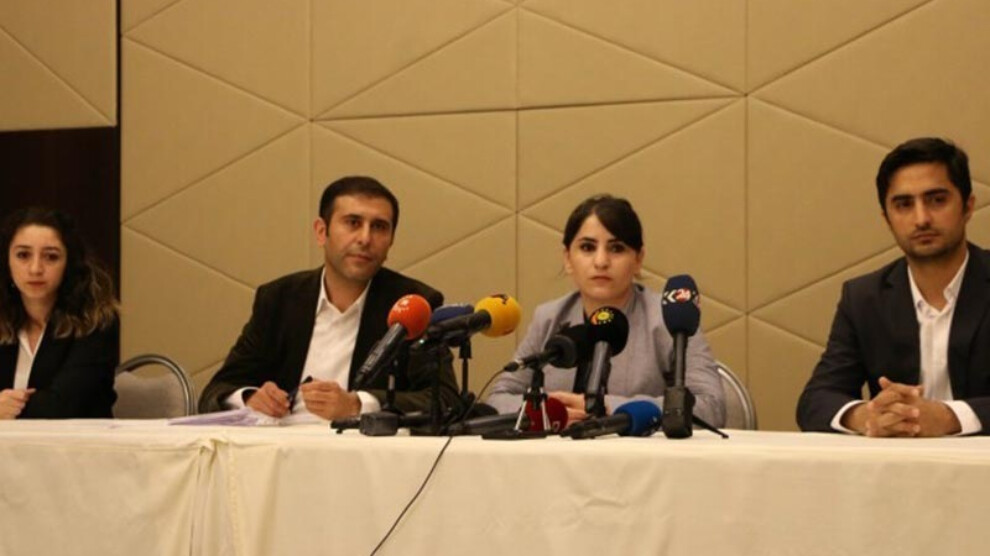 Asrın Law Office, which represents Kurdish leader Abdullah Öcalan and has not heard from him and the other prisoners on İmralı for a year, issued a written statement on Friday.
In the  statement, Asrın Law Office remarked that the fundamental concerns that need to be answered are how the Imrali practices came to be in Turkey and why they could not be overcome.
The office noted that they had not heard from their clients, Kurdish People's Leader Abdullah Öcalan and Ömer Hayri Konar, Veysi Aktaş, and Hamili Yıldırım, who are imprisoned in Imralı F Type High-Security Prison, for a year now.
ISOLATION SYSTEM AT IMRALI
Asrın Law Office characterized Abdullah Öcalan's situation since 1999 as the "Imrali Isolation System" and continued, "Mr Öcalan's meetings with lawyers have been prohibited since 2011, and family meetings have been prohibited since October 2014. Only when the public reaction was strong were a few exceptional lawyers and family meetings arranged. Our other three clients have not been able to meet with a lawyer since March 17, 2015, when they were transferred to Imrali Prison, and they have only been able to receive visits from their families three times in the last eight years.
"THE LAST CONTACT WAS IN MARCH 2021"
Reminding about Abdullah Öcalan's "interrupted" phone contact with his brother Mehmet Öcalan on March 25, 2021, Asrın Law Office made the following remarks:
"Aside from that, we haven't been able to contact them since that day, and we haven't been able to obtain even the most basic information. Neither their lawyers nor their families are told of the type of treatment they receive or the conditions in which they are kept. We submitted many applications, from the Constitutional Court to the prosecutor's office and the execution judge, which are the lowest judicial units in charge of monitoring and auditing prison practices. Despite this, our clients have been unable to connect with the outside world so far, and the authorities have not shared information about their health and safety with us."
ISOLATION AND DEADLOCK
Asrın Law Office made a connection between the isolation of Öcalan and the deadlock of the Kurdish question and continued as follows:
"The country's undeniable truth is that the current crisis conditions, to which people from all classes of society are subjected -regardless of ethnic, religious, or cultural identity- derive from the insolubility of the Kurdish question. And the aggravation of the isolation of Mr Öcalan, whose role for a solution to the Kurdish question was highlighted in the Newroz squares of 2022 once more, has carried this policy of deadlock to a new level. With the implementation of extreme isolation in Imrali after April 2015, economic problems became a crisis for a major part of society, and the fact that social moral standards struck rock bottom was also regarded as one of the key indications of human rights violations. All objective data confirms this situation. The fact that Mr Öcalan has not been heard from in over a year, at such a high cost to society that he has been held in torture conditions by being isolated from the outside world, essentially means isolation against Turkey's democracy, welfare, peace, and serenity. While the current state of ignorance is, on the one hand, an evident disregard for the law that results in torture, it is also social isolation that the peoples of Turkey must face with terrible consequences. This approach is not only important for problem-solving, but it is also an important step toward democracy and the establishment of law."
The statement continued:
"For these reasons, those who are seeking political profit by exploiting the absolute isolation for which they are responsible, on the one hand, and those pointing to the parliament in an abstract and imprecise manner about the resolution of the Kurdish question, must first respect the parliament's will. Public opinion should be given an explanation as to why the Constitution and laws, which are the product of Parliament's will and bind all people and state organs, are not applied in Imrali. It should not be forgotten that governmental organs, like people, must behave within the legal framework in accordance with the rule of law. The parliament, as well as the civil society, which ranges from relevant institutions to political parties, bear the responsibility to resolve this issue.
THE TREATMENT IS INHUMANE
Every person has the inherent right to question the terrible circumstances in Imrali since the Republic of Turkey is a state of law and no one can be tortured, abused, or subjected to inhuman treatment as guaranteed by the constitution. While it is a fundamental constitutional principle that everyone is equal before the law and is not subject to discrimination, the suspension of national legislation in the person of Mr Öcalan and our other clients must be recognized and objected to by everyone. It is expected that the governments in charge of defending and maintaining the rule of law and human rights, as well as the institutions that are inseparable components of the civil society that has adopted this mission, will act in line with their justifications. Even though it is unthinkable in any place in the world, the major question that Turkey's democracy must answer is how the Imrali practices came to be and why they could not be overcome in Turkey, which is a country liable to European law.
THE DEMAND FOR VISITATION MUST BE MET
The fact that we are unable to contact Mr Öcalan and our other clients who are being held in İmralı conforms to a policy that fosters uncertainty and keeps all possibilities in mind. Furthermore, it should not be forgotten that being placed in solitary confinement for a year without contact with the outside world constitutes torture under the rules of global law and jurisprudence. The current practice is an inhumane attitude aimed at the person's material and spiritual integrity. State bodies have a fundamental obligation to put an end to this practice immediately and to ensure that our clients meet with lawyers and their families. In order for this demand to be met, we call on everyone who supports democracy and liberties and is concerned about the functioning of the law to defend it. We bring it to the public's attention in the hope that everyone who speaks about social justice, equal rights, individual and collective liberties will be sincere."