Activists say that life and health of ill prisoners are under threat
Activists in the sit-in for ill prisoners said that the life and health of ill prisoners are under threat because of the refuse to release them.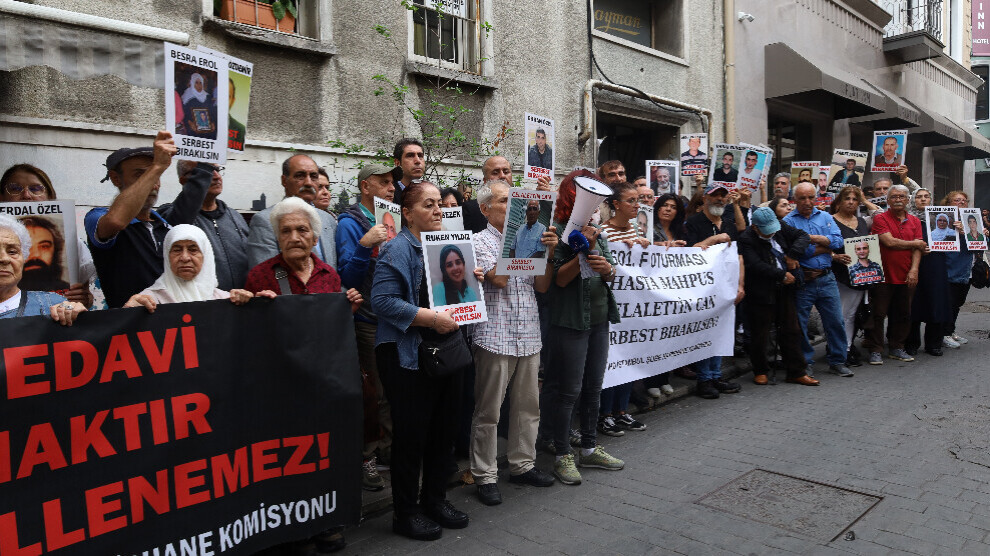 The Human Rights Association (IHD) Istanbul Branch Prison Commission held the 601st of its weekly "F Session" in front of the branch building. In this week's action, attention was drawn to the health condition of 78's Initiative spokesperson Celalettin Can, who is held in Silivri Prison No. 5. People's Democratic Congress (HDK) co-spokespersons Esengül Demir and Cengiz Çiçek, Green Left Party provincial co-chairs İlknur Birol and Murat Kalmaz, Labor Movement Party (EHP) chair Hakan Öztürk and many activists attended the action.
Ismet Evren, an activist of the 78's Initiative, said that enemy law was applied to ill prisoners. Evren said that Celalettin Can suffered from stomach and eye diseases as well as prostate cancer, and that, in addition, he had a platinum stuck in his foot after a traffic accident he suffered in 2011. The prisoner cannot meet his needs on his own.
Evren said that "Celalettin Can will lose his sight if he is not treated," and added that the release of Can, who has the right to probation, was prevented.
ANKARA
The Freedom for Ill Prisoners Initiative continued its weekly protest in front of the Ankara Branch of the Human Rights Association (IHD) on its 473rd week in order to draw attention to the situation of ill prisoners. During the action, attention was drawn to the situation of 72-year-old seriously ill prisoner Mehmet Emin Çam, who is held in Batman T Type Closed Prison.
IHD Central Executive Board (MYK) member Nuray Çevirmen said that there are more than 1,500 ill prisoners in total, 500 of whom are seriously ill, and called for Çam to be released as soon as possible due to his illness.