ÖHD: Imrali isolation should be lifted
Drawing attention to the hunger strikes launched in prisons against the isolation of Abdullah Öcalan, ÖHD Amed Branch said; "The ECtHR decision must be implemented."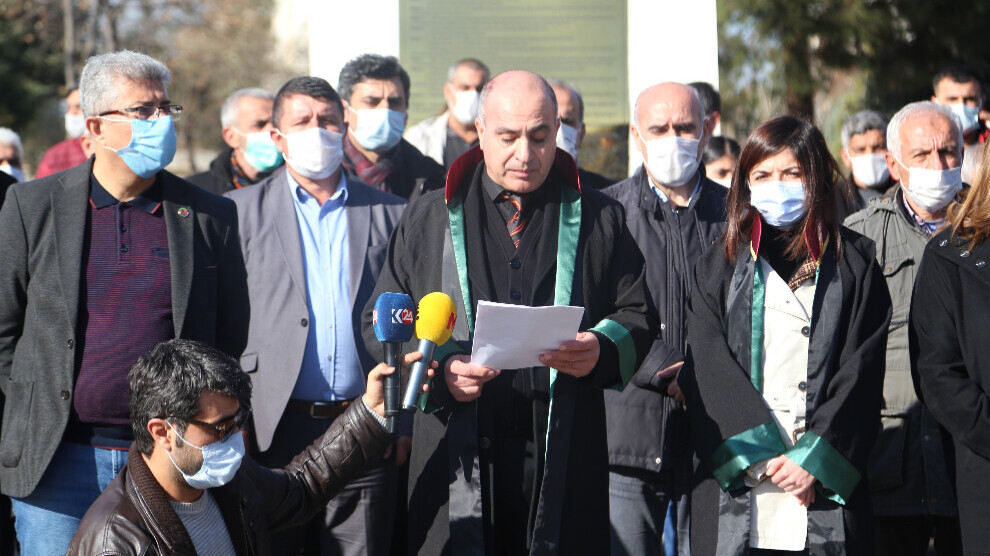 The Amed (Diyarbakır) Branch of the Libertarian Lawyers' Association (ÖHD) made a statement in front of the Human Rights Monument in Koşuyolu Park in Bağlar district regarding the isolation and hunger strikes in prisons. Peoples' Democratic Party (HDP), Democratic Regions Party (DBP) and many representatives of non-governmental organizations participated in the action. ÖHD branch co-chair Muharrem Şahin read out the statement.
'ACTION SHOULD BE TAKEN IMMEDIATELY'
Şahin said that people in Turkey carry out hunger strikes in order to be granted their rights, adding; "The reason for their ongoing hunger strike is the isolation policy imposed on Mr. Abdullah Öcalan and other prisoners. Considering the Civil Society Organizations reports, the pandemic is used as an opportunity and the prisons are completely isolated while no measures are implemented in jails."
Şahin continued: "The prisoners on hunger strike demand to end the isolation. If their demands are not met, the political power will be responsible for the undesirable consequences of the hunger strikes. For this reason, first of all, the Ministry of Justice and related institutions should act as soon as possible."
Stating that the state of emergency in prisons has not ended despite the abolition of the state of emergency, Şahin said, "To be specific, Diyarbakır T-Type Prison No. 3 adopted all kinds of inhumane torture similar to the 1980 military coup practices. While the priority measures should be taken in prisons in the first place during the epidemic, this was not done. On the contrary, prisoners' rights have been violated arbitrarily."
'ISOLATION NEEDS TO BE LIFTED'
Şahin responded to the statements by the legislative, executive and judicial authorities that they would not comply with the law, the decisions of the Constitutional Court and the ECHR. He continued: "The ECtHR's decision must be implemented without any restraint. This understanding and approach lead the society as a whole to an irreversible darkness. Laws and court decisions are binding for everyone. The government cannot render the laws and rules dysfunctional through arbitrary attitudes and decisions. It is essential to end the Imrali isolation policy and to ensure all rights of Mr. Öcalan and other prisoners. Complying with the law is not a discretion, but an obligation."
Underlining the necessity of fulfilling the requirements of the law before serious health problems arise, Şahin said: "We invite all public opinion, especially the Ministry of Justice, to display sensitivity as soon as possible in order to treat the problem on the basis of fundamental rights and freedoms and to evaluate and resolve the demands accordingly."