85 actions in 36 cities to demand the release of Hatay MP Can Atalay
TIP organized 85 actions in 36 cities demanding the release of Hatay MP Can Atalay, who is still in prison.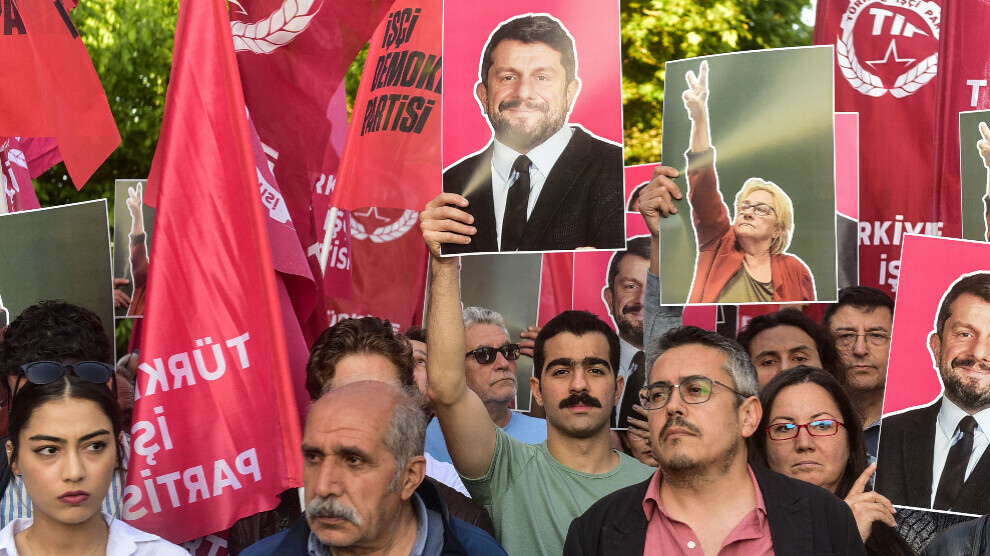 The deputies of the 28th term of the Turkish parliament took an oath. All except one, MP for Hatay, Can Atalay, who was elected for the Workers' Party of Turkey (TIP), but has not yet been released from prison.
TIP members held press conferences on Tuesday demanding the release of Can Atalay in 36 cities and 85 different points.
TIP members got together in front of Istanbul Haydarpaşa Train Station, shouting "Enough is enough, put an end to this unlawfulness."
Melis Yağmur Yıldırım read the statement on behalf of TIP about the action that took place under the police blockade.
Lawyer Can Atalay is one of the so-called 'Gezi Park prisoners'. He was unlawfully imprisoned while his trial continued at the Court of Cassation. He was elected as a Hatay deputy from TIP in the 14 May parliamentary elections.
Yıldırım said: "Following the finalization of the election results, Can Atalay received his parliamentary mandate through his lawyers and last Friday, he was registered officially as an MP of the Turkish Grand National Assembly. However, since our elected deputy is in Silivri Prison, he could not take his parliamentary oath and could not start to work. The application of his lawyers to the Supreme Court for the release of Can Atalay has been left unanswered for days and our comrade is still in prison."
Pointing out that the current situation is unconstitutional in every sense and that the Supreme Court of Appeals insists on not implementing the provision ordered by the Constitution, Yıldırım said that the continuation of the detention of the elected Hatay MP, was a violation of the rights of the voters to be represented.
Yıldırım added that the provision of Article 83 of the Constitution states that "a deputy who is alleged to have committed a crime before or after being elected cannot be detained, questioned, arrested or tried without the decision of the Assembly".
Addressing the Court of Cassation, prosecutors and authorities, Yıldırım said: "Why hasn't Can Atalay been released yet, even though it has been three weeks since he was elected? Why couldn't Can Atalay take the oath in Parliament and start working? When will Can Atalay reach Hatay to start working with the citizens for the reconstruction of the city that has been turned into a wreck? Are you afraid that Can Atalay will expose the crimes of those who left Hatay and the whole country under rubble? Don't you know that it is a crime to act as if the deputy elected by the people had not been elected?"
Inviting the institutions to comply with the Constitution, Yıldırım said: "Put an end to this unlawfulness! Respect the law! We demand respect for the will of the people! We will continue to fight for all our friends, especially Mücella Yapıcı, Can Atalay and Tayfun Kahraman, who have been unjustly and unlawfully arrested and whose freedom has been taken away. We will definitely bring justice to these lands."