Van Democracy Platform calls for the release of 4 journalists before tomorrow's hearing
Van Democracy Platform released a statement before the hearing of the journalists who were jailed for reporting the "helicopter torture" in Van province.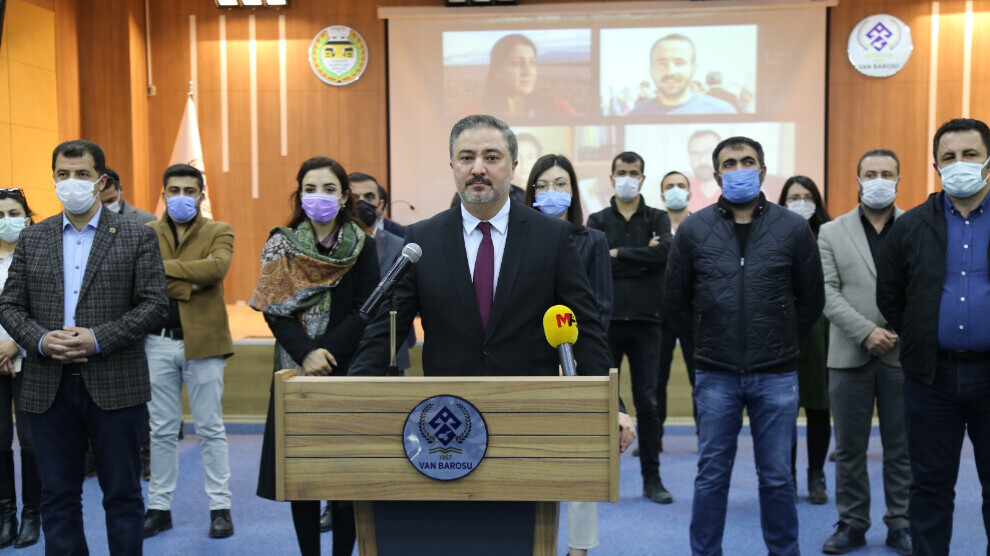 Mesopotamia Agency (MA) reporters Adnan Bilen and Cemil Uğur, Jinnews reporter Şehriban Abi and journalist Nazan Sala who were arrested in Van on October 9, 2020, will appear before the judge on April 2 for the first time. MA reporter Zeynep Durgut is also tried in the same case without arrest.
The five journalists were targeted after revealing the case of Osman Şiban and and Servet Turgut who had been detained and severely tortured by Turkish soldiers. Of the two civilians who were later thrown from a military helicopter, Servet Turgut died from his injuries on 30 September. The journalists revealed documents confirming their accusations, including a hospital report acknowledging that the two villagers suffered severe injuries due to a fall from a great height.
Before the first hearing to be held at Van 5th High Criminal Court tomorrow, Van Democracy Platform held a press conference in the Van Bar Association building which was attended by representatives of several institutions, associations and NGOs and families of journalists.
Speaking to the press, Van Bar Association president Zülküf Uçar pointed out that the journalists in question were accused of "making news to the detriment of the state" only because they exposed the torture suffered by the two victims and brought it to the agenda. Referring to the arrest warrants issued in the case, Uçar noted that the reports written by the journalists were treated as 'criminal evidence'.
"The journalists were further told that they would not be regarded as press members because they did not have the official press card which has been turned into an instrument of approval or punishment. Journalists are meant to inform the citizen accurately on all matters that concern the public," he underlined.
 "LAWS ARE NO LONGER RECOGNIZED"
Uçar remarked that in fact, journalism and freedom of information would stand trial at tomorrow's hearing as he highlighted the ever-increasing repression against journalists in Turkey. The "press freedom" covered by Article 28 of the Constitution is losing its meaning, he said.
"FUTURE OF THE COUNTRY IN JEOPARDY"
Uçar also stated that "controversies over the independence of the judiciary, the ongoing interventions and pressures on the judiciary and politicians' remarks demanding the closure of the Constitutional Court put the future of the country in jeopardy. The crackdown and arrests against all segments of society and journalists must be ended for a democratic constitutional state.
We expect arbitrary practices contrary to the constitution, law and democratic society to come to an end, and call for the release of journalists Adnan Bilen, Cemil Uğur, Şehriban Abi and Nazan Sala at the first hearing to be held tomorrow. Journalism is not a crime! Press workers should be released immediately."