Turkish court sentences Wall Street Journal reporter to prison
Turkey has taken legal action against yet another foreign journalist reporting on the conflict between the Turkish state and the Kurdish people.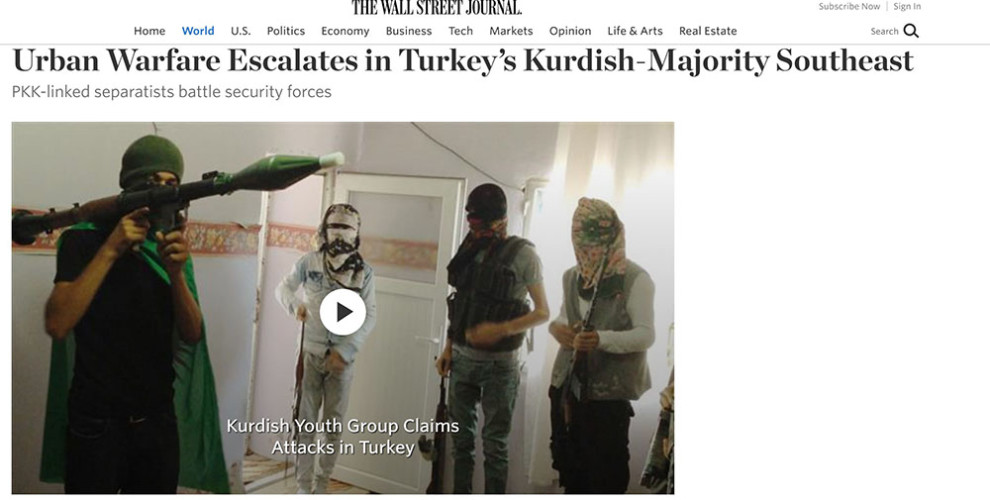 Wall Street Journal reported that a Turkish court sentenced their reporter Ayla Albayrak to two years and one month in prison Tuesday, declaring her guilty of engaging in terrorist propaganda in support of the PKK.
The newspaper stated that the conviction of Ms. Albayrak, who is currently in New York, highlights the increasing targeting of journalists in Turkey, where President Recep Tayyip Erdogan's government has gained attention for deteriorating media freedoms.
"This was an unfounded criminal charge and wildly inappropriate conviction that wrongly singled out a balanced Wall Street Journal report," said Wall Street Journal Editor in Chief Gerard Baker. "The sole purpose of the article was to provide objective and independent reporting on events in Turkey, and it succeeded."
Journalist Albayrak who plans to appeal the decision said; "Given the current climate in Turkey, this appalling decision shouldn't have come as a surprise to me, but it did."
Turkish legal actions against Albayrak began after the publication on Aug. 19, 2015, on the Journal's website of her article "Urban Warfare Escalates in Turkey's Kurdish-Majority Southeast".The story and an accompanying video reported on the state of a conflict in Silopi, a district of Şırnak province, Turkey, between Turkish security forces and Civilian Defense Units (YPS) during the period of self-rule resistance. It included interviews with the local mayor and residents, a Turkish government official, as well as a representative of an organization Turkey says is the youth unit of the PKK.
WSJ stated that in November of the same year, Ms. Albayrak, who has dual Finnish and Turkish citizenship, received a written order on her door to visit her local police station in Istanbul where she was notified she was under investigation for "spreading terrorist propaganda".
At the police station, she gave a statement saying the article accurately reflected the state of the conflict between the PKK and the Turkish government. In April 2016, a prosecutor in southeastern Turkey filed an indictment against Ms. Albayrak alleging that she violated antiterror laws.
William Lewis, Dow Jones's chief executive officer and publisher of The Wall Street Journal, said: "This ruling against a professional and respected journalist is an affront to all who are committed to furthering a free and robust press. We call on those who share this commitment to make their voices heard.
"The notion that our reporter's commendable and insightful work led to a criminal prosecution that has resulted in this wrongful conviction is intolerable," Mr. Lewis said. "We have stood by Ms. Albayrak's side for nearly two years as we have robustly pursued all available options to defend this baseless prosecution, and we will continue to stand with her as we seek to overturn this conviction."
As part of the article she was convicted for, Ms. Albayrak interviewed a person who described herself as a member of the Patriotic Revolutionary Youth Movement, or YDG-H, that later organized under the YPS.
Ms. Albayrak said in a statement included in the court documents that the original article didn't include any praise for the group, but rather provided a balanced and objective view of urban warfare that had gripped areas of Turkey's predominantly Kurdish southeast at the time.
"The decision shows the extent to which the authorities did not want the operations that were going on in Turkey's southeast to be reported on," said Ms. Albayrak. "It also shows yet again, that the international media is not immune to the ongoing press crackdown in Turkey."