Guerrillas halt attempted advance by the Turkish army in Werxelê
The guerrillas repelled an advance attempt by Turkish occupation forces on the resistance area of Werxelê with a sabotage operation. In Heftanîn, female guerrillas targeted Turkish forces with heavy weapons.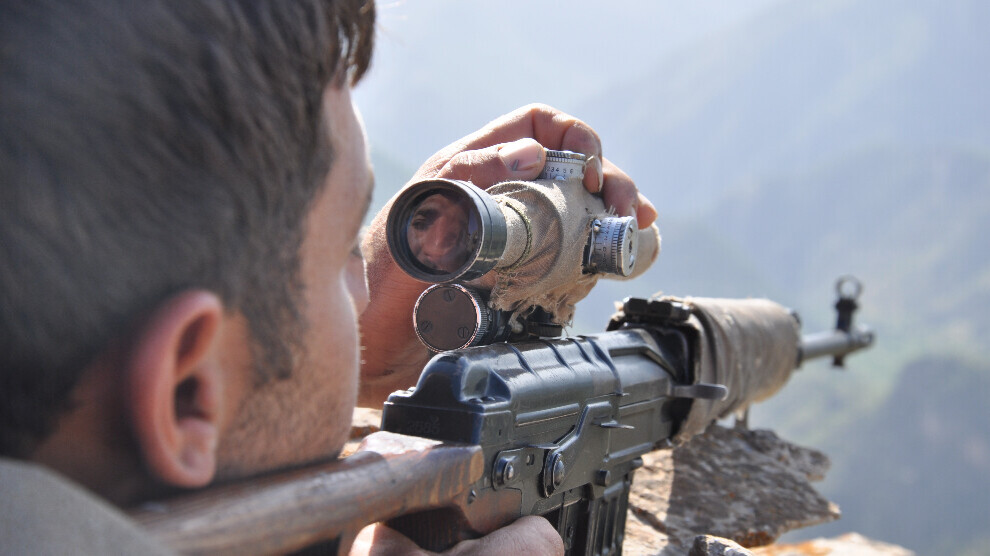 Last night, Kurdish guerrillas repelled an attempted advance by Turkish occupation forces from defensive positions in the Werxelê resistance area in Avaşîn with a sabotage operation. This was announced by the press center of the People's Defense Forces (HPG) in a statement published on Sunday. Accordingly, the Turkish army responded with three explosive attacks, after which soldiers attempted to install surveillance cameras in the area. "Our forces then carried out another sabotage and struck the Turkish forces with light arms at close range and the occupiers' explosive devices and surveillance cameras were destroyed. As a result of these effective actions, the advance of the invading forces has been halted," it said. This Sunday, HPG recorded more attacks with explosives in Werxelê at 6:15 a.m. local time.
YJA Star action in Heftanîn
In Heftanîn, fighters of the women's guerrilla troop YJA Star took action yesterday against the positions of the Turkish army on Hill Qesrokê in the Partîzan area. All positions were "effectively" struck with heavy weapons, according to the HPG. Information on casualties in the ranks of the occupation forces is not available.
Information is also available from the statement about an occupation operation in Heftanîn that was initiated on September 12 with the shelling of the Pîrbula area and the village of Banikê with howitzers and mortars. The next day, the Turkish army withdrew, but as a result of the bombardments, massive material damage was caused to the civilian population's cultivated land and vineyards, HPG said.
Air and ground attacks in Akre, Avaşîn and Metîna
The village of Şiyê in Dinartê near Akre was also bombed by the Turkish army yesterday. The air strikes were recorded at 18.40. Between 10:45 p.m. and 12:30 a.m., air strikes were recorded over the areas of Mervanos, Tabûra Ereba, Girê Spî and Girê Silêman in Avaşîn, at the same time helicopters bombed Girê Qartal, Stûnê and Geliyê Basya. In Metîna, the Kela Qumriyê area as well as the area around the village of Hiror came under continuous artillery fire from Turkish border posts between 4 p.m. Saturday afternoon and early Sunday morning.