YPG Commander: Efrîn will defeat the invading Turkish state
YPG Commander Mehmut Berxwedan stated that Turkey has initiated a new concept of aggression against Efrîn, saying; "Efrîn will defeat the invading Turkish state and its gangs."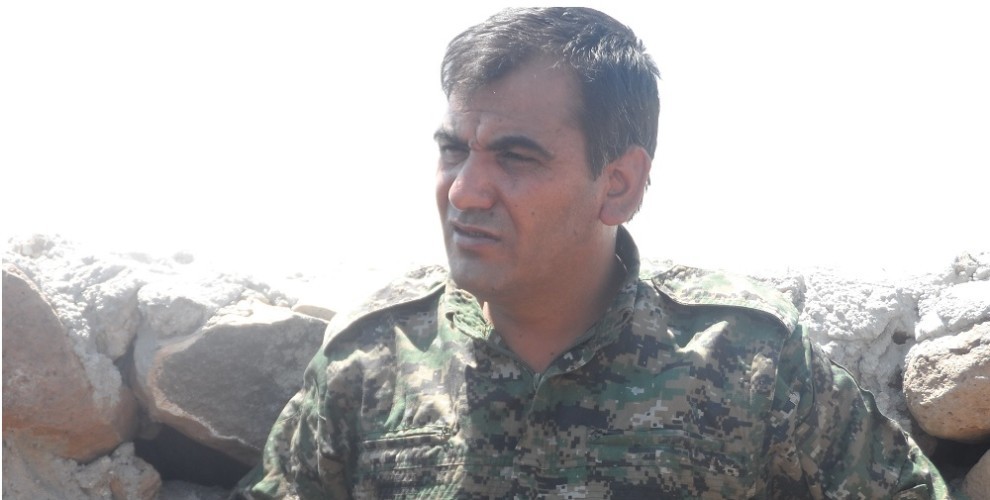 Entering Idlib under the pretext of "establishing safe zone" in accordance with the agreement reached by Russia, Iran and Turkey at Astana 7 meeting, Turkey made a deal with Al-Nusra that changed its name into Hayat Tahrir Al-Sham. Following this deal that was made between Al-Nusra and the Turkish army in Idlib, the Turkish army encircled Efrîn from the west.
The Turkish army which carried out its attacks against Efrîn via Al-Nusra before, is observed to be increasing its military activity in the region recently. YPG Commander Mehmut Berxwedan evaluates this increasing activity as "a new concept of aggression", as part of which the Turkish army has enhanced building emplacements, digging trenches and constructing outposts along the border line.
TURKISH MINISTER THREATENED EFRÎN
In the meantime, Turkish Foreign Minister Mevlüt Çavuşoğlu said the following in a statement on Tuesday; "Turkey is receiving threats and attacks from Efrîn. We can intervene Efrîn whenever we please, whenever technical planning is done. We may also enter all of a sudden."
YPG Commander Mehmut Berxwedan spoke to ANF about the latest situation in the region and clashes with the Turkish army and affiliated gangs that shelled Basufan and Beiye villages of Efrîn's Sherava district last night.
"TURKISH STATE IS WAGING A DIRTY WAR"
Recalling that the Turkish state is waging an extensive psychological special war against Efrîn through the press for a long while now, Berxwedan said: "By bringing forward fabricated claims like the people of Efrîn are Arab, that they are subjected to repression and that the region constitutes a threat, Turkey is trying to cover up the dirty war it is waging. By doing this, it aims to invade Efrîn together with the gangs affiliated to itself. Turkey tries to create a perception that the Kurdish people's struggle is not legitimate, but its own invasion is. All its efforts serve this goal."
"A NEW CONCEPT OF AGGRESION IS IN PLACE"
Remarking that the Turkish army has put a new concept of aggression into action, YPG Commander continued; "With the Jabhat Al-Nusra gangs and ISIS remnants in Idlib and Azaz, Turkey is trying to form a new concept of aggression against the gains of the Kurdish people and Efrîn people. Attacks against Efrîn were being conducted through Al-Nusra and other gangs before. Most recently, in addition to the attacks of the gangs, the invading Turkish army is conducting and coordinating the attacks itself."
"EFRÎN DID NOT ALLOW TURKISH INVASION"
Speaking about the measures taken against attacks, Berxwedan said all the people of Efrîn, young and old alike, are organizing for defense. Recalling that the people have protected the region against all attacks up to date, YPG Commander told the following; "Efrîn is the safest region in Syria. This reality disturbs the Turkish state that has devastated Syria through its gangs. Only Efrîn did not allow the dirty war of Turkish invasion to triumph, and protected the stability in its region. The Turkish state now seeks to commit a massacre, force people to migrate and thus to devastate Efrîn as well."
"RESTRICTED MEANS BUT STRONG WILL"
YPG Commander Mehmud Berxwedan pointed out that the Turkish state and allied gangs have increased their attacks against Basufan, Baiye, Cindires, and Azaz, Ayn Daqna, Şew İsu and Qestel Cindo line, resulting in clashes on daily basis. He added; "The people of Efrîn will stand against Turkish invasion with their restricted means but strong will, and will never leave their lands. No matter how great the threats may be, this will not matter to us. We believe that the will of Efrîn people will defeat the invading Turkish state and its gangs."