"Turkish invasion a threat to all regional, international forces"
Northern Syrian Democratic Federation Co-chair Yusuf: Turkish state attacking Efrîn will cause a similar defeat to that of the Ottoman Empire in WWI.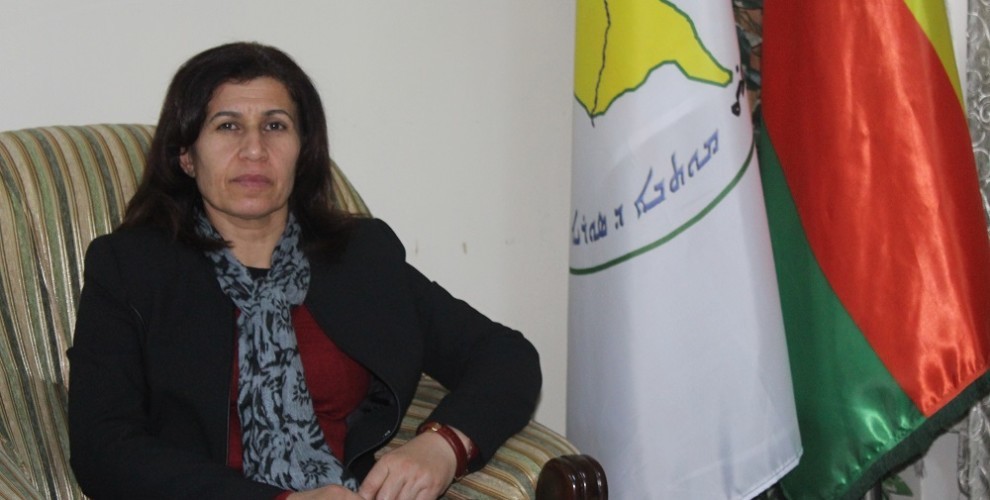 Speaking to ANF, Northern Syrian Democratic Federation Co-chair Hediye Yusuf stated that as Northern Syria they don't have an intention to attack the Turkish state and stressed: "If they take steps to invade Efrîn, they will face a resistance they never fathomed. We will turn all our weapons on them to defend the people. We are an organized force and we have faith that we can retaliate any and all attacks against us."
"WE ARE PARTY TO A SOLUTION"
Speaking about the post-ISIS period, Yusuf said the following: "We say that 2018 will be the year of a political solution. It will be the post-ISIS period from now on. Before it was a period of fighting ISIS and relationships with the international community developed on a military basis. We haven't been part of the political processes to date, but ISIS' defeat has made us party to the solution as the owners of the project.
Regarding Turkey's stand on Syrian war, Yusuf remarked that: "Turkey wants to settle in Syria as an invading force and to have a say in the future of Syria through this. To that end, they are striving to meet with the US, Russia and other parties and make room for themselves. They still support some groups to have a say in the future of Syria. Geneva, Cairo, Riyadh and all other international talks have been in vain. At the top of the list of states who work to prevent these meetings coming to fruition is Turkey. Turkey doesn't want a solution to the Syrian crisis. This war has proven that Turkey supports terror and exports terror to the region. Most recently, they entered Syria with their army and launched an invasion.
"ISIS' DEFEAT HAS BECOME TURKEY'S DEFEAT"
After Bab, Azaz and Jarablus, they have most recently settled in Idlib. But Turkey's policies have lost in the Syrian civil war process. There are two losers in this process, one is ISIS and the other is Turkey. ISIS' defeat has become Turkey's defeat. Turkey can see that they have been defeated. The main message in the process against Qatar was to Turkey. The biggest message in the situation in Southern Kurdistan was also to Turkey. Because both these regions are economic sources for Turkey. Erdoğan may have turned the coup attempt/intrastate conflict in Turkey to his advantage, but all these are signs that the Turkish state has been defeated.
"A NEW POLITICAL PROCESS"
Their relationships with the EU, the US and states in the region are tense. Right now they are seeking to form new alliances to get out of this rut. They want to guarantee their future. That is why Turkey is in a huge bind. The Turkish state's word is worthless now. The process now mandates a solution to the Syrian crisis. That is what is being discussed in Geneva, and there are serious discussions on who should participate in these meetings. There are serious discussions on including the will of Northern Syria in the solution process. So, I can say that 2018 will be the beginning of a new political process. In this process Kurds and the peoples of Northern Syria will have a leading role. They will be a fundamental actor in the building of a democratic Syria."
Mentioning Turkey's threats against Efrîn, Yusuf remarked that: "Since day one the Turkish state has attempted to smother the Kurdish-led revolution and solution model for a democratic Syria. They have done all they can to that end and continue to do so. They are trying to ignite a new conflict in the region. Their true goal is to invade Efrîn and Idlib and create a corridor that reaches the Mediterranean. The Turkish state has an organized plan. They are attempting to invade areas step by step in accordance with that plan. They want to implement in Efrîn what they failed to do in the east of the Euphrates.
The presence of the Turkish state in Syria is also dangerous for Russia and the US. Russia is aware of this fact. On what grounds have the Russians allowed the Turks in? When gangs like Al Nusra and ISIS got too strong, the regime was left in a very difficult situation. Russia wanted to strengthen the regime through an alliance with Turkey and Iran. They went into an alliance with Turkey to remove the gangs from Damascus and its vicinity, and they allowed Turks to enter Jarablus. So the Turkish state has strengthened the hand of the regime. The Turkish state also used the gangs to achieve their own goals. When they saw that the Northern Syrian forces were achieving success, they panicked and sold out the opposition. Because the Turkish state doesn't care about the peoples of Syria or the success of the opposition. When they saw that their interests were under threat, they made a deal with Russia and the regime to enter Jarablus and hinder the Syrian Democratic Forces. There was a deal over withdrawing the opposition from Damascus, Aleppo and their surroundings. They pulled these forces back to Idlib. They destroyed groups called the Syrian opposition."
"TURKISH INVASION A THREAT TO ALL REGIONAL AND INTERNATIONAL FORCES"
Referring to a probable Turkish invasion operation against Efrîn, Yusuf said: "The Turkish state invading Syrian territory is a threat to all regional and international forces. They also pose a threat to the Russians with their invasion of Bab, Jarablus and Idlib. There have been attempts to find a solution to the Syrian conflict for 7 years. The Turkish state's goal in the invasion operation against Efrîn is to nullify these attempts and rekindle the war. Ending the solution process will lead to even greater conflicts. Such a process will serve none of the powers involved. I'm saying this as a possibility/opinion, the US and Russia won't allow an invasion attempt by the Turkish state.
There will be a war that will be won by whoever is more organized. The biggest loser in such a situation will be the Turkish state. Turkish state attacking Efrîn will cause a similar defeat to that of the Ottoman Empire in WWI. If they would be as crazy as to attempt an invasion in Efrîn, they will bring about their own end.
"WE CAN RETALIATE ANY AND ALL ATTACKS AGAINST US"
As Northern Syria we don't have an intention to attack the Turkish state. We have no intention to attack any of our neighbors. But if Turkey attacks Efrîn, they will face a great response. We are stating this clearly: If they take steps to invade Efrîn, they will face a resistance they never fathomed. We will turn all our weapons on them to defend the people. But if they don't attack, we have no intention to attack them. We are an organized force and we have faith that we can retaliate any and all attacks against us. And we are calling on the international community to stop Turkey's preventative role in the Middle East as the region marches toward stability."