Mother and son in the guerrilla ranks
Once they were mother and son, and then they became two brave comrades who held on tight to one another within the Kurdish Freedom Struggle.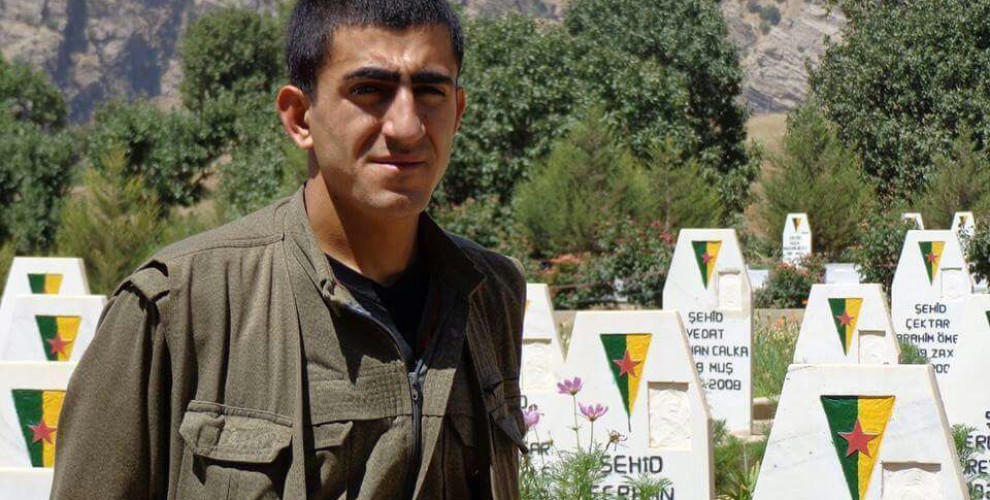 Here is the extraordinary story of two PKK fighters who immortalized their names with their resolve in the struggle and their courageous stance.
Turkish state has always imposed oppression, exile and migration on the Kurds. Despite all, every individual whose heart beats for freedom stood strong against exiles, oppression and migration. And like the river finds its path, they have found themselves in a search for the truth or fought what they believed on this path.
The Göktürk family is a Kurdistani family. They migrated from Mardin's Kızıltepe (Qoser) district to Manisa's Turgutlu district two generations ago. Despite all the time that has passed since, they have fought for their lands, their identity, their language and their core, and they make up this immortal story.
THE SEARCH FOR THE TRUTH FROM YOUTH TO MOTHERHOOD
Hanife Göktürk married her aunt's son when she was 15. They had 3 children, the middle child was a girl. Hanife, as a mother, turned into a woman with discipline and swift reflexes. She knew what she wanted, had strong relationships and was known to be trustworthy. She resisted injustice and even though she got angry at times, she had a good heart.
Mother Hanife's love for the Kurdish Freedom Movement grew when she was young, and her love and faith continued after she became a mother. Her life journey was pretty much set, with 3 children and a husband, but her heart was always searching for something. She was enigmatic because of this, and in the end, in 2002 she got divorced and started living with her 3 children. As the children grew, she participated more individually to political efforts. Her eldest son got married and started supporting the other two siblings' education. After the youngest son Özgür finished middle school, they moved to Tarsus, Mersin because he got accepted to a high school there.
SON NAMED ÖZGÜR WITH DREAMS OF FREEDOM
Mother Hanife's youngest child Özgür was born in Manisa's Turgutlu district like his other siblings on July 28, 1989. He was an active, cute little boy. As Mother Hanife's new hope, the child was named Özgür, which means "free" in Turkish. She saw the seeds of freedom to the boy's heart when he was born, and to hers as well.
Özgür had very good relationship with his family, friends and community. He got along with everyone, he was calm, honest, hardworking and very smart. He did not love easily, but when he did, he loved forever. He was loyal and charitable.
MIGRATING FROM THE MIGRATED LAND, AND QUESTIONING
Moving to Tarsus, Mersin was hard for Özgür at first. It was exhausting trying to focus and adjust to this new city. His questioning side started to come to the fore more. After he saw the system and the flaws within the system's education, he left school in his sophomore year in highschool.
At 17, Özgür started working in a textile factory. He worked and in his free time supported his mother's party efforts, through individual effort and solidarity. After the factory closed down, Özgür didn't look for another job and just dedicated himself to party efforts. He saw his mother as a role model and became very active in the party right alongside her.
MOTHER AND SON BOTH JOIN THE PKK
Mother Hanife and her son Özgür had a growing dream of freedom in their hearts, so much so that they couldn't contain it anymore. On September 13, 2009, hand in hand, the mother and son turned to the free mountains to fight shoulder to shoulder. They joined the armed struggle in the ranks of the PKK. Mother Hanife became Zîlan Mêrdîn, Özgür became Zinar Qoser. Once mother and son, they became two brave comrades.
SON ZINAR QOSER MARTYRED
Zinar Qoser was known for his resolution and courage among his comrades. After 8 years of the Kurdish Freedom Struggle, he was martyred in a clash in the Amanos mountains in Osmaniye on April 17, 2017. His family learned of it much later, on May 2. They took Zinar Qoser's body without any assistance, and buried him in Kızıltepe, Mardin in a crowded ceremony.
The mother and comrade of Zinar Qoser immortalized in the Kurdish Freedom Movement, Zîlan Mêrdîn continues her fight in the ranks of the Kurdish Freedom Movement fearlessly on the lands that her son and countless immortal names promised on.