Messages of solidarity to Yusuf Iba pour in from around the world
Kurdish activist Yusuf Iba went on hunger strike 107 days ago in Toronto demanding the end of isolation against Abdullah Öcalan.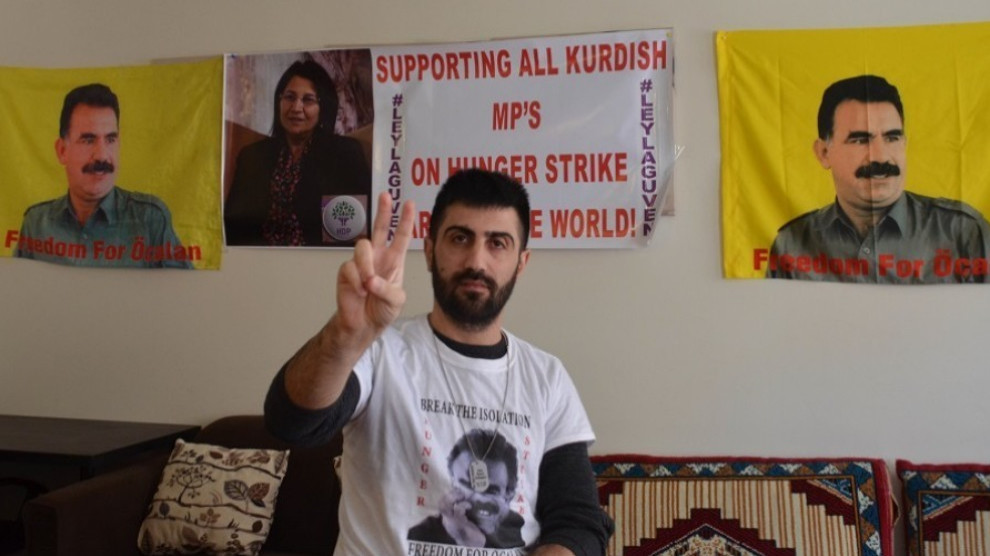 Many people from all over the world are sending their solidarity messages to the Kurdish activist who had been taken to hospital a few days ago but is continuing his action with determination after refusing treatment. 
Activists from Africa, Russia, Iran, Korea, Switzerland, England have sent messages of solidarity with the hunger strikes and Yusuf Iba.
An Iranian activist said: Hello, I'm Yusufcan, I have an Iranian mother of 2. I was told about your situation by Kurdish friends from Turkey. I know it's a very important mission for you, and a very difficult one. You are carrying out a very important action on behalf of humanity and the Kurdish people. Please, be sure that we all love you very much, because you are carrying out a very important hunger strike in the name of humanity. I am very sure that we will celebrate the free Kurdistan and free Kurds in the near future. We are proud of you.
A Russian activist said: This video is for Yusuf Iba. Hello Yusuf, my name is Yana. I sincerely congratulate you on this action you initiated to change this corrupted system. You're a good citizen and brother. I wish success and health in your action. Serkeftin.
An African activist said: Long live Yusuf Iba, I wish success.
A British activist said: I want to tell my feelings in English. I heard your story. You are going through a very difficult process but at the same time you are very strong. I certainly understand you. I would love to help you, but all I can do for you is praying. I pray for your health and the freedom of the Kurds all over the world. What you are doing is extremely valuable and we hope that one day peace and freedom will prevail all over the world. Please be strong. Our support and our prayers. I wish you success. And I want to say that your health is very important to us all. Success. Have a nice day.
A Korean activist said: Hello Yusuf Iba. I am Korean and I will speak Korean. I think that everyone should have equal rights in the same way without discrimination, regardless of their ethnicity. I've heard you've been on hunger strike for a long time, so I appreciate you for the action you are carrying out. I hope you will succeed. Thank you for your struggle against injustice and discrimination. Get well soon. I wish peace for the Kurdish people.
A Swiss activist said: Hello Yusuf I am an Azeri woman living in Switzerland. I heard about your action from my Kurdish friends in Canada. I'm sending this video to support you. I really respect the very big thing that you're doing. I wish a free life for all Kurdish people.