MED TUHAD-FED: Support the Justice Vigils for prisoners
MED TUHAD-FED co-chair Zeki Baran drew attention to the Justice Vigil carried out by the relatives of the prisoners in four regions and called on everyone to support them.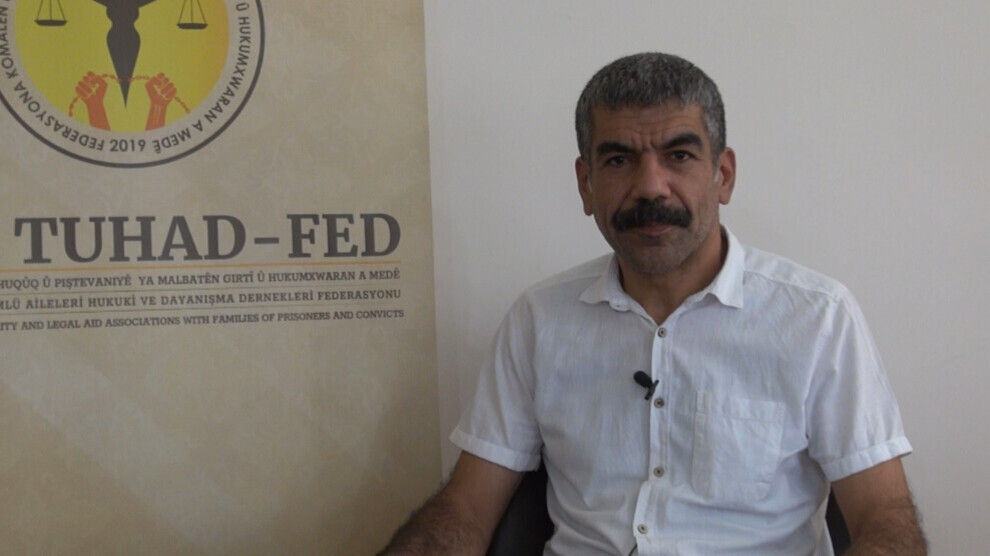 Noting that the pressure on prisoners is increasing by the day, MED TUHAD-FED co-chair Zeki Baran told ANF that this latest period has turned into a method of punishment for families as well.
Families undergo strip searches
During the Covid-19 pandemic, the prisoners' ties with their families were almost at a breaking point. Baran said that face-to-face meetings, which have started again in recent months, were reduced to 15 minutes from time to time. "The repressive methods that families are exposed to at search points when they go to visit their relatives in prison, do not really comply with human dignity. In some prisons, relatives are even forced to undergo a strip search before the visit."
Baran said that the primary duty of the association is legal solidarity with the families of the prisoners, and added: "Our mission is to expose to the public the hundreds of violations of rights that occur every day in prisons. In a way, it is to keep prisoners on the agenda and to force the decision makers to withdraw from this policy of oppression. Our only source of communication with prisoners is families and lawyers. As an institution, we do not have the right to go and visit prisoners. We prepare reports in partnership with legal platforms. This is how we expose what is going on in prisons. We are trying to create pressure."
'Support the Justice Vigils'
Baran said that the Justice Vigils held by the relatives of the prisoners in Amed, Van, Istanbul and Izmir in recent months, are important actions and added: "Everyone should support the vigils launched by the families of ill prisoners. We support these families. We have done and are doing everything we can to make their voices heard everywhere. We regularly participate in the ongoing actions in the four regions. In the same way, we are trying to get their just demands accepted by bringing the humanitarian and legal aspects to the agenda, thanks to the cooperation with our lawyer friends."
Baran underlined that the oppression and psychological violence against prisoners and their families should be well read by the public and civil society organizations and added: "When we look at the general profile of political prisoners in Turkish jails, we see that these people are arrested in a system where there is no speck of law. Under normal circumstances, most files will either never opened or will end in the dustbin before reaching court."