London hunger striker: Our fast is for justice and freedom
Nahide Zengin has been on hunger strike at the London Kurdish Democratic Society Centre since 14 March.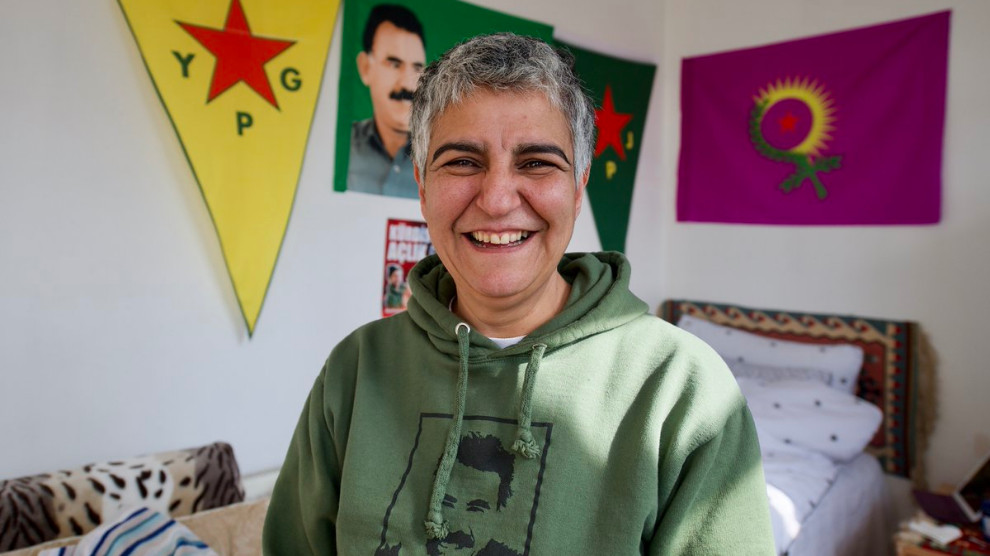 In a long interview with The Canary hunger striker Nahide Zengin said that the reason why she is ready to pay whatever the price is "very simple. We are fighting for justice and freedom in a peaceful way."
She underlined that in the Turkish constitution, it says that prisoners have rights to have visitors, phone calls, doctors, media and lawyers. Those rights are denied to Kurdish people's leader Öcalan.
For this, thousands of prisoners and dozens of activists like Zengin are on hunger strike throughout Eruope. 
Nahide Zengin has been on hunger strike at the London Kurdish Democratic Society Centre since 21 March.
"Our hunger strike action - she told the Canary - makes us understand more about Abdullah Öcalan's isolation. We think deeply about his situation, and we have more empathy with him. This action has brought to light Öcalan's real situation. Sometimes, to know something and to actually understand something and give it meaning can be different. So at the moment, the outcome of our struggle is that this huge isolation on Öcalan is understood more by the public."
Nahide Zengin told about her life in Dersim. "I come from a political family, who are just hoping that this struggle will end in victory. I know that my family understands me, so that makes me feel good.
In 2004, I was tried and sentenced in Adana heavy penal court [for 'terror'-related offences]. I was sentenced to six years in prison and I had to flee the country."
At the same time that she was on trial, she added, "two of my siblings were also on trial in different cities. One of them was acquitted and one of them had to pay a fine and was forced to do military service. But they wouldn't give him a gun: they didn't trust him with a weapon!
Now, I can't go back to my home town because the fascist [Turkish] regime defines me as a terrorist. They have destroyed the meaning of terrorism; they have emptied the meaning of the word by calling us that."
Nahide Zengin has been living in Rojava between 2016 and 2017. As she told the Canary journalist she started Jinwar, the women's village project, and some economy and cooperative projects. She got back when Kurdish journalist and film maker Mehmet Aksoy lost his life in Raqqa.
Nahide Zengin, always with a contagious smile on her face known to all of us who know her, told the Canary about the occupation in London of the Amnesty International premises and the reaction of the supposedly human rights organisation. They called the police to forcibly evacuate the building and Nahide Zengin was taken to hospital as. 
"My blood pressure was high and I had a high risk of a heart attack. I was taken to hospital by ambulance on the third day of the protest. When we were there, we heard about the police presence at Amnesty, so I refused treatment and went back to their office directly."
As to Amnesty Internationa, perhaps it protagonised the worst part of its history: "I saw someone – a man in a high position in Amnesty – pointing at demonstrators so that the police could arrest them. So I intervened. The police tried to arrest me. But there were a lot of people around me preventing it. Someone I didn't know – a member of the public – held me [in his arms] and protected me. I told the police that my potassium level was high and that I was at risk of a heart attack or a stroke. The officer said, "you shouldn't come here, then."
Nahide Zengin ended her interview with this words: "I want to live: you see all the energy in me! But I am also ready to give my life, and this is the same for my friends."
The full interview can be read here