Kobanê: Football to promote solidarity
Sport is part of the coexistence and collective project of the Rojava Revolution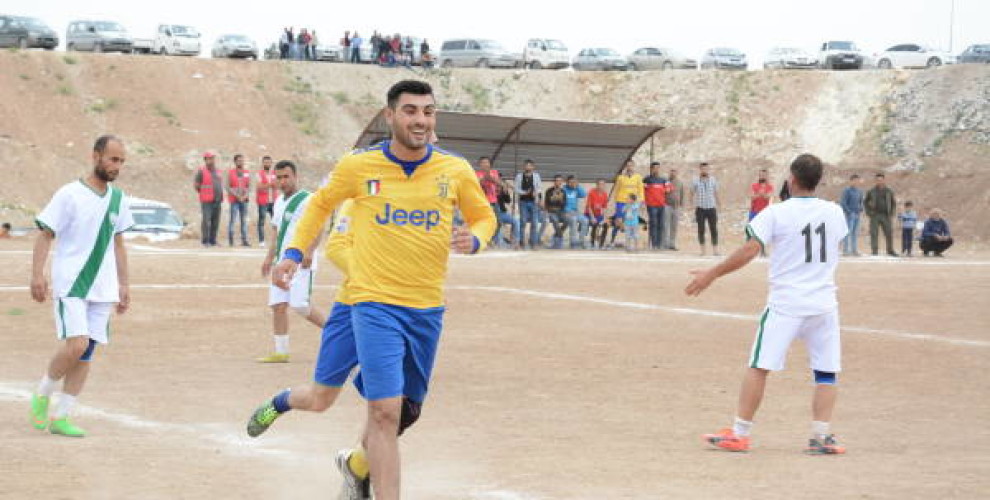 The cities of Manbij, Tabqa and Raqqa, which have been liberated from the DAESH in turn, are preparing their own football tournaments to develop an inter league made up from the winning teams from each local tournament. 
Citizens of these cities are trying to overcome the violence and brutality of war they have experienced under DAESH, by improving their social activities. One of these social activities is sports and clearly football has a prominent space in the collective sports.
League in Kobanê 
In Kobanê, the Sports Council linked to the football federation two weeks ago started a league with 13 teams playing in it. 
So far, 6 matches have been played and the league will last 6 months. The 4 first teams at the end of the league will then form separate leagues with the other first 4 teams in each of the other tournaments organized in Tabka, Raqqa and Manbij.
Furthermore the first 6 teams of the Kobanê football league will enter the 1st league next year. 
The remaining 7 teams will enter the 2nd league. The 2nd league will be determined by the football federation.
Tournaments in Manbij, Tabka and Raqqa
Kobanê also pioneered simultaneous football tournaments in Manbij, Tabqa and Raqqa. 
Kobanê's first 4 teams then will join the first 4 teams to qualify in each tournament in Raqqa, Tabka and Manbij in the league or tournament plans to perform next year.
After two weeks of league played in Kobanê, the Nesrin football team is leading, followed by the Euphrates team.
ANF spoke to Kobanê Football Federation Member Mustafa Müdür Ali and founder of the Partisan Football Club in Kobanê, and player Ruhat Amed.
Mustafa Müdür Ali said that people in Kobanê are very interested in sport. 
"In Kobanê we have a football federation affiliated to the Sports Council and made up of 8 people. - he said - Our aim is to increase our sport activities for the society and young people. Sport is a collective social event".
Football helps collective work
Ali added that: "Football is also a collective sport. Our young people and people in general have much interest in football. We want to develop football in a way that will emphasize the collective and peaceful quality this sport has, as opposed to the hooligan and racist features shown in the state system. Our administration system promotes the democratic and coexisting life among nations. It promotes collectivism and this is a quality which also applies to sport".
Ali emphasized that in the Rojava Revolution sport has enjoyed much more attention than in other parts of the country, "which is why - he said - all North Syria should be taken as an example. "Before the war we had sports activities here. The revolution has happened and sport has been part of this revolution". 
Ali added: "We have deficiencies in this matter. There is a lack of sport fields and other facilities. But gradually we are making progress on this. As in all countries, we will save more money for sport.
Now hundreds of children and young people are interested in sports. We will work on this. Because sport is part of the revolution, it helps the social well-being".
Sport promotes solidarity
Ali stated that the basis of football teams in Kobanê was launched last year and explained the differences between last year's preparatory league and this year as follows: "A league was organized for the first time last year but it was more amateur". This year the Football Federation made the league more comprehensive and systematic. Each football team has a licence".
Rohat Amed, founder and player of the Partisan Football Team, stated that when football is treated in the right way, it plays the role of bringing societies together. 
Amed said: "The role of football in the Syrian and Rojava societies, especially those who have experienced the brutality of the DAESH and have been kept under pressure for a long time under war conditions, can be even more unifying. Because, starting from Rojava, there is a mentality in Northern Syria that considers football necessary for body health, collectivism, peace, unity".
Amed added: "Again, we also treat football training and matches like other teams as a moral and social education at the same time. Football requires good organization and collective action. It requires team spirit, that is, unity. At the same time there are rival teams to face. We need to approach them with respect and friendship. In the end this is the purpose of sport: teaching to play together respecting one another. In this sense, we treat each training and match as social and moral education".
Football to heal wounds
In Rojava and Syria, said Rohat Amed "war and politics have been the items on the agenda for the past 7 years. We also wanted to be strong in our social activities, even when we had our other agendas. Which is why we established football teams. For this reason my friends and I have created the Partisan Team".
The football club, explained Amed, "is made up mostly of friends who are in YPG. We do not have any goal of making any profit or money from football. We do not take capital and industrial football as models. Our aim is friendship, sports, body health and sociality. We have both seniors, teens and minors".
Amed said they are "expecting more support from the Football Federation to develop both the Partizan team and the other teams. We think that given the limited opportunities, if we have more support we will have much stronger leagues".
Rohat Amed said that the league which has started 2 weeks ago in Kobanê is progressing in a healthy and enjoyable way. "The start of the league excited us all. - he said - Indeed, all of the matches played so far have been played in the spirit of friendship, peace and sociality. Our league attracts great attention from the audience".
Women also have their teams
In Kobanê, women are also interested in football. And indeed, there are women's teams. Each club has youth and women teams. 
Amed said: "We hope that the league held in Kobanê will continue to work in cooperation with all the Northern Syrians tournaments, especially in the areas such as Manbij, Raqqa, Tabka which have been freed from DAESH. Our goal is to establish a league for the whole of the North Syria in the future. We want all the sport councils in North Syria to work on this issue".
Kobanê Football League results so far: 
TEAM            MATCHES                POINTS
Nesrin               1                                  3
Fırat                   1                                  3
Karker               1                                  3
K.P.C                  1                                  1
Meyselun          1                                  1
Tişrin                 1                                  1
Yesar                 1                                  1
Xizêne               1                                  1
Al ahlî                1                                  1
Berxwedan      1                                   0
Partizan            1                                  0
Kaniyakurda     1                                 0
Al wahde           0                                 0