Herêm Mehmoud: 65 days of hunger strike in South Kurdistan
Herêm Mehmoud has been on hunger strike for 65 days in the town of Kelar in Germiyan. He says to be ready to pay the price for the free lives of the Kurdish people.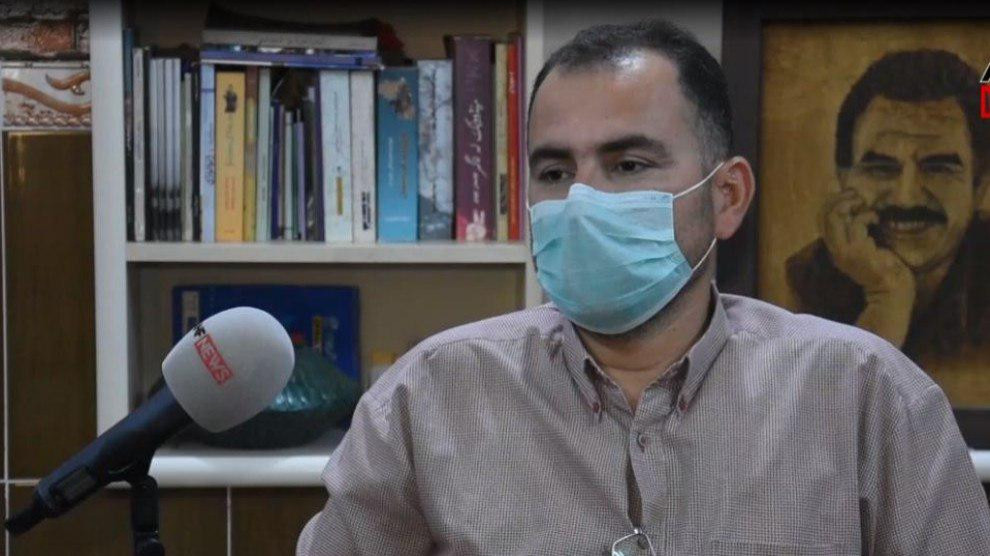 Herêm Mehmûd went on hunger strike on 24 February. He joined the hunger strike resistance demanding the end of isolation against Kurdish people's leader Abdullah Öcalan.
Talking to ANF Herêm Mehmûd said that he has been involved in political work since his childhood. "My father was taking part in Somar. I was working with my father and then I learned politics. He then left the PUK and helped creating Goran. When at university I too took part in Goran in 2015-2016 but later I grew apart from them and got to know the Freedom Movement."
Herêm Mehmûd said he was very impressed by the Kurdish People's Leader Abdullah Öcalan and the Kurdish Freedom Movement and added: "Rêber Apo's ideology is based on the principles of society and ethics."
We forget our history
Herêm Mehmûd also touched upon the history of the hunger strike resistance in Southern Kurdistan. "This is not the first hunger strike in Southern Kurdistan. Unfortunately, we have forgotten our history. Hunger strike actions also took place in '91 and '92. I was 6 or 7 years old. My family and the people were supporting the hunger strikers. The action showed the whole world how the Kurdish people were living."
Reacting to the silence about the current hunger strike resistance, Herêm Mehmûd said that the action should be supported more. 
Hunger striker Mehmûd added that borders have been removed with such resistance. "Anyone who wants an honorable and free life must take action and unite the four parts of Kurdistan in their actions. No international community will take care of us unless we are united against isolation."
We must increase our struggle against the occupiers
Herêm Mehmûd said: "The only person who could actually solve the Kurdish question is Öcalan, which is why the Turkish state has been so heavy on him. Rêber Apo's ideology will work for the entire Middle East which is why they do everything they can to prevent it from spreading, even the most recent books are banned."
Other parts of Kurdistan, said Herêm Mehmûd, "know better about the ideology of Rêber Apo. But in Southern Kurdistan people know it less. Our action is slowly being recognized. The voices of all the activists on hunger strikes reached the people of Germiyan. I always wanted to serve for my people. I'm willing to pay any price for it. I've been through a lot of difficulties and even threatened. I leave all this behind me. I got my strength from comrade Leyla Güven."