Death fast activist Topkaya: Isolation is everybody's problem
Political prisoner Ahmet Topkaya, who has been on a death fast in the Diyarbakir Type D Prison since April 30, said those who avoid their responsibilities today won't be able to avoid being held to account by history.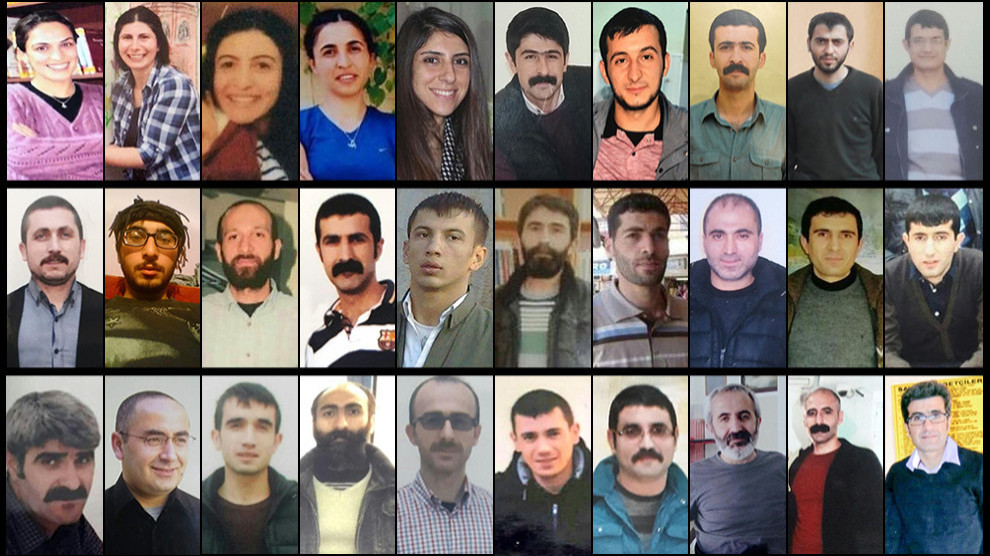 Death fast activist Ahmet Topkaya sent a letter from the prison he is held in and said the isolation is a problem that belongs to all who call themselves democrat, leftist or human.
Topkaya stressed that the ultimate outcome will be determined by the resistance and added: "Today those who avoid their responsibilities today won't be able to avoid being held to account by history."
Topkaya's letter is as follows:
"I send my greetings and love to all comrades in the resistance. I am grateful to the valiant children of this brave people who gave their lives for a free and prosperous Kurdistan. We want friend and foe alike to know that we will uphold their memory, no matter what the cost may be. The purpose of our calls is to have the death fast we have launched understood and to have what it necessitates done. The isolation is not just the problem of our mothers who are battered, dragged on the ground and insulted today by prison gates. It is a problem of all who call themselves democrats, leftists and humans.
Isolation means the trampling and voiding of the will of millions of people. The prolonging of the isolation is the destruction of democratic values. Not tearing down the isolation is legitimizing the massacres, tyranny and oppression implemented by the century old republic, and supporting it indirectly. 'One cannot prosper through tyranny', whoever stands and watches tyranny is a collaborator to the crime.
The pain of the Tertele calamity in Dersim 83 years ago is still fresh in memory. Whoever forgets Seyit Riza, Shex Said, Leyla Qasim, and Qazi Muhammed's cry for revenge as he walked to the gallows in the Carcira Square should question their Kurdishness. We are the children of the brave people living on these ancient lands. They can't make us put our guard down with a puny little lawyer's visit. Anybody who thinks they can, should look at Bese, Aliser, Beritan, Mazlum, Ibrahim and Deniz. They never expected anything from the enemy. They sacrificed themselves not for their own interest but for this people.
We want you to know that we will uphold this line of sacrifice whatever happens and we will pay whatever price necessary. Kemal and Hayri taught us how to resist. We promise we will crown this sacred legacy of resistance with victory. We are not done with those who thought our mothers deserved tears on Mothers' Day. The Kurdistan youth holds all to account and they will continue to do so. Kurdish youth has not bowed down to fascism in the past, and they will not bow down today. There is no doubt that resistance will determine the ultimate outcome. Like the resistance prevailed in Kobane, Cizre and Sur, today success is again called resistance.
Our people ordered us to take on a historic duty today. We will comply with a historic consciousness of our responsibility. The 21st century has seen many heroes, it is the century of the free Kurd. All should know that history has never shied away from judgement. Today those who avoid their responsibilities today won't be able to avoid being held to account by history. It is a necessity of being human to prefer a dignified life to one in shame and agony. Kurds swear to tear down fascism with resolute steps rather than what-ifs or concerns, or failures."