British fighter plays Ariana Grande song in Raqqa's main square
A British fighter in YPG ranks played an Ariana Grande song in Raqqa's main square to honour the victims of Manchester bombing.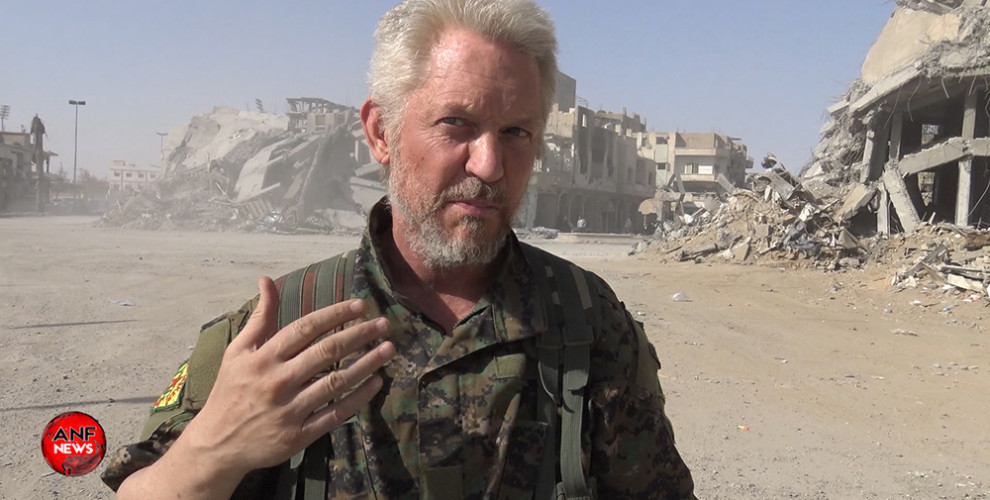 Michael Enright, a YPG fighter from Manchester, has been fighting in the ranks of Syrian Defence Forces against ISIS in the 'great Battle' to liberate Raqqa. The first thing Enright did in ISIS' so-called capital after the historic defeat of ISIS was to rush to the main square of the city and play an Ariana Grande song on his mobile phone to honour the victims of Manchester bombing, in which ISIS killed 22 teenagers and wounded 112 as result of an attack at Ariana Grande's concert on May 22, 2017.
After the liberation of Raqqa, British YPG fighter from Manchester, Michael Enright spoke to ANF from the famous Al-Naem Square.
"This is the center of Raqqa where ISIS had the big procession and they did the wheelies in the tanks. Well, we took it now, it's liberated, all of Raqqa is liberated" he said.
Enright than stood in front of a music shop that was burned down by ISIS and said: "Over here is a music shop. In the music shop, they pulled out everything that was there and they burned it. Because they didn't want their voices, they didn't allow singing. So, I thought it apropos that, because I'm from Manchester, and they came to my city and they tried to shut up Ariana Grande, that she be the first one to sing. So they didn't shut her up, and they didn't shut Manchester up, because she's singing Bang Bang - and do you know what happened? I came, and we did "bang bang", and you left. You ran away. And so, life is coming back here now, freedom is coming back here now. And singing is coming back here now. And Ariana, it's your first concert here. So, there you go. God bless."
Enright also talked about the magic tricks he made to entertain kids and how the children were affected by the war and atrocities of ISIS;
"One of the things that I did when I came, apart from fighting, is I brought some magic tricks. Because I wanted the children -because I came in March 2015, I did a full tour. One of the things that I saw was that children had been forced to watch ISIS kill and behead people. And even when the mothers put their hands in front of the children's faces, they said, "Move your hand". And the children had nightmares about it, and woke up crying at night. Because children can't understand words, but what they can understand is if you're nice. I remember when I was five, I couldn't follow a conversation but I knew who was nice. So, I did the magic tricks for the babies and for the children - and they go like this [makes surprised face]. I want them to smile, and I want them to see that there's a difference between honourable men, between men who care for the people and these butchers, these evil demon worshippers. So, I wanted to plant a seed, because the Arabs were told that the YPG would come and cut their noses off and cut their ears off, and all this horrible stuff - which of course, they don't want to do. We want to work with them, we want to be with them, we want to create a society with them which has equality for everybody"."