Activists from around the world say Happy Birthday to Öcalan!
Photos, video messages, drawings: activists from all over Europe are sending their special 'Happy Birthday' message to Abdullah Öcalan who turns 71 today.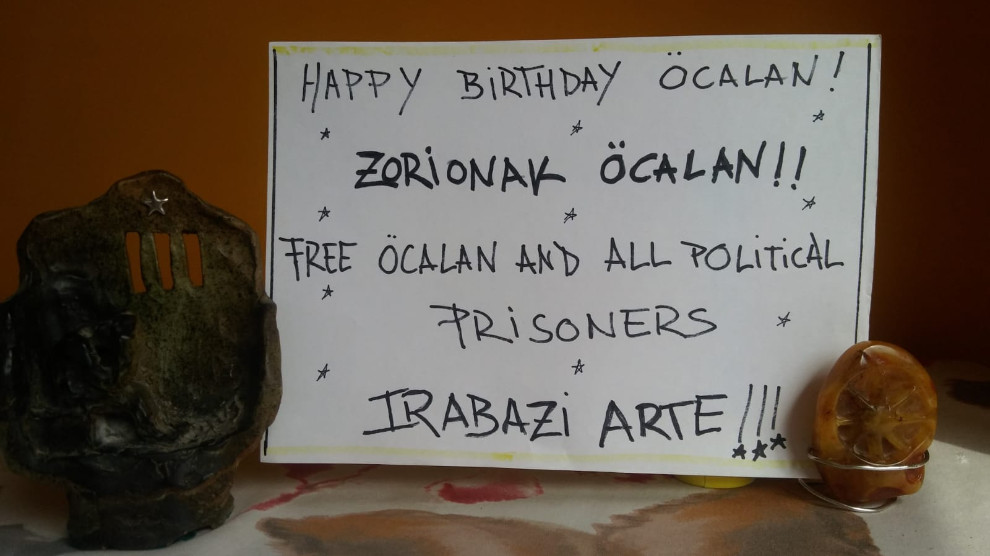 Activists have responded en masse to the appeal by the International Initiative - Freedom for Öcalan, Peace in Kurdistan to the #FreeÖcalanFreeThemAll campaign.
Italian singer, actor and theatre writer Moni Ovadia has sent a video message saying: "I support the campaign Free Öcalan Free Them All and I ask peace for the Kurdish people and the full recognition of its national rights."
Also from Italy the messages of FIOM, the metal workers union. The International Secretary, Stefano Maruca said: "We stand beside Kurdish people and we are fighting for the freedom of Abdullah Öcalan and all political prisoners. Freedom for Öcalan. Happy birthday, brother Öcalan."
More intimate messages came from activists from the Basque Country. Wishing happy birthday to the Kurdish leader, Bego said: "Thank you for being a light in the darkness."
From Catalunya too, activists send video messages and photos.