Mayor frees illegally captured birds in Binare Qandil
Although there is a ban on bird-catching in the town of Binare Qandil, it is repeatedly disregarded on a large scale. Captured birds confiscated during searches have now been released into the wild by the mayor.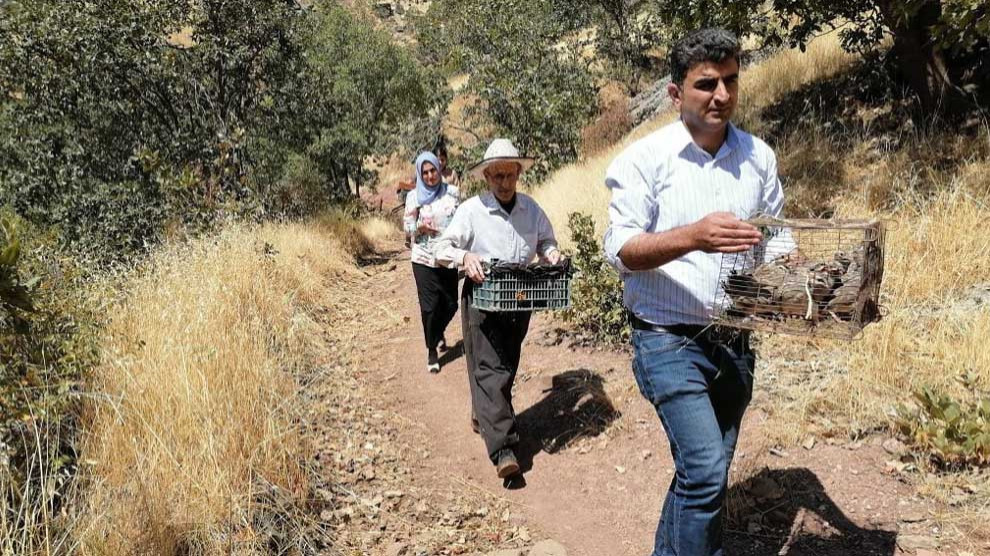 In some areas of the town of Binare Qandil in Southern Kurdistan (Northern Iraq), bird-catching is still persistent, despite a ban and severe penalties. Especially set and impact nets, but also other traps are still widespread. In some regions, illegal bird hunting is still considered a traditional popular sport. Animal protection organizations attribute this among other things to the fact that the patriarchal society in some regions of Southern Kurdistan is shaped by an occupation mentality. Especially migratory birds are caught or shot down, but also protected species and birds of prey, which are then sold to so-called "bird lovers". The animal protection committee of Binare Qandil regularly collects bird traps and frees captured animals. Although the number of traps found continues to decrease, the ban on trapping is regularly disregarded.
"Nature in our region is being destroyed a little more every day. Turkey is largely responsible for this destruction. But it is not only bombings or the resulting wildfires that destroy our environment. It is also fires that are ignited by careless people. And it is people who are engaged in wild capture and poaching," says Mihemed Hesen, the co-mayor of Binare Qandil.
Together with co-mayor Awaz Ismail, many captured birds were released into the wild and thus into freedom again this weekend.
"We try as best we can to keep the bird population stable. Our options are limited, but we do our best," says Hesen. Since bird hunting is nevertheless conducted in complete openness in some areas, the community is now considering tightening sanctions for violations. But it also requires a change in society. "The sensitization of the public is the the nuts and bolts for animal protection, according to Hesen.