Günay: The government left people to die
HDP Party Spokeswoman Ebru Günay said that the AKP-MHP government has left earthquake victims to die and called for solidarity.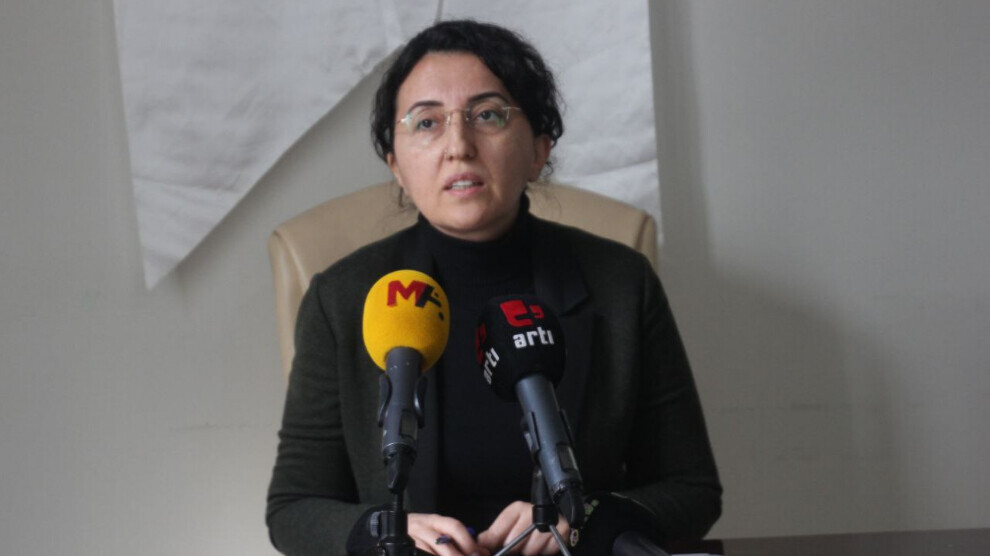 The HDP (Peoples' Democratic Party) Spokesperson Ebru Günay held a press conference in Amed (Diyarbakır) on the latest situation in the earthquake area.
"From the very beginning, we have been working in the cities hit by the earthquakes. First, a Crisis Coordination Centre was established in our Headquarters. Crisis Coordination Centres have also been established in our districts and we have started to work very actively in the field, said Günay, who further stated the following:
Currently, more than 40 of our deputies are in the earthquake regions together in 8 separate delegations. At the same time, our Co-Chair Pervin Buldan came to Diyarbakir on the first day and then went to Adıyaman. Yesterday, our Co-Chair Mithat Sancar first went to Hatay, and today he is holding talks in Adana. We have been trying to rescue people under the rubble together with our people.
So far, our party has delivered aid to the earthquake victims by 93 trucks. More aid is prepared by our municipalities. However, aid trucks organized by our Silopi Municipality were threatened by the district governor and security forces. Another district governor confiscated the aid trucks prepared by our Patnos Municipality. We all know that the government is trying to prevent social aid and solidarity by organizing activities from a single centre through AFAD (Disaster and Emergency Management Presidency).
The government has not removed any debris since the first day. Health teams are not able to enter the cities, and corpses are kept on the streets. Yesterday, I was in Adıyaman and saw a dead body lying in a garden, wrapped in a curtain. There were voices from under the rubble, but there were no aid teams, no cranes, no AFAD, no digging tools. There were only survivors trying to rescue their loved ones. There is a humanitarian tragedy in Adıyaman, Pazarcık, Islahiye and Hatay. The government is taking advantage of the earthquakes by collecting all the aid through AFAD and declaring a state of emergency.
The earthquake did not kill any of our citizens, the imprudence of the government killed them. We appeal to the government; our organization and solidarity are enough to help our people. Just get out of our way. The AKP government should fade from the scene between earthquake victims and society as soon as possible and solidarity should be allowed through. We know that the AFAD has not reached any earthquake area or debris for days.
The Head of the Geology Chamber says that they conducted studies, prepared reports and warned institutions, including the presidency, and none of them was taken into account. A Ministry of Disaster, Emergency and Climate Change should be established in Turkey as soon as possible, and necessary preparations should be made for possible disasters, especially in a country like Turkey, which is found in an earthquake zone.
Yesterday, the AKP turned the crisis into an opportunity and decided to declare a state of emergency (OHAL). In fact, OHAL was announced to prevent solidarity among the people, all kinds of aid, search, and rescue volunteers from entering the affected areas. We will never accept it. Our stance on this issue is always clear. We will remain in solidarity with our people. We are a party which knows that solidarity under all circumstances will save us and make us strong. If you remember, Turkey survived great disasters such as the Van earthquake and the Marmara earthquake. It was the work of non-governmental organizations and parties that saved people. But the AKP government is now trying to prevent this solidarity. Our Crisis Coordination desks are carrying out their work.
We are now trying to organize aids and deliver them to earthquake victims. Our volunteer teams are carrying out activities in all cities. We are facing a tremendous catastrophe. We will heal our wounds together. These wounds cannot be healed with a war budget."