Protest in Canada against arms exports to Turkey
In the Canadian city of Burlington, activists have protested against the L3 Harris WESCAM company for selling technology for killer and surveillance drones to Turkey.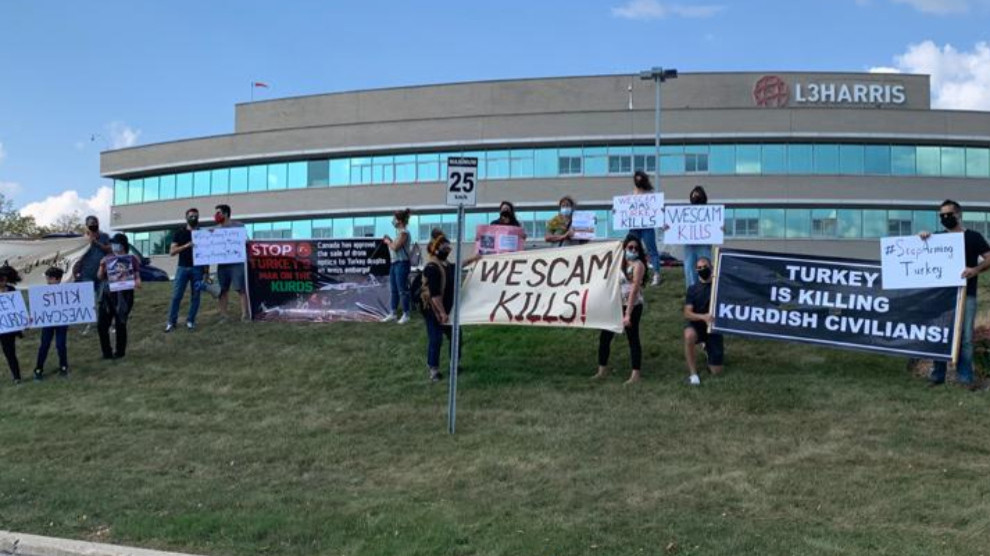 The report of the Peace Initiative Project Ploughshares on the export to the Turkish government of drone technology produced by the L3 Harris WESCAM company is making waves. In front of the company in Burlington, Canada, numerous people gathered on Monday after an appeal by the Rojava Solidarity Committee and Sara Women's Commune and protested against the trade in war technology. The activists accuse the Canadian government of making itself an "accomplice in massacres of the civilian population and war crimes". The protest action was supported by deputies of the social democratic New Democratic Party (NDP). The activists announced that they would continue their protest until the sales were stopped.
Project Ploughshares had researched that the Canadian company was selling sensor technology for Turkish surveillance and killer drones to the Ankara regime. Ankara uses these drones for serious war crimes such as the targeted killing of civilians. In doing so, the Canadian government is violating the international Arms Trade Treaty (ATT). By ratifying the treaty, the accession country commits itself to a rigorous examination of whether a military export could be used for a "serious violation of international human rights or international martial law". The treaty thus explicitly prohibits the transfer of weapons to a country if there is a risk of an obvious violation.
According to the peace initiative, Canadian-made surveillance systems have already played a role in Turkish drone attacks in Northern Kurdistan in 2015 during the military siege of cities where self-governance was declared. The Bayraktar TB2, equipped with the WESCAM MX-15D, is most commonly used by Turkey "for domestic counter-insurgency operations," according to Project Ploughshares.
RELATED NEWS: