Whose city is Kirkuk?
After Kurdistan Democratic Party (KDP) decided to hold a referendum on south Kurdistan's independence, Kirkuk is once again under international and regionals power's attention.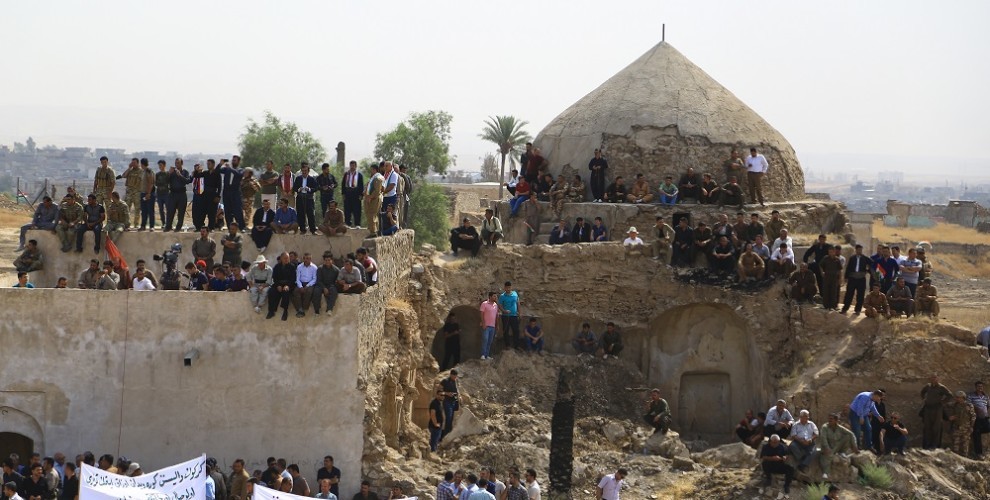 Throughout the history Kirkuk has always been one of the most important cities in both political and economic aspects. After Kurdistan Democratic Party (KDP) decided to hold a referendum on south Kurdistan's independence, Kirkuk is once again under international and regionals power's attention.
Now while the future of the city is at stake one question is asked more than ever: Whose city is Kirkuk?
Kirkuk was the centre of international attention during the First World War as it's today. The city's fate is afflicted by its rich underground sources, especially oil. The city became an operation field for international actors led by Turkey, Iran and Iraq after the referendum decision.
KIRKUK'S HISTORY
The city was founded by Sumerians in 3rd millennium BC. It was inhabited by Hurri's, whom some sources define as proto-Kurds, in 1000 BC and became an important centre in times of Babel Empire. There are numerous stories about where Kirkuk's name come from. Some sources say Kirkuk comes from the word "Karkük" which means "a job well done" in Sumerian language.
According to Iraqi historian Tofiq Wehbi, Assyrians named the city Ker (castle) – huk (tilted) in Assyrian language, while writer Muhtesam Salayi says that Kirkuk was named as "Kerxa" by Nasira (Beytelleheem) king.
Kirkuk was named 'Erbaxa' which means "the city of gods" and 'Ilani' by Hurri's in 1000 BC. At the time the city center was 'Nûzî' area near today's Leylan town. Under Guti rule the city centre was located near today's Arefe neighbourhood, named Erbexa.
ALEXANDER THE GREAT AND KIRKUK
According to Iraqi historian Selayi, during the campaign to the land of Babel Alexander the Great passed through Kirkuk in 321 BC. Presence of oil fields in the region was mentioned by the Macedonian historians at that time. It is said that Alexander named burning gas seeps as "gurgur".
WHAT DOES THE MEMORY OF PEOPLE SAY?
The oral history says that "gurgur" is a traditional name for burning gas seeps. Most elders say that Zoroastrians named gas seeps as "Bawe Gurgur". In Zoroastrian language the word Bawe is used for places that have religious significance. Oral history tells us that the gas seeps are considered sacred and people used to pray there to make their wishes come true.
KIRKUK IN LAUSANNE TREATY
Before the declaration of the new republic in 1923, Turkey declared its national borders – Misak-I Milli-. These borders included Mosul and Kirkuk. In return for helping suppress the Sheikh Said Rebellion in Kurdistan, Turkey left the control Mosul and Kirkuk to the British administration in Iraq.
First oil was drilled in Kirkuk right after this development. The area has one of the highest quality oil in the world. But oil, commonly referred as the "black pearl" didn't bring any good to the peoples of the region; only pain and suffering.
KIRKUK BECAME THE OIL SUPPLY FOR SADDAM'S WAR
During the conflict between Southern Kurdistan and Iraq, Saddam Hussein's regime showed enormous determination to defend Kirkuk. Because the oil that Kirkuk provided was the fuel that Saddam needed to run his campaign against Kurds and other peoples of Iraq.
After the fall of Saddam in 2003, the 2005 Iraqi Constitution legitimized the federal structure of Southern Kurdistan but Kirkuk was left out. The only positive thing at this time was the article 140 of the Iraqi Constitution. The article 140 opened the way for Kurds who had been forcibly removed from Kirkuk to change the demographics of the city, to return to their homes. Iraqi government and Kurdish administration agreed to hold a referendum after two years.
THE HISTORY OF ARABIZATION POLITICS IN KIRKUK
Iraqi dictator Saddam Hussein changed the demographics of Kirkuk and forcibly removed Kurdish population from Kirkuk, surrounding towns and villages to further north. In 1957 census the population of Kirkuk was 48.2 percent Kurdish (187,593), 28.2 percent Arab (109,620), 21.4 Turkmen (83,371) and 0.4 percent Assyrian (1,605).
After the Arabization politics of Saddam regime 1977 census showed a significant decrease in Kurdish and Turkmen population. In 1977 Kirkuk was 45 percent Arab (218,755), 38 percent Kurdish (184,875) and 17 percent Turkmen (80,347).
After 20 years in 1977 the majority of the population in Kirkuk was Arab. The 1977 census showed that the city is 72 percent Arab (544,596), 21 percent Kurdish (155,861) and 7 percent Turkmen (50,099).
The administrative structure in Kirkuk was also changed. The districts of Kirkuk were connected to other cities. For example Xaneqin declared a city of Anbar state. Xurmatu became a district of Salahaddin province and Chamchamal became a district of Sulaymaniyah. Kirkuk has now eight districts; Dubiz, Dakuk, Altinkopru, Pirde and Hawice, and Karaincir, Leylan, Reşad subdistricts.
CURRENT STATE OF KIRKUK'S POPULATION
There is no data for Kirkuk's population after 1997 census. The elections of 2014 show that Kurds make up 53 percent of Kirkuk's population. Remaining 47 percent are Arab and Turkmen. Kurdish parties won 8 seats out of 12 in general elections while Arabs and Turkomans won 2 each.
KIRKUK'S NEIGHBOURHOODS
After the ISIS invasion Kirkuk's population has now exceeded 1,400.000. Kurds are mainly living in 14 neighbourhoods (Rehimava, Azadî, Mamostayan, Şorice, İskan, Bilax, Koriyeşkew, Hesîreka, Tepê Mele Ebdulah, Derwazê Bakûr, Îmam Qasim, Şorax and Ehmed Axa). Musala, Muelimîn, Bağdat yolu, Kasaphane and Elmas are Turkmen neighbourhoods while there are 11 neighbourhoods which are mainly Arab: Baghdad Road, 1 June, Wehde, Hurriye, İştirakiye, Mendude, 7 April, Hey Baas, Nesrû Uribe, Qadisiye, Xirnate. There are three neighbourhoods - Şatirlû, Erefe and Elmas- which are home to Chaldeans and Assyrians.
ARMED FORCES IN KIRKUK
The security forces consist of the peshmergas of Patriotic Union of Kurdistan and the Iraqi army. After the ISIS invasion of Hawija the city is protected by PUK and KDP peshmergas, People's Defence Forces (HPG) and YJA-STAR guerrillas, Iraqi Federal Police and Hashd al-Shaabi milita. There are claims over the presence of a Iraq Turkmen Front military wing supported by Turkish intelligence agency.
A district of Kirkuk, Hawija, is still under ISIS invasion.
GUERRILLAS WERE A PART OF DEFENCE OF KIRKUK
In 2014 ISIS wanted to take control of Kirkuk because of its underground resources, especially oil. After ISIS captured and attacked the Kakai villages Iraqi army withdrew from Kirkuk. PUK peshmergas were left alone in the fight against ISIS. When ISIS threat grew, PKK guerrillas headed to the city and joined its active defence on many fronts. KDP deployed its forces to defend Bay Hasan area near Dubiz district. Kirkuk's most important oil wells are in Bay Hasan area.
OIL FIELDS
There are thousands of oil wells in Bay Hasan, Havana, Baba Gurgur and Gaz Shimal areas. KDP forces control Bay Hasan area while PUK and KDP control Havana area together. PUK also share the control of Gaz Simal and Baba Gurgur with Iraqi central government.
OIL PRODUCTION
According to the data provided by Iraqi Ministry of Oil, Kirkuk produces 530 thousand barrels of oil per day. The oil is sold via Kirkuk-Ceyhan pipeline to Turkey by KDP. The details of KDP's agreements with Turkey were never disclosed.
The oil drilled from Gaz Shimal is sent to refineries inside Iraq and sold to the world mostly via Port of Basra.
PEOPLE OF KIRKUK ONLY GET ONLY THE SMOKE OF OIL
According to the Kirkuk state law, for every barrel of oil drilled in Kirkuk the central government should pay 1 USD to the Kirkuk administration. By a quick estimate it can be said that Kirkuk administration should have an income of 530 thousand USD daily and more than 15 million monthly.
Still, there is no infrastructure in Kirkuk. When you look at its water, sewerage system, electric lines and roads it's more like a village. Kirkuk administration says they don't have the budget. In other words, people of Kirkuk get only the smoke of oil, inhaling the smoky air that's caused by the refineries.
THEY CARE ABOUT THOSE UNDER THE GROUND, NOT THOSE ABOVE IT
In Kirkuk Kurdish, Arab, Turkmen population is living in poverty in one of the richest regions in the world. The streets are full of garbage, the sewage flows through the streets and the air is filled with oil smoke. To those who control the underground resources, those under the ground have always been of greater importance than those above it.