Protest against the Turkish invasion of Afrin in Sweden
A demonstration was held in Stockholm and Goteborg cities of Sweden in protest at the Turkish state's attacks and invasion acts targeting Afrin and other parts of Kurdistan.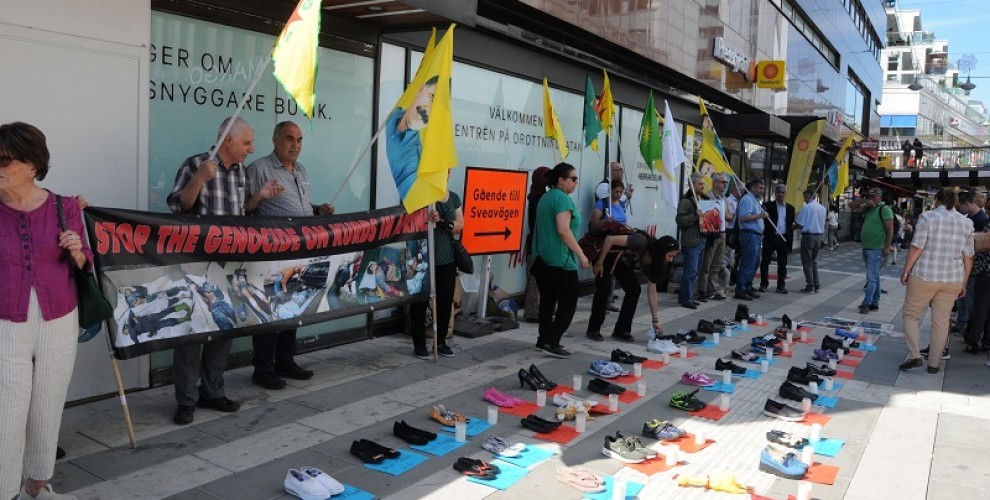 Kurds and their friends gathered at Sergelgatan in Stockholm and at Järn Square in Goteborg to mark the Global Action Day against Turkish occupation of Afrin.
Speeches made on behalf of the Democratic Kurdish Society Centers condemned Turkey's invasion of Afrin and invasion threats against Rojava and South Kurdistan, and called on the progeressive and democratic public opinion to oppose Turkey's policies of invasion and to boycott Turkey.
One minute's silence was observed in memory of the Kurdistan martyrs at Sergelgatan. Demonstrators displayed shoes of different sizes to condemn the Turkish state's massacres against civilians, and images of civilians murdered by Turkish state forces in Afrin.
Speeches on behalf of Sara Women's Union and Democratic Kurdish Society Center pointed out that the Turkish state occupied Afrin in violation of international law and displaced over 150 thousand people.
Condemning the western states that have remained silent on the Turkish invasion, demonstrators chanted slogans protesting the Turkish state and supporting the Rojava revolution.