Grand ceremony for Firaz Dağ and three martyrs
A grand ceremony was held in the Martyr Xebat Martyrs Cemetery for YPG Press member Firaz Dağ and three of his comrades who were martyred in the Operation Cizire Storm and the Operation to Liberate Raqqa.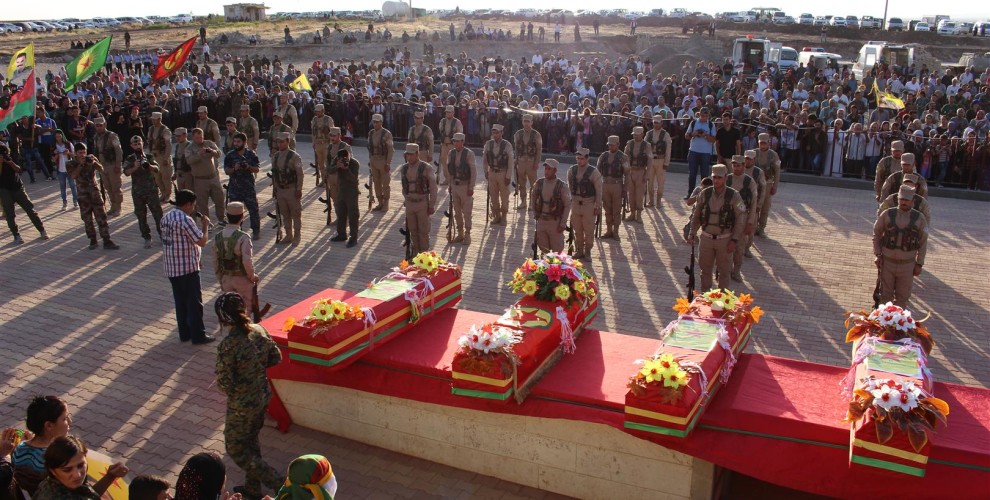 Thousands of citizens from Dêrik received the bodies of YPG Press member Mehmet Aksoy (Fîraz Dağ), who was following the Raqqa Operation, and YPG fighters Ibrahim Akîl (Egîd Cûdî), Devran Biler (Dilgeş Zana) and Qayîm Hesen (Şiyar Til Koçer), who were martyred in the Operation Cizire Storm and Operation to Liberate Raqqa, from the Dêrik Hospital and took off towards the Martyr Xebat Derîk Martyrs Cemetery with a convoy of thousands of vehicles.
As per Fîraz Dağ's will, his coffin was draped with a PKK flag, and the three martyrs had YPG flags draped on their coffins. Êzidî people in the Newroz Camp along the way greeted the convoy by chanting slogans expressing their loyalty to the martyrs.
The ceremony started with a minute's silence, then YPG Commander Mihedîn Xeyrîkî gave a speech and offered his condolences to the families of the martyrs: "With the Rojava Revolution and the revolution expanding into Northern Syrian territory, thousands of young people joined the revolution and defended the oppressed peoples. And with the resistance and principles displayed by the YPG and YPJ, many yougn Europeans joined the military ranks. We repeat our promise here once more and say that we will continue our struggle until all the persecuted peoples are free."
Later, the Democratic Northern Syrian Federation Constituent Assembly Co-chair Hediye Yusuf gave a speech and pointed out the struggle of Firaz Dağ: "Firaz's purpose wasn't just to defend the revolution and the people, but to achieve the reality of the revolution for the whole world. With his beautiful spirit, with great morale, he dedicated his life to the Northern Syrian Revolution. With his camera and his writing, he let the whole world know the reality of the revolution. And in the end, he was martyred in this path."
Zana Cudî spoke in the name of the YPG General Press Centre and said: "Our Comrade Firaz was an example of sacrifice, and he created a new, free and dignified life for us on the Northern Syrian lands. We promise that we will continue on Firaz's path and will carry his camera, gun and pen forward."
After the speeches, Dêrik Martyrs Families Council Administrator Hesen Ebid read the martyrdom documents and handed the documents to the comrades of the martyrs.
The ceremony concluded with the burial of 3 YPG martyrs accompanied by slogans. Firaz Dağ's body was taken to the Dêrik Wetenî Hospital's morgue. Martyr Firaz's body will be sent to Bashurê (Southern) Kurdistan through the Semelka Border Gate in the coming days, later to be taken to his family's hometown.