SDF explains new phase of Jazeera Storm Operation
SDF explained in press conference new step of Jazeera Storm Operation.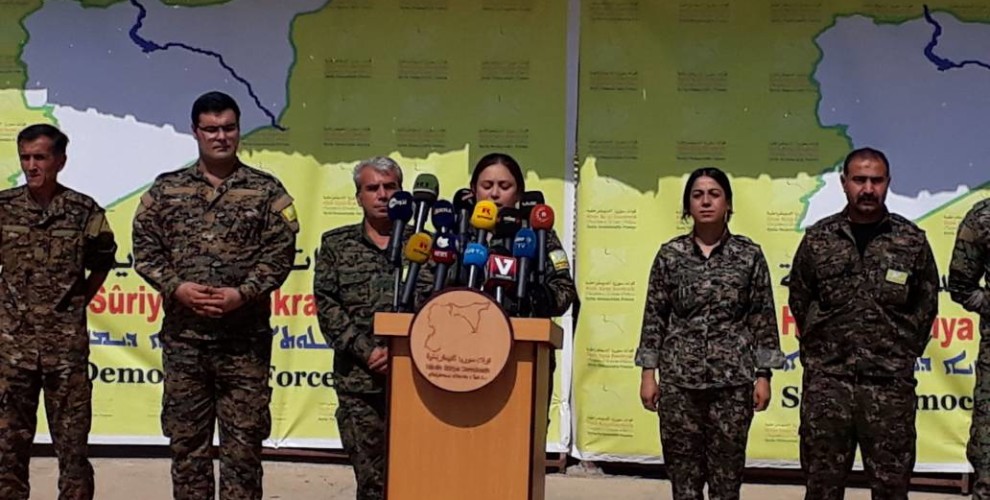 The Syrian Democratic Forces (SDF) have officially launched a new operation this Tuesday with a press conference in the district of Shedade, in Hasaka. 
SDF commanders joined the press conference.
The SDF are closing in on DAESH mercenaries around Deir Ez-Zor. In fact DAESH has been confined to the area of Hajin, at the border with Iraq. 
The statement said: "As Syrian Democratic Forces, we are fulfilling our human responsibilities by destroying terror to the east of the Euphrates River", confirming that the new operation has begun on Monday 10 September. 
Reading the statement on behalf of the Jazeera Storm Operation, Lilwa Abdullah said: "A year ago our forces launched the Jazeera Storm battle to liberate the Deir ez-Zor and Hasaka regions. Air and land operations were carried out by the Operation forces and the International Coalition: thousands of civilians were freed from the terrorist organization, hundreds of villages, and a large area in both villages were liberated. Only the Haji region remains under control of the mercenaries".
The statement added: "Our forces initiated the final phase of the successful struggle on Monday 10 September with the aim of destroying the last of the terror network around the Euphrates River. At this stage, Haji, El Sosa, El Sefa were liberated".
The statement also added that the SDF have opened a "human corridor near the El Bhera neighborhood to rescue the civilians, and our special associations have immediately prepared a camp to meet the health and logistical needs of the civilians. At the same time, our forces will perform their duties to determine the fate of the people who had been kidnapped by mercenaries".