SDF: 121 ISIS terrorists killed, 3126 people rescued in Hajin
The SDF reports in a 24-hour record of heavy fighting in Hajin that 121 ISIS terrorists were killed and 3126 people were rescued from ISIS.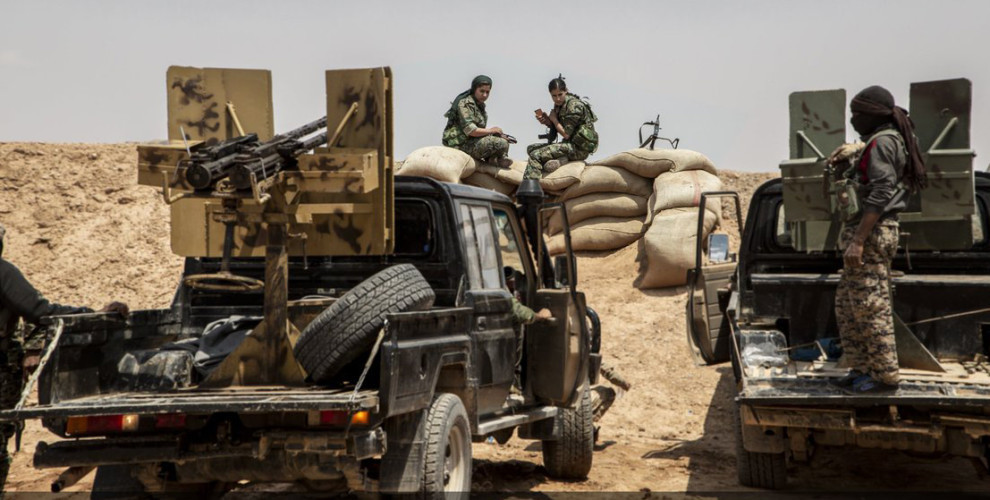 Since September 11, the final fight is going on to free the last area occupied by the so-called Islamic State in the region of Deir ez-Zor (Dêra Zor) in eastern Syria. As part of the resumed offensive "Cizirê Storm" of the Syrian Democratic Forces (SDF), the ISIS had been pushed back to the Iraqi border. The final phase of the offensive now focuses on an area of 35 kilometers in length and ten kilometers in width.
The Press Center of the Syrian Democratic Forces has released a 24-hour record of the offensive on the last ISIS stronghold Hajin on the Syrian-Iraqi border.
The balance sheet states the following;
Baguoz front: Terrorists bombed the positions of our fighters with heavy and light weapons, then tried to launch a major attack. Our fighters retaliated the attacks and violent engagements broke out, during which a number of terrorists were killed and many others wounded.
Our fighters seized quantities of weapons and ammunition, including a car bomb, prepared for a bombing.
In the afternoon, this front witnessed the most intense engagements ever. Terrorists used all types of heavy and light weapons and snipers. Our fighters dealt heavy blows on the terrorists, killing and wounding a number of them, and forcing the rest to retreat and flee from the battlefield.
Military engineering units have begun to remove and dismantle the mines laid by terrorists in the area.
In the early hours of the evening, our fighters launched an attack on terrorist positions, killing a number of them, and advancing a distance of 1 km on this front. They managed to install 17 points while the terrorists fled. Our fighters also seized another car which was equipped to explode.
Our fighters continued to advance on this front and were able to install 23 points, despite the bad weather and heavy darkness.
On the other hand, the terrorists attacked the points and positions of our forces with heavy weaponry. During ensuing engagements that lasted more than 4 hours, several terrorists were killed and others were injured.
Our fighters were able to detonate a car bomb before reaching their positions. Terrorists bombarded our points with ASPG missile but caused no damage on our forces.
The terrorists tried to regroup; in preparation for a third attack, but our fighters alerted them and launched a fierce attack on terrorists' positions and fortifications, resulting in strong engagements. The terrorists resorted to the use of all types of weapons, light and heavy, but our fighters inflicted heavy blows on them. Dozens of them were killed, while the others fled. After a relatively short period, terrorists began to bombard our positions with mortars and artillery. Our engineering units dismantled several mines in the area.
As fierce clashes are also continuing at other locations on this front, terrorists are launching attacks with heavy weaponry and mortars. The International Coalition aircraft launched several air strikes on the terrorists' sites.
Hajin front: This front also witnessed violent engagements between our fighters and" Daesh" terrorists starting from morning. The terrorists launched an attack on the positions of our fighters on this front, and during ensuing clashes, dozens of terrorists were killed or wounded. Rendered unable to resist, the terrorists fled the battle area, leaving their dead and weapons behind. In this area, our fighters seized military equipment from the terrorists and install 35 more points. International Coalition air jets carried out several air strikes, targeting terrorists' sites and points.
The terrorist organization reattacked our fighters' positions with heavy weaponry, facing great resistance from our fighters who managed to repel the attack. While dozens of terrorists were killed or wounded during fierce engagements, our forces advanced 2 km. Our fighters managed to liberate 3126 civilians who were surrounded by the terrorist organization and used as human shields and brought them to liberated and safe areas.
In the engagements, some of our fighters were wounded and taken to the field hospitals for treatment.
This front was witnessing continuous engagements, interspersed with artillery shelling until the preparing of this outcome."
SDF announced the final outcome of engagements as follows:
121 terrorists were killed
44 sites of terrorists were destroyed, in addition to a DShK-laden and a bomb-laden car
7 military roads used by terrorists were cut off
Our fighters seized ammunition and two bomb-laden cars of terrorists
International Coalition aircraft carried out 50 strikes.