Turkish media uses Koran image from Libya in anti-Afrin campaign
The Turkish media has brought in a new manipulation by claiming that YPG trapped Koran with explosive in Afrin, using an image from Libya from February.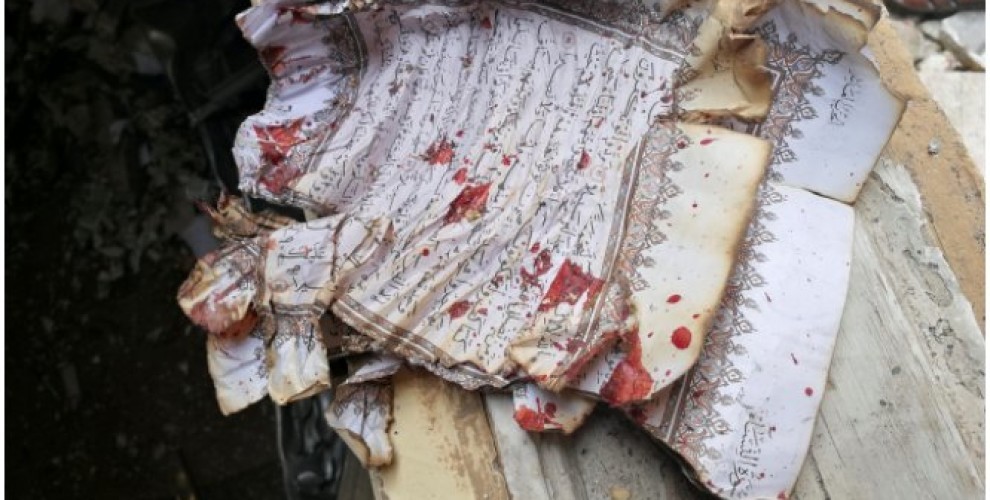 The government-controlled Turkish media has published yet another fabricated news regarding the invasion attempts against Afrin Canton of Northern Syria.
The reports, obviously written from a single center, claimed that Turkish specialized sergeant Orhan Sürmen died in an explosion that occurred as he took a Koran trapped with explosives into his hands. The AKP media went beyond that and produced news stories like "The blood of the martyr covered the pages of Koran".
The photo, circulated by AKP's trolls on social media networks, was shared thousands of times. The Turkish media is running an incredible propaganda war and disinformation campaign on media and social media since the launch of invasion operation against Afrin.
Teyit.org (a source of confirmation) revealed that the photo in the news is not from Afrin. According to Teyit.org, Al-Arabia news agency used this photo on 9 February 2018. The photo was used in reports about a bomb attack that targeted a mosque during Friday prayer in Libya's Benghazi city. The image of Koran, with pages covered with blood, was also used by other websites referring to attack in Libya. German media outlet Deutsche Welle, Reuters and many other western media outlets used the same image on 9 February.
On the other hand, the soldier depicted with the Koran image by the Turkish media turned out to be soldier Fatih Uysal who died in March 13. TRT World news director Fatih Er as well as news agencies Karar, A Haber, TRT Haber, Sabah, Yeni Şafak, Haber7, Milli Gazete and Yeni Akit reported him to be specialized sergeant Orhan Sürmen who was actually killed during the ongoing Afrin operation on March 13.