Thousands rallied in Istanbul in solidarity with hunger strikers
Promoted to demand the end of isolation against Kurdish People's Leader Abdullah Öcalan, the rally also called on everyone to support the hunger strike led by DTK co-chair and HDP Hakkari MP Leyla Güven.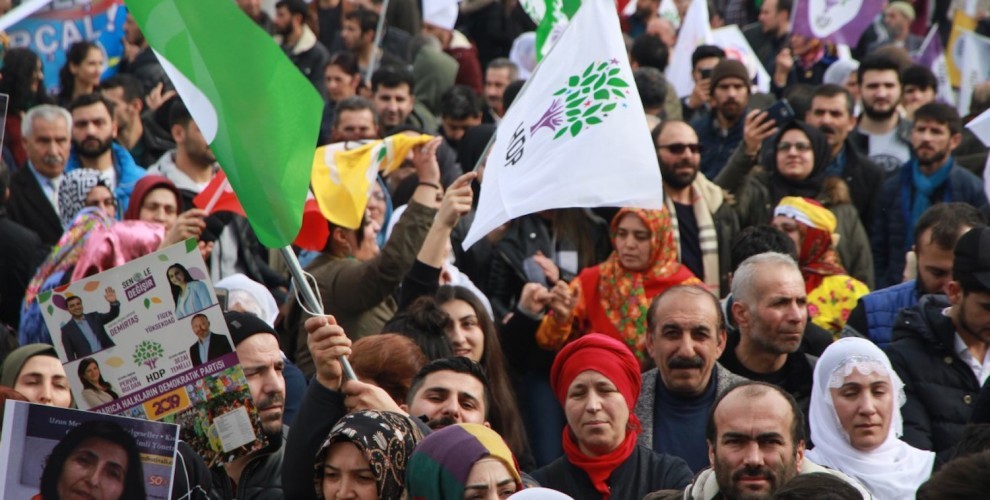 The rally "Labor, Peace, Freedom" organised by the HDP has been held in Bakırköy Freedom Square in Istanbul. 
Promoted to demand the end of isolation against Kurdish People's Leader Abdullah Öcalan, the rally also called on everyone to support the hunger strike led by DTK co-chair and HDP Hakkari MP Leyla Güven. The hunger strike spread to Hewlêr, Europe, prisons in Kurdistan and Turkey.
Tens of thousands joined the rally. The crowd met at the Incirli Obelisk in the early morning and walked to the rally area carrying HDP flags, photos of HDP deputies in prison and of Leyla Güven and the other hunger strikers.
Police had set up three search points around the rally area and confiscated the HDP pennants.
HDP co-chair Sezai Temelli, HDP Deputies Gülistan Koçyiğit, Oya Ersoy, Hüda Kaya, Züleyha Gülüm, Dilşat Canbaz Kaya, Dilan Dirayet Taşdemir, Musa Piroğlu, Garo Paylan, Zeynel Özen, Ahmet Şık joined the rally as did many political parties and civil society organization representatives.
Slogans were chanted by the people who filled the rally area. "Bijî Serok Apo", "Leyla Güven is our dignity" "Bijî berxwedana Leyla" chanted the crowd.
Temelli: Peace and justice will come with the end of isolation
HDP co-chair Sezai Temelli spoke after a minute of silence in memory of those who lost their life in the struggle for freedom and democracy.
"Hello Istanbul, - said Temelli - our struggle for democracy, peace and freedom continues and our fight continues."
Stating that injustice has spread all over the country, Temelli sent greetings to hunger strikers in Europe, Hewlêr, prisons and to Leyla Güven, who put her body at stake for justice.
Emphasizing that peace, justice and democracy will come to the country only after the end of isolation in Imrali, Temelli said that it is necessary to "raise our voices before it is too late."
Temelli addressed the crowd saying: "We will step up our struggle for democracy and peace. Because we have a longing, an idea and this is what brings us together. Our longing is a democratic nation, peace and freedom in a common land. We started with these ideas and established the HDP. We've invited everyone to this struggle. The name of what we struggle for is radical democracy, peace. It is Turkey's future. I greet the person who first thought of this idea, I salute Imrali, I salute Mr. Öcalan."
Let's be the voice of Leyla Guven
Temelli stressed that people who want peace and democracy in this country should struggle to end the isolation against Öcalan.
He continued: "The government's only issue is war, they are feeding on blood. They develop this hostility, oppression, violence. This is their method of staying in power, enlarging violence. We must end this. That's why we have to end isolation. We should be the voice of Leyla Guven now. If we do not put an end to it, this country will experience greater pain, will be dragged into bigger crises."
Justice has abandoned the courtrooms
HDP Co-chair then reiterated that the HDP does not accept the judiciary system which is biased and acts on orders given by the ruling party.
He reminded that Turkey has not implement the European Court of Human Rights ruling that Selahattin Demirtas should be released.
Temelli pointed at the sentences handed out on Gültan Kışanak and Sebahat Tuncel and said: "The ruling power is ignoring the law. Justice has abandoned the courtroom. We do not recognize these decisions."
Let the people of Syria decide on their future
Temelli reminded of the words of hate the government speaks about Syria.
"We say that the peoples of Syria will decide the future of Syria. They will get rid of DAESH mercenaries and decide their future together."
Local elections will show what the people want
Temelli underlined that "Violence against women continues. This ruling power produces new hate speeches every day. We will save our cities. Not only will we take back the municipalities usurped by government's trustees, we will also build local democracy. We'll destroy the AKP-MHP block anywhere in Turkey."
The elections scheduled for 31 March, said Temelli, are very important to save this country from this regime. "We are here with all our differences against this one-man mentality. We invite everyone to join us in this struggle."
Taşdemir: Isolation is a crime against humanity
Dilek Dirayet Taşdemir, spokeswoman for the HDP Women's Council and MP from Ağrı, said in Kurdish: "Isolation is a crime against humanity. The AKP-MHP alliance continues to carry out this crime. The voice of Leyla Güven and her friends spread all over the world. Isolation is a crime against humanity. They are afraid of Mr. Öcalan's ideas."
Şenoğlu: The road to truth is long, but we will walk until reaching our goal
HDK Co-spokesperson Sedat Şenoğlu said that the key to peace is to be found in Imralı and added: "Leyla Guven has taken the path of truth and this path cannot be blocked. This is a long road, but we will walk through it until we have reached our goal."
Leyla Guven: Long live the brotherhood of peoples
After the speeches, Leyla Guven joined the rally from her house in Amed via Skype. "I greet you all with the resistance of the Amed prison - she said -  and I want to convey my respect and love for your resistance in our struggle. Good thing you exist! Long live the brotherhood of peoples."
Six people taken into custody
The rally ended with music.
It was reported that Emine Bozkurt, Ömer Aslan, Özkan Yiğit, İdris Bozkurt, Helin Yılmaz and Kübra Altun were taken into custody as soon as the rally ended.