The Guardian: Dozens of ISIS defectors cross into Turkey
Several dozen former fighters of ISIS have already crossed into southern Turkey in recent weeks as terror group loses territory, reported The Guardian.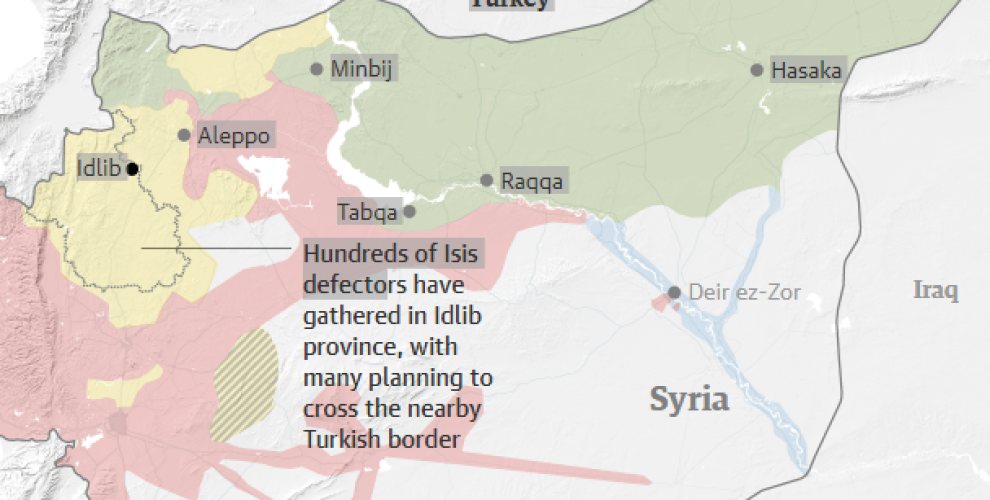 The Guardian reported that hundreds of defectors from ISIS have massed in Syria's Idlib province, with many planning to cross the nearby Turkish border and find ways back to the Middle East, North Africa and Europe.
Several dozen former fighters have already made it across the heavily patrolled frontier to towns and cities in Turkey's south in recent weeks, the Guardian has confirmed. Four Saudi Arabian extremists arrived in a southern Turkish community in early September after paying smugglers $2,000 each for the perilous journey past border guards who have shot dead scores of infiltrators this year alone.
The report remarked that the exodus of fighters from areas controlled by ISIS to other parts of Syria and Iraq has continued throughout the past year, as the terror group has lost much of its former heartland to a concerted assault by Iraqi troops, forces allied to the Syrian regime and a US-led air coalition in both countries.
"However, large numbers of militants and their families are now trying to leave the war-battered states altogether – posing significant challenges to a global intelligence community that, for the most part, views them as a hostile and unmanageable threat, and sees limited scope for their reintegration."
A Saudi national who fled Syria in late August told the Guardian that as many as 300 former ISIS members, many of them Saudis, had established a community north of Idlib city, which is now dominated by the al-Qaida affiliate, Jabhat al-Nusra.
"Most want to leave, like me," said the 26-year-old, who called himself Abu Saad. "A lot of them realise that the group they were with tricked them. Others don't trust Nusra. There are not many who believe that the people that they were with were on the right path."
Abu Saad said the Saudi nationals, as well some Europeans, Moroccans and Egyptians, had gathered together as a buffer against al-Nusra, which has exerted its influence across Idlib and the surrounding countryside by toppling its rivals. ISIS has not had an organised presence in the area since early 2014 when it was ousted by a rebel assault that saw its members flee east to the town of al-Bab in the Aleppo hinterland and further into Minbij, Tabqa, Raqqah and Deir Azzour.
Former members of the group, however, have steadily been returning to Idlib and seeking refuge since late 2015. "That was when I left," said Abu Saad, speaking days after he arrived in southern Turkey. "Others joined me later, and more are coming now."