Saleh Moslem: Turkey kills Kurds in Afrin with European weapons
TEV-DEM foreign relations official and former PYD leader Saleh Moslem said; "Nobody has the right to tell the people of Afrin to leave. That land belongs to the people of Afrin. The children there are protecting their lands. Why should they abandon it?"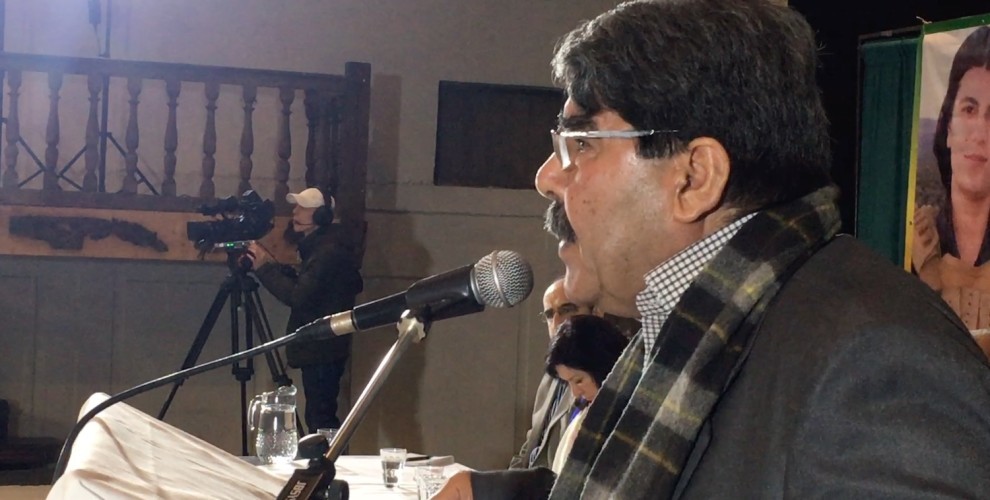 The meeting where Kurdish parties, institutions, professional organizations and individuals express their solidarity with Afrin at national level, continues in The Hague. The meeting is organized by the Kurdistan National Congress (KNK) and Committee to Protect Afrin.
Speaking here, TEV-DEM foreign relations official and former PYD leader Saleh Moslem underlined that; "The Turkish state is massacring people in Afrin with the weapons of Europe. This is unacceptable."
Referring to the Turkish state's massacres in Kurdistan, Moslem said; "The Turkish state, which attacked Kobanê, Shengal and Kirkuk through its gangs, is attacking Afrin today. They want to finalize the massacres in those places in Afrin now. To us, there is no difference between Afrin and other regions of Kurdistan. Afrin is a continuation of the massacres in Sur, Cizre, Nusaybin and Shengal. The Turkish state seeks to finalize its massacres against Armenians, Syriacs and Kurds in the 20th century. This is not a personal issue for the Kurds. This is a matter of honor and dignity to us."
Calling out to the peoples of Europe, Moslem continued; "The resistance mounted in the Middle East today is for your security as well. The bombings that took place in Europe showed everything. They want to take Afrin from the Kurds and give it to those terrorists. We are defending Europe and humanity today. We want Europe to embrace its own laws as the people of Afrin are massacred with the weapons of Europe. German tanks are used in the attack on Afrin. NATO and the UN have laws, rules and conventions which are being trampled on today. We do not want them to "come and fight for us", but to "implement your own rules and laws". It is not humane that we are massacred with European weapons, we do not accept this."
Stressing that the people of Afrin are resisting the attacks, Moslem said; "Nobody has the right to tell the people of Afrin to leave or not. That land belongs to the people of Afrin. The children there are protecting their lands, they are giving a fight. Why should they abandon their lands? They will never do that and everyone should know it. We need to do what is worthy of Kurdish honor. It is time for unity and everyone should act accordingly. This is why this meeting is of great importance as hundreds of Kurdish institutions are represented here. I salute everyone."