Protests for Shengal in dozens of European cities
Protests have taken place in dozens of European cities against the Turkish attack on Shengal, killing KCK Executive Council Member Zekî Şengalî (Ismail Özden).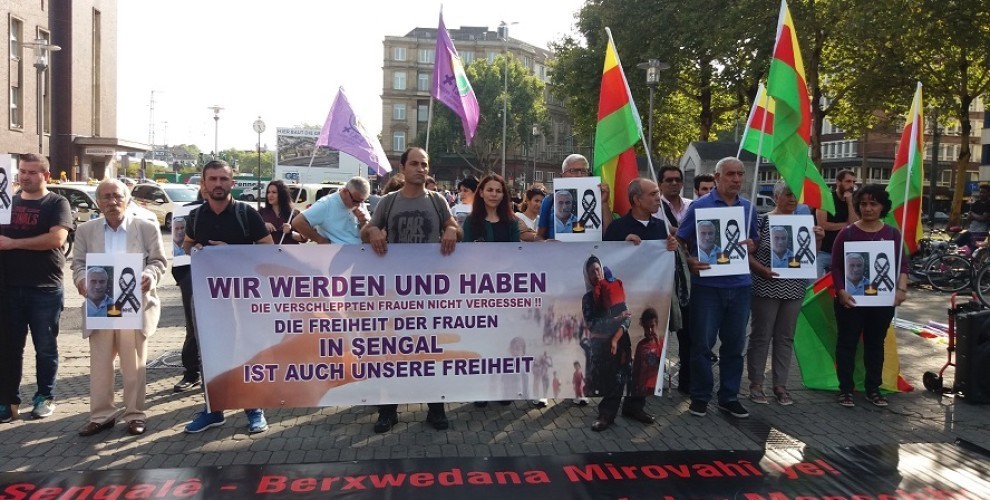 Exactly four years after the ISIS onslaught and massacre in Shengal territory in southern Kurdistan, the Turkish state has carried out a fatal attack and murdered Zekî Şengalî (Ismail Özden), a member of the Shengal Yazidi Coordination and KCK Executive Council.
Protests against the attack have taken place in several European cities yesterday.
In Dusseldorf, a crowd gathered in front of the main station and held a minute's silence. Kurdish politician Ferhad Ceger said in an address: "In Shengal it is about the dignity of humanity. The attack on Shengal applies to the entire Kurdish people. The fascist approach of the Turkish state will not reach its goal, because the Kurds will never give up their achievements again."
In Frankfurt, a protest was held in front of the Turkish Consulate. A speech held here said: "Erdoğan's genocidal government commits a new massacre every day. We must not remain silent about these crimes."
Kurds in Gießen protested at the church square, in Wuppertal in protest at Turkey's increasingly ongoing attacks against the Kurdish people.
In Cologne people protested against Turkey in front of Cologne Cathedral.
In Hamburg, Robert Jarowoy of DIE LINKE held a speech at a rally in the Sternschanze, in which he talked about his personal acquaintance with Zekî Şengalî and condemned the silence of the Federal Government on the attacks of the Turkish state on Kurdistan in violation of international laws.
Other reports of anti-Turkey demonstrations reached ANF from Hanover, Munster, Mannheim, Orebro, Basel, Bern, Zurich, Aarau, Toronto, Athens and Stockholm.