Progressive Alliance awards Demirtaş for "Political Courage"
The Progressive Alliance has awarded the 2019 Special Political Courage Przie to Selahattin Demirtaş, the imprisoned formerd HDP co-chair.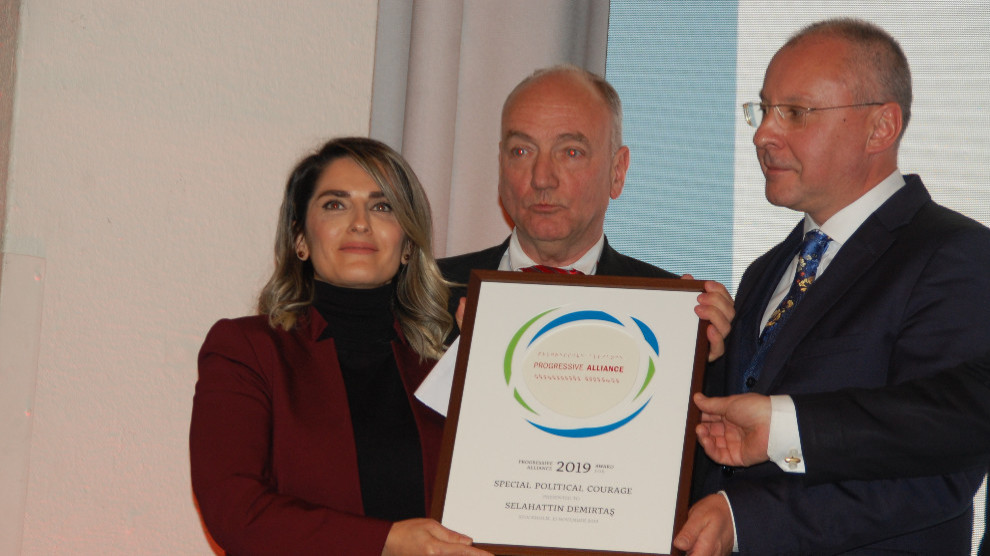 The Progressive Alliance, a Germany-based political entity that includes more than 130 parties and organizations, has met for a two-day meeting in Stockholm.
The two-days meeting was attended among others by Swedish Prime Minister Stefan Löfven, Portuguese Prime Minister Antonio Costa, Swedish Foreign Minister Ann Linde, Defense Minister Peter Hultqvist as well as Finland, Germany, Austria, Chile, Georgia, Iraq, Burkina Faso and Kenya leaders.
Swedish Prime Minister Stefen Löfven, who made the opening speech and hosted the meeting, stressed the importance of the struggle against racism and right-wing populism. "It is very important to show that there are progressive forces that prove that there is another way."
Başak Demirtaş, wife of former HDP co-chair, Selahattin Demirtaş (in prison since November 2016) received the 2019 Award for Special Political Courage.
Prior to the award, Swedish Defense Minister Peter Hultqvist and the Chairman of the European Socialist Party (PES) Sergi Stanishev delivered a speech.
Peter Hultqvist said: "We support the freedom struggle of the Kurdish people. We support freedom of expression and freedom of the press in Turkey. We look forward to the release of Mr Demirtaş."
Başak Demirtaş thanked all participants for their solidarity while the message sent by Demirtaş to the participants was read by Hişyar Özsoy, HDP Foreign Relations Officer.
Demirtaş said in his message: "Millions are resisting in Turkey against all odds. Resistance is increasing every day I have no doubt that the people will win. I am held in prison as a political hostage. Together with our co-chair, Figen Yüksekdağ, eight deputies, dozens of mayors and thousands of political prisoners, we are being held in prisons. We will resist and surely win!"