Parents of Destan Temmuz referred to court for attending funeral
Parents of MLKP fighter Ayşe Deniz Karacagil (Destan Temmuz) who fell a martyr in the Raqqa operation were detained on their arrival in Turkey earlier today, and they have been referred to court in the afternoon.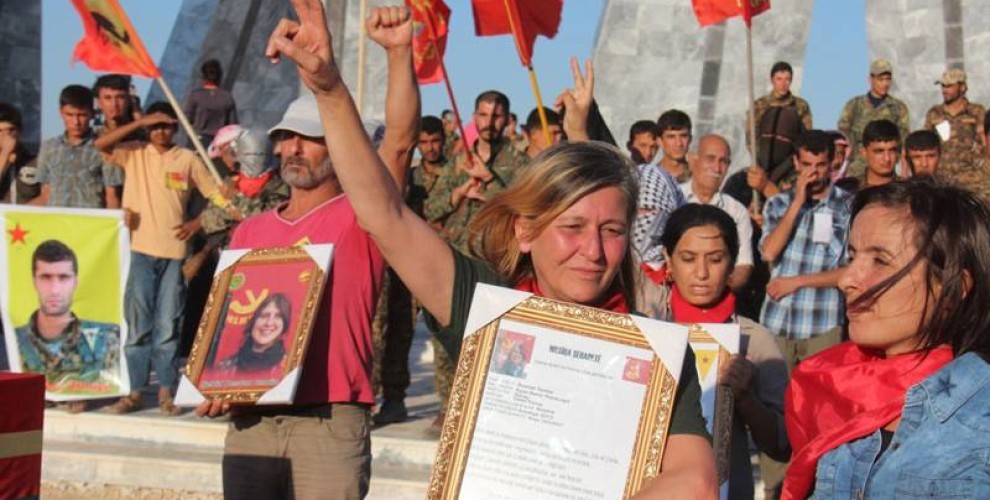 Parents of MLKP fighter Ayşe Deniz Karacagil (Destan Temmuz) who fell in the Raqqa operation and was laid to rest in Kobanê last week, have been taken into custody on their arrival in Istanbul after participation in their daughter's funeral in Kobanê.
Destan's mother Nuray Erçağan, who became specially known for standing by her daughter at all events, and her father Ömer Karacagil have been detained at the Sabiha Gökçen Airport in Istanbul Monday morning. Following procedures at police department, the parents have been referred to the Istanbul Courthouse.
Erçağan and Karacagil are accused of "spreading propaganda for a terrorist organisation" for participation in the funeral held for their daughter in Kobanê last week.
Ayşe Deniz Karacagil had been jailed in Turkey after her detention during Gezi protests for wearing a red scarf which was made a basis for her being labelled a terrorist by Turkish authorities and judiciary. 103 years prison sentence was sought for Karacagil who was released on February 6, 2014 and took to the mountains afterwards.
Karacagil, who then became known as 'the girl with red scarf', was fighting in the ranks of the International Freedom Battalion in the battle against ISIS gangs Rojava. She fell a martyr during a clash with ISIS in the morning of May 29 in the operation to liberate Raqqa.
Karacagil was laid to rest in Kobanê on June 15th in a mass funeral for five martyrs of Raqqa campaign, where her parents were also present.