Muslim: Peker's allegations will ruin the 2014 coalition in Turkey
PYD co-presidency council member Salih Muslim said that Turkish mob leader Sedat Peker's allegations would disintegrate the coalition which was formed in 2014 to carry out the so-called 'Collapse Plan' against Kurdish opposition.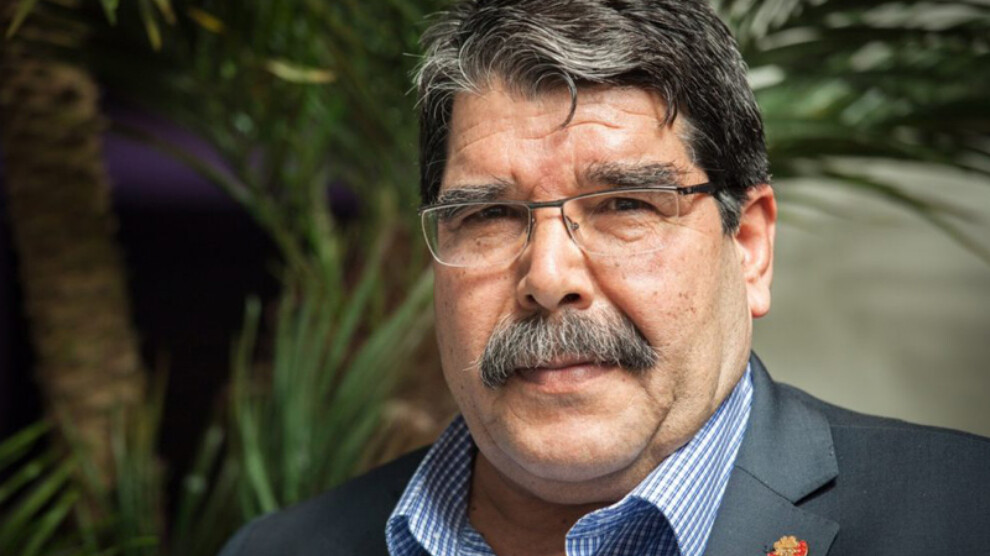 Sedat Peker, the leader of a state-linked crime organization in Turkey, continues to voice allegations concerning the crimes that involved mafia, Turkish state and politicians. The allegations of Peker, who has released 9 videos so far, have sparked reactions in Turkey and in the world.
According to the Democratic Union Party (PYD) co-presidency council member Salih Muslim who spoke to ANHA, Peker's confessions indicate that the coalition established in Turkey in 2014 to realize the 'Collapse Plan', would break up.
'DEEP STATE HAS BEEN ACTIVE SINCE THE OTTOMAN ERA'
"The massacres against Armenians, Pontus Greeks and Kurds during the Ottoman period were carried out by deep state forces. No one could hold these forces to account. The massacres of these deep forces continued after the Turkish state was founded. The deep state killed communist leader Mustafa Suphi in 1921 and organized the September 12 military coup in 1980. JITEM (informal secret service of the Turkish military police), which was established against the struggle of the Kurdish people, is the continuation of this structure. The deep state has always been active in Turkey. Now Peker is making some allegations since there has been a conflict with former interior minister Mehmet Ağar."
'WAR IN KURDISTAN WAGED WITH DRUG MONEY'
Muslim continued, "The Turkish state has become the centre of drug trafficking. Peker says that crimes such as murder and abduction of people are committed by the Turkish intelligence agency MIT. These crimes do not only concern the Turkish state. They concern the international community. Those who rule the Turkish state are mafia groups. The current government is doing what Tansu Çiler did in 1996. The money obtained from the drug trade with countries such as Argentina and Venezuela is used for the war in Kurdistan."
'THEY DID A LOT OF DIRTY WORK'
Such crime organizations send drugs to Turkey and North Kurdistan, said Muslim and added, "They want to assimilate the Kurdish society. That is why they are trying to drag the youth in North and East Syria into this network. They are doing any kind of dirty work to keep young people off the struggle."
Muslim stressed that SADAT was founded by Erdoğan. "The founder of SADAT is Erdoğan's friend. The weapon delivery to ISIS and al-Nusra was carried out by the hand of the Turkish state. SADAT did this job together with international mafia groups."
'THE COALITION SHATTERS'
Müslim noted that the coalition of AKP-MHP-Doğu Perinçek-Ergenekon, which was formed to realize the Collapse Plan' in 2014 has been shattered with the allegations of Peker. "This coalition should be described as a war machine. Whenever the war ends, this coalition will also disappear. This war is based on the extermination of the Kurds. Peker's confessions will create a contradiction within this coalition. This war machine cannot survive. Should a snap election take place, this coalition will lose. That's why the AKP and MHP alliance does not want a snap election. We want the dirty plans of this coalition to be exposed."
'THEY HAVE NOTHING LEFT TO HOLD ON TO'
Muslim stated that the Turkish state has not respected any international law since 2015. "The Turkish state has sent mercenaries to Azerbaijan, Somalia, Libya and many countries. The international community can no longer tolerate this dirty policy of the Turkish state. The Turkish state has nothing left to hold on to. They are both going through an economic crisis and are failing in diplomacy."