Leyla Guven refused treatment, continues her fast at home
After refusing to receive treatment at hospital, Leyla Guven has been taken back to her home.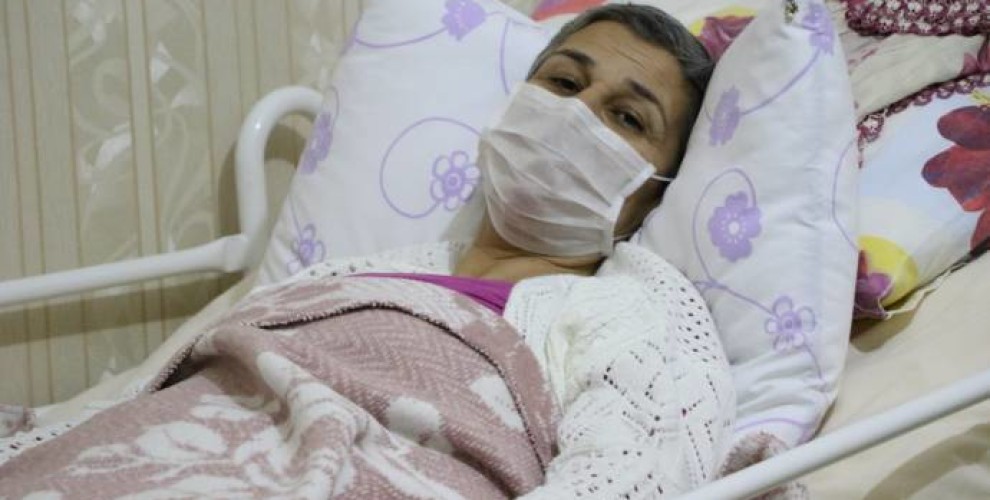 DTK Co-chair and HDP MP Leyla Guven has been on an indefinite hunger strike for 98 days demanding an end to the isolation imposed upon Kurdish People's Leader Abdullah Ocalan. On the 79th day of her fast, the Kurdish politician was released from prison and announced that she would continue her fast at her home in Amed (Diyarbakır) as it was aimed at ending the isolation, not her own release from jail.
Earlier today, Guven was taken to a hospital in the ake of increased pain in the chest on day 98 of her fast. At hospital, she was placed in the ICU and her heart rhythm was monitored after she refused to be treated.
DTK Co-chair Berdan Öztürk, DBP Co-chair Mehmet Arslan, HDP deputies, TJA activists and several other Kurdish politicians gathered outside the hospital which was surrounded by the police with armored vehicles.
Speaking about the latest situation with regard to Guven's health, DBP Co-chair Mehmet Arslan said the following; "Our friend Leyla Guven stated that she would not end her action unless her demands are met, and would accept no medical treatment. She said she even felt uncomfortable with being in hospital. She clearly expressed that she would continue her hunger strike to the end as long as the isolation on Mr. Ocalan continued. She insists on going back home."
In a call to the government and public for the removal of the isolation on Ocalan, Arslan said; "This isolation needs to be ended before it hurts the co-existence of our peoples. Undesired news from hunger strikers would injure the common living space of peoples in Turkey. No political power nor those governing Turkey could endure the heavy responsibilities to be caused by this situation. In order for this isolation to be ended and the demands of hunger strike activists to be met, our people should be aware and sensitive, claim the resistance led by Leyla Guven and manifest democratic reactions in order to avoid an undesired consequence. Leyla Guven has put her life at stake to ensure that laws are implemented. All those with a responsibility in this regard should show the necessary awareness in order for isolation to end."
Guven was later discharged from hospital and taken back to her house to continue her fast.