Internationalist march to Strasbourg continues
The internationalists and the Mannheim group have set off for Strasbourg.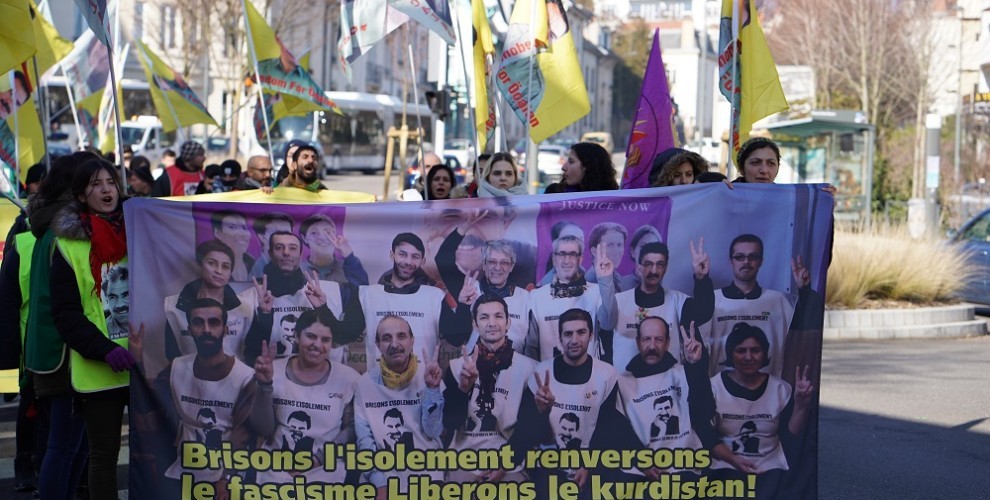 The marches from Luxembourg and Mannheim joined together in Metz, France to continue on to Strasbourg. The activists spent their 4th night on the march in a sports center of the Vandoeuvre Municipality in Nancy. Communist Party of France (PCF) Bora Yilmaz and Vandoeuvre Municipality Culture Representative Jean Pierre Becker welcomed the internationalists and Kurdistanis in the sports center through the Cultural Directorate of the Vandoeuvre town.
The activists have marched some 17 kilometers.
The evening's activities started with a screening and continued with a jineology seminar organized by the women in the group.
MEETING THE MANNHEIM ACTIVISTS
Activists from the Mannheim leg made a statement after the program and said, "February 15 is a dark day for the peoples of Kurdistan," pointing to the isolation and protesting the CPT and ECHR.
The activists headed out for Strasbourg on the 5th day of the march. They will be arriving in Strasbourg at 11:00, and they will go to the activists who have been on a hunger strike for 61 days. They will then meet with the other legs of the march and march together to the Council of Europe.
A large scale rally will be held at 11:00 on Saturday to protest the international plot and the isolation, to salute the hunger strikers and to condemn the silence by Europe.