Hunger strike in Strasbourg reached day 49
"We must stand up. Otherwise see, what happened to Afrin? What happened to Kirkuk? If we don't stand up, the entire Kurdistan could go from our hands."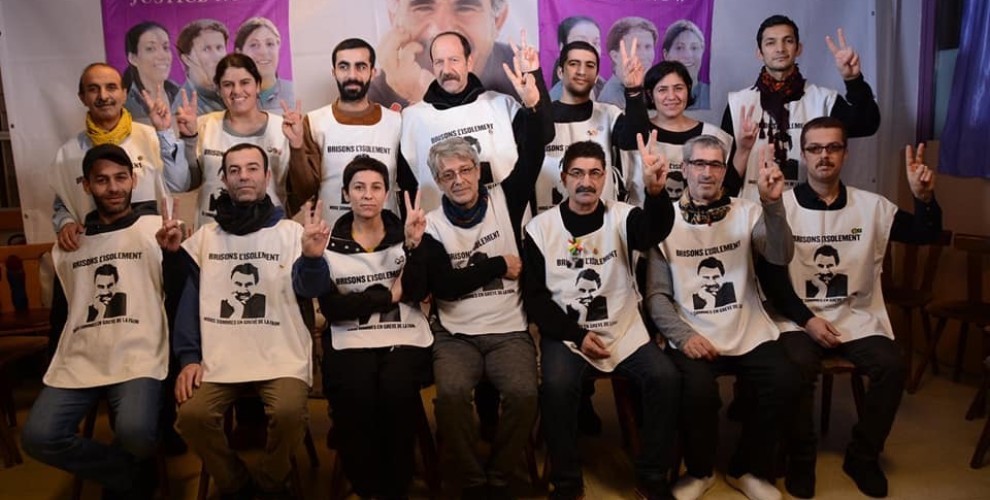 The hunger strike in Strasbourg to demand the end of isolation against Kurdish People's Leader Abdullah Öcalan entered its 49th day.
People continue to visit hunger strikers in Strasbourg and activists asked more support to the different actions demanding the end of isolation.
Hunger striker Kardo Bokani, an academic from Eastern Kurdistan, spoke to visitors and reminded that the Kurdish People's Leader has been in captivity for 20 years and has virtually no contact with the outside world. Bokani insisted on how isolation has reached unacceptable levels.
He stressed that for Öcalan to be part in the peace process, he should be able to reach the people and therefore isolation must be broken.
Bokani recalled Öcalan: "He would always say 'Bring me that book' or 'I want to research that'. But he never said 'I know this'. He said he did nothing. That is how a great and wise person he is."
Bokani also drew attention on the fact that the Council of Europe's Committee for the Prevention of Torture (CPT), which has jurisdiction to prevent isolation, had not taken any steps for 49 days.
"If we had played our part correctly, - said Bokani - now Kurdistan would be free, the Leader would be free. We must first criticize ourselves. We, as revolutionaries, have to criticise and self-criticise. That's why we started a hunger strike. We criticize ourselves."
Kardo Bokani, who drew attention to the role of the people in this process, said that the people should be more actively involved.
The hunger striker used the occupation of Kirkuk and later Afrin as examples and said: "We must stand up. Otherwise see, what happened to Afrin? What happened to Kirkuk? If we don't stand up, the entire Kurdistan could go from our hands."