HDP's Temelli: Now is the time for change
The HDP co-chair said local elections will provide an opportunity to get rid of the AKP-MHP falling alliance.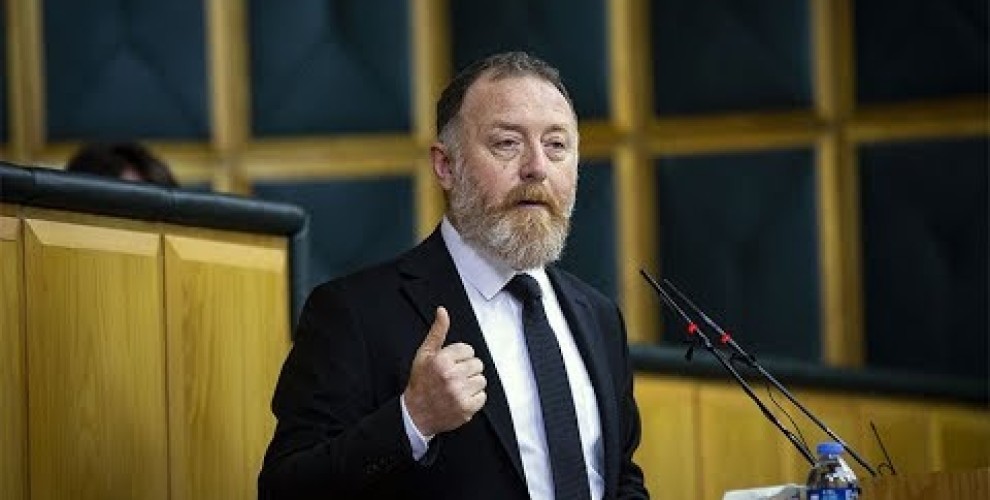 The People's Democratic Party (HDP) held its regular weekly group meeting.
HDP Co-Chair Sezai Temelli, spoke about his last week's visit to Amed, Van, Urfa, Hakkari.
"I bring you the people's enthusiasm, resistance, determination and greetings" he said to begin with, and added: "Rest assured that first we will sweep them [the AKP-MHP] out in the local administrations, then in the central administrations. We're going to sweep them in the dump of fascism. Not in a distant future: this will happen very soon. They called it an alliance. We said that this is the result of chip bargaining".
Crumbling alliance
Referring directly to the alliance between the AKP and MHP, Temelli said: "This is the point you got to: You cannot find solutions to the problems of people through bargains".
Temelli added: "You have to be within the people in order to find solutions to the problems of the people. You need to stand shoulder to shoulder with them. Then peace and democracy will come to Turkey. Peace will come to Turkey, so will democracy and they will come thanks to the HDP. When we went to Amed, - said Temelli - the first thing we encountered there was the AKP's election campaign. You know, the AKP is conducting its election campaign in the Kurdish provinces with governors, prosecutors, district governors and security forces. When we left, we were faced with the detention of 130 of our friends. Yes, election campaign, because our detained friends have committed no crime. They were arrested not because they had done something, but because they were HDP members and they had worked for the 24 June elections. The campaign of the AKP continues. They will get an answer to their mentality at the local elections".
The HDP co-chair said that the local elections provide an opportunity to "complete the work we began with the 24 June parliamentary elections".
In his speech, Temelli pointed out the corruption in the municipality of Silopi which is managed by an AKP-appointed trustee.
"Nine of the trustees named by the AKP to HDP-governed municipalities were dismissed due to corruption".
Temelli also recalled how Van Metropolitan Municipality co-chair, Bekir Kaya, was last week sentenced to 8 years and 3 months of imprisonment.
Suspicious military deaths
Temelli also brought to the agenda the issue of suspicious deaths among militaries.
A group of families who lost their children in a suspicious manner while they were in the army also attended the meeting. Temelli said: "This is one of the grieves of this war. We lost thousands of children. Those who raise the discourse of continuous nationalism, those who enter the arms race, fed by war, actually take our children and our future".
Temelli said: "I urge all the families to claim the memory of all these lost children. We can stop the war together. We can stop this war by standing up to power. It is time for us to stand side by side and to stand up to power and thus preventing any more loss".
Peace is buried under isolation
Drawing attention to the fact that peace is buried under the isolation imposed on Kurdish People's Leader Abdullah Öcalan, Temelli said that "now is the time to stop the solitary. We've experienced what it is to have dialogue between 2013-2015. Now we are saying this once more: you will either sit at a table or you will continue to fight. The choice of this ruling power has been war. We offer them the negotiation table instead. Come and sit at this table. We are ready to play our part and give our contribution. As in the past, we are ready to contribute again to dialogue".
Local elections: Candidate of the people
Temelli ended his remarks by speaking about the local elections. "We have very strong experiences. - he said - But we will re-interpret all these experiences in the cities of the future. We will build the cities of women, laborers, young people and children with our understanding of radical democracy".
From agriculture to energy from communication to education, Temelli said, "we will have all kinds of education, health services with our democratic understanding of participatory budget". The main thing, said Temelli "is representation. Qualitative representation. To maximize representation as much as possible. Increasing representation in places where direct democracy cannot exist will be an important step. For this purpose, we continue to forge alliances".