HDP's Buldan: The wind of freedom is blowing again
HDP co-chair said the AKP's only discourse is war, while the HDP talks of freedom and peace.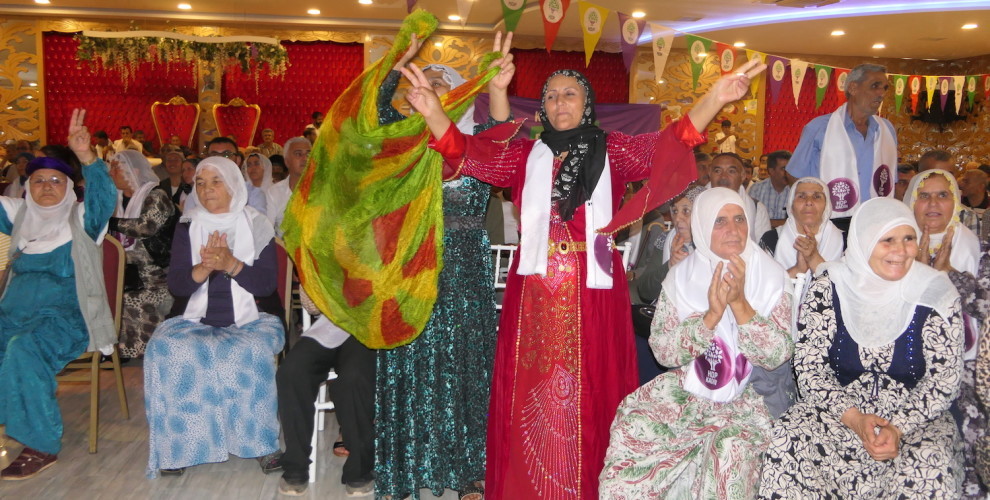 HDP co-chair and candidate Pervin Buldan, met women in the Seyhan district of Adana as part of her election campaign.
Buldan was accompanied by the constituency's candidates. The HDP group was met with slogans and chants by the many women joining the event.
The meeting began with a minute of silence in memory of those who lost their lives in the struggle for democracy and freedom. Women chanted slogans like 'Our candidate is Demirtaş', 'Change with you', 'Biji Serok Apo', 'We are the HDP'.
HDP candidate Tülay Hatimoğulları was the first to speak. She greeted women and said that the 24 June elections are an imposed but historical contest.
Hatimoğulları added that "the AKP government and President Erdogan would possibly not have called for early elections if they had imagined it would prove so hard".
Pointing out that the AKP government's 16-year rule was hard especially on women, Hatimoğulları added: "In Turkey people have been forced to pay a heavy price and especially Kurds. We will make them fall on 24 June".
HDP co-chair, Pervin Buldan, who has been in the Ceyhan district since Tuesday evening and has been receiving great energy and morale from the meetings she held in Adana, said: "The people support the HDP everywhere and the HDP wind is blowing everywhere".
Buldan added: "Women friends and mothers have set out on the road for a new future for themselves and their children and there will be no AKP, no Recep Tayyip Erdogan to stop them".
Buldan pointed out that after 24 June, the country will return to breath freedom, brotherhood, democracy with the HDP.
"This is the difference between us and them. They say war, we say peace, they say fascism, we say brotherhood. They ignore youth and women, we defend the right of women to live in equal and free conditions".
Reiterating that the HDP will immediately remove the State of Emergency (OHAL), Buldan reminded that together with the former HDP co-chairs, the AKP has arrested thousands of party members, executives, workers and added that the HDP is the party which will bring democracy back to the country. 
HDP co-chair Buldan said that Erdogan has the same mentality shown by Iran when it comes to death penalty. "Turkey's political history is full of executions and now the AKP and the MHP are bringing death penalty on the agenda again. They said there is blood on our presidential candidate's hands, but rest assure that in his hands there are only a rose, peace and love. You will not see blood on Demirtaş' hand".
Buldan ended by urging people in Adana to work day and night in the next few days left before the 24 June elections.